Cover Photo: David I. Muir | General Photography: Sanchez Arias Photography
At the core of Sonya Sanchez Arias' artistry is her ability to completely transform the material she touches. She sees worth in discarded bits and bobbles of everyday life and, through unboxed imagination, uses them to create remarkable mixed medium art and accessories. Her work, exhibited in Trinidad, Europe and the United States, displays a mastery of repurposing and injecting life into things considered useless—reshaping trash into artistic treasures.
A celebrated sculptor, photo-artist and costume designer, Sonya Sanchez Arias has become renowned in regional circles for works including her signature fine art sculptures, hand-crafted high-end paper dresses, photo artistry, jewelry collections, and even carnival regalia.
Back when she lived in Trinidad, her first major exhibition, a photography collection featuring exquisitely styled images of small children covered in mud called Earthlings, was featured in the late 90s at the island's Angostura museum. As local recognition for her style and mixed medium creations grew, she was tapped by the most titled carnival king in Trinidad, Peter Samuel, to conceptualize colorful, intricate costumes for his carnival bands—a commission that resulted in her iconic Skullduggery designs.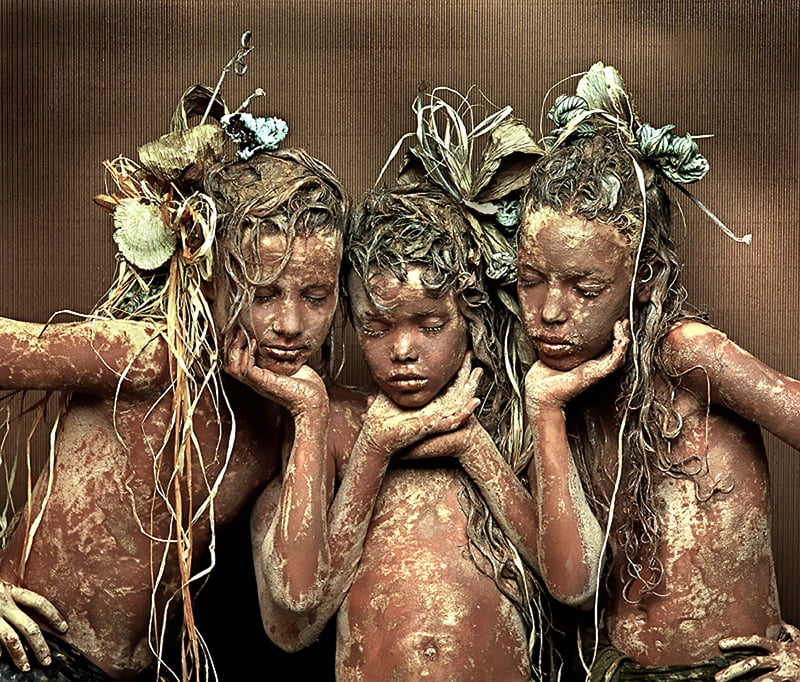 Sonya Sanchez Arias: CREATIVE UPBRINGING
The South Florida-based artist, was born in Trinidad and Tobago to an acclaimed artist mother and a bullfighter father from Spain.
Her mom, Judy Sanchez—known in Carnival circles as Miss Judy—was best friend and collaborator to iconic fashion designer Meiling, who has outfitted Caribbean and international celebrities, and Emmy Award-winning designer Peter Minshall, who showcased costumes from Trinidad at the opening ceremonies of the Barcelona and Atlanta Olympic games.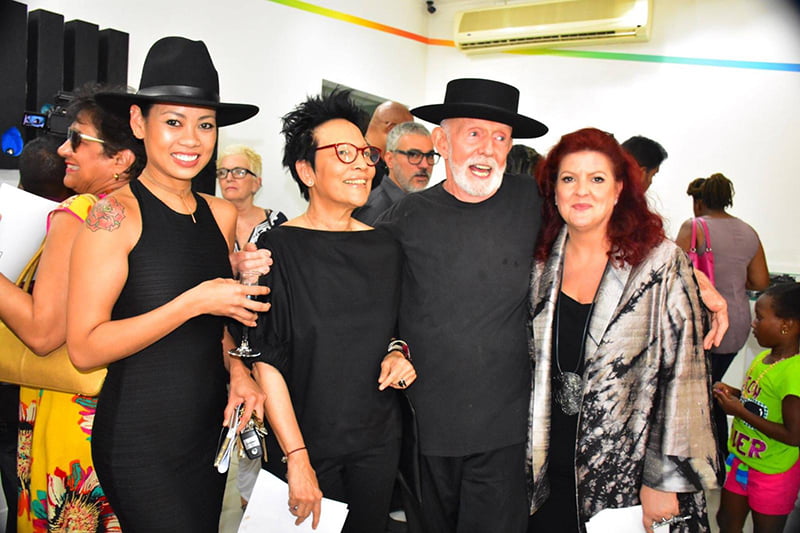 For three consecutive years she was invited by the president of the American Institute of Graphic Arts Miami—and commissioned by various agencies—to participate in the organization's annual Fashion of Paper runway shows. Here she created paper dresses that are arguably her most recognizable works.
In just the last three years, she has exhibited multiple times at Trinidad's prestigious Y Art Gallery, host to many of the Caribbean's most illustrious artists. Her works have been exhibited as far away as Barcelona and Germany, and as close as The Box Gallery in West Palm Beach and at Island Syndicate's Caribbean-American Heritage Month installation—The Island Imprint—in Fort Lauderdale.
While her followers adore her upcycled and reclaimed art and wearables, she sees herself simply exploring creative possibilities and doing what makes her happy. "My art is really therapy for me," says Sanchez Arias, explaining that while the commercial photography business she runs with her husband Fernando provides their daily bread, it's her personal art that gives her "total freedom to create. There are no rules—if there are rules, I can break them if I want."
Miss Judy, Sanchez Arias says, "made all of Meiling's accessories for years and created Peter's kings and queens costumes."
"My mother would take us (Sanchez Arias and her siblings) out into nature." They would collect barks, leaves, seeds, pods and her mom would illustrate how these items could be used, reused and upcycled into works of art.
It is against this backdrop that Sanchez Arias developed a respect and appreciation for nature and a passion for preserving the environment.
In Sanchez Arias' hands, items such as plastic utensils, water bottles, trash bags, rubber tubing, and an array of found and synthetic objects are made into both thought-provoking mixed medium art and stunning, one-of-a-kind jewelry. Simple paper becomes elaborately designed, themed dresses with movement—yet structurally sound enough for models to sashay down the runway, uninhibited.
MULTICULTURAL, INTERDISCIPLINARY
Sonya Sanchez Arias has lived in Florida for some 20 years. She recalls the culture shock of moving from the Caribbean to the U.S. and having to explain her accent and unabashed Caribbeanness—because her look doesn't fit the stereotype people expect.
"Trying to be Caribbean-American is sometimes a different experience for different people, because you don't want to lose those things that make you Trinidadian, or Jamaican, or Caribbean, and you want to be proud to be American—but you don't have to choose. People, especially from the Caribbean, need to know that—this is our country [too]."
Her mixed medium work covers pressing societal and personal issues, and is meant to stimulate discussion and inspire introspection.
SKULLDUGGERY AND PAPER DRESSES
Sanchez Arias' artistic imagination and skill as a costume designer emerged fantastically in these pieces she fashioned for Trinidad Carnival and the American Institute of Graphic Arts Miami's Fashion of Paper events.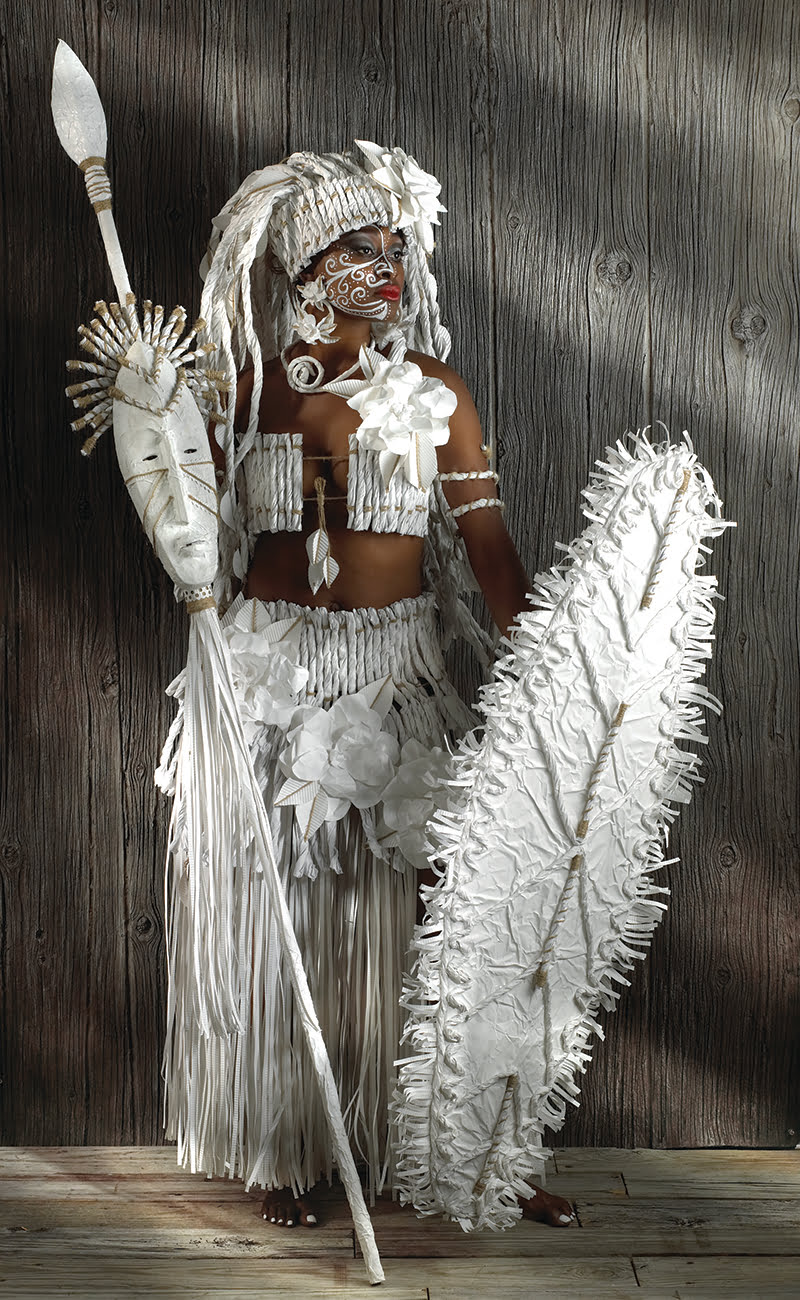 Her famous Paper Dresses were extremely time-consuming—each taking about a month to complete. Using only the paper provided in a few different colors, and a glue gun, she made dresses to represent Zaire, Antarctica and her home country Trinidad and Tobago—one for each year she participated.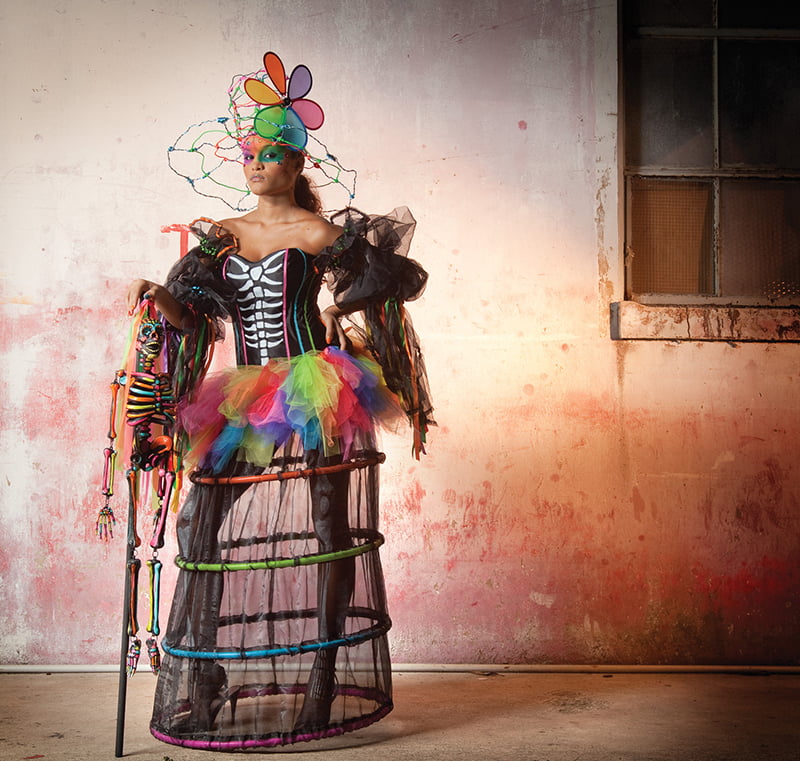 CREATING SKULLDUGGERY: the dance of deceit, she designed each costume around traditional carnival characters, using a skeleton theme to execute the concept. She wanted to revive the kind of costume-making that was thoughtful and reflective of Trinidadian folklore and vernacular.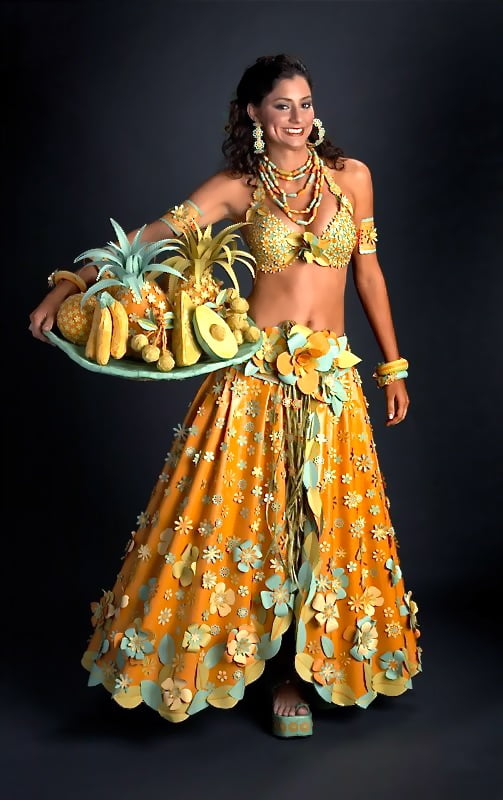 "I always create things that can move in a live runway show," says Sanchez Arias, adding that the model who wore the Trinidad and Tobago dress came down the runway to David Rudder's Bacchanal Lady. After the event, the paper mill bought the costume.
INSIDE OUT COLLECTION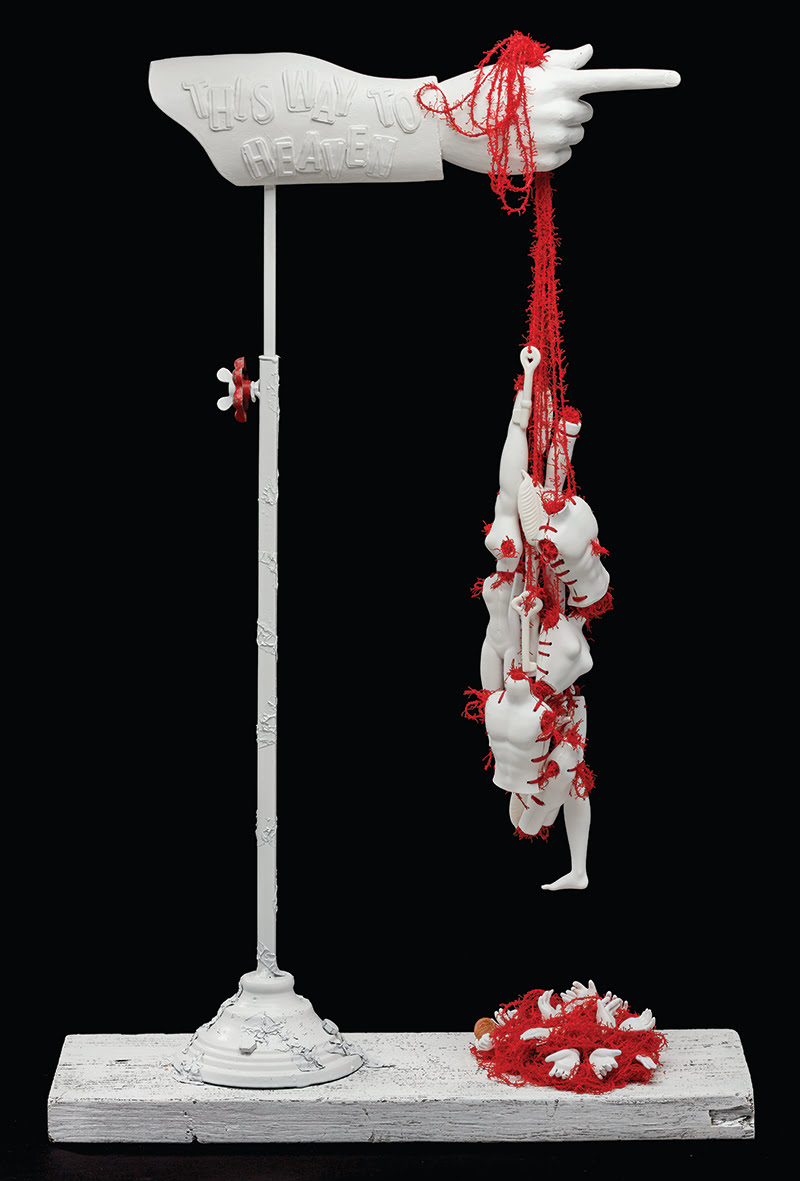 In her most recent body of work, Inside Out, she explores humanity and the possibility of going inward and discovering oneself, using red, white and black—coincidentally the colors of Trinidad and Tobago's flag. The Inside Out collection began with mixed medium assemblages, then segued into stunning, limited edition jewelry pieces.
PURGATORY, the first piece of the collection, incorporates recycled body parts of dolls, wood, paint, threads and other materials. Inside Out art pieces were part of The Summer Collection 2019 exhibition at The Box Gallery in West Palm Beach, Florida and is on indefinite display.
"Because the collection is called Inside Out, I used red to represent the color of our insides—the threads look like little arteries and capillaries. White is the color of possibilities, a clean canvas and black—the best of all colors because it's made up of all the colors, and it represents sophistication, power, elegance … Threads are my way of connecting things, repairing the damage."
"We have so many influences coming at us from so many directions. Thinking out loud has everything in it—it has thoughts and prayers, food, hamburgers, french fries, sushi, Mary Poppins with a vacuum cleaner. I'm serious about my work but really serious about humor too … there's a little sarcasm and humor in my work."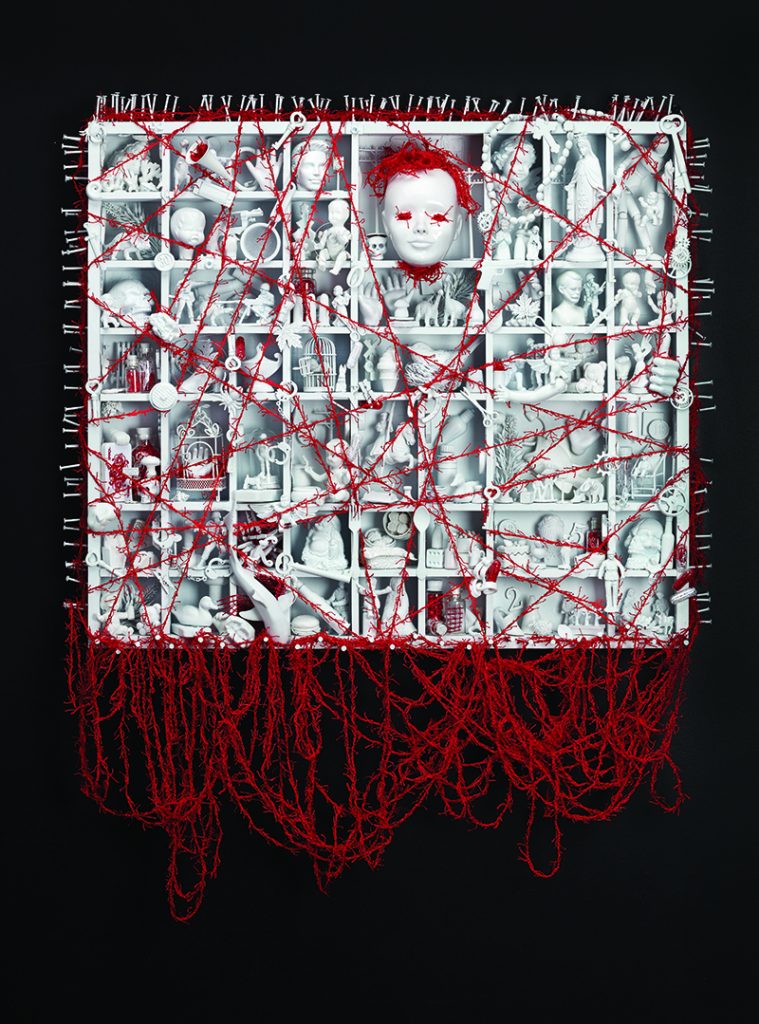 "EMPTY SPACES HAPPEN IN YOUR LIFE FOR A REASON… IT MEANS THERE'S AN OPENING FOR THINGS TO GROW, THEY MAKE ROOM FOR NEW THINGS, NEW POSSIBILITIES. DON'T BE AFRAID OF EMPTY SPACES…"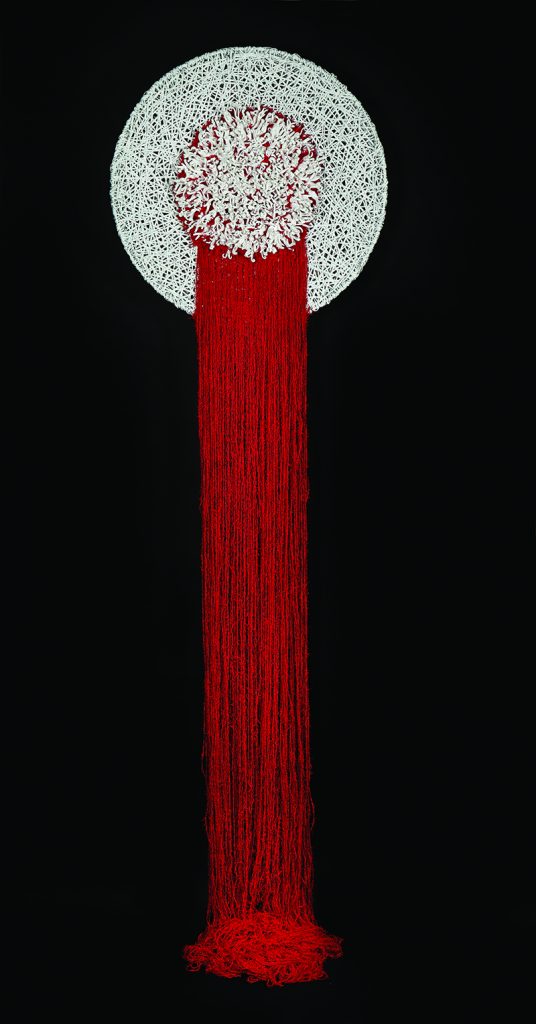 JEWELRY COLLECTION: Inside Out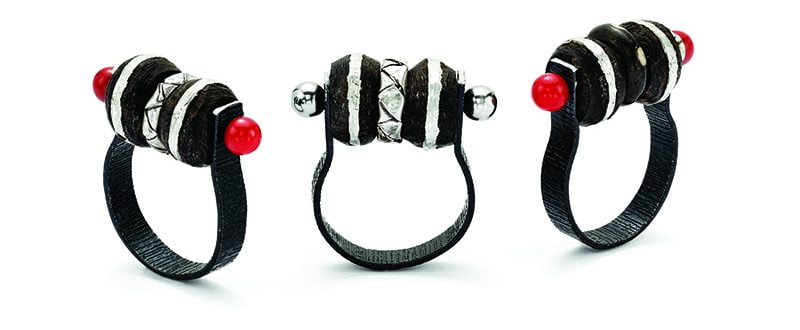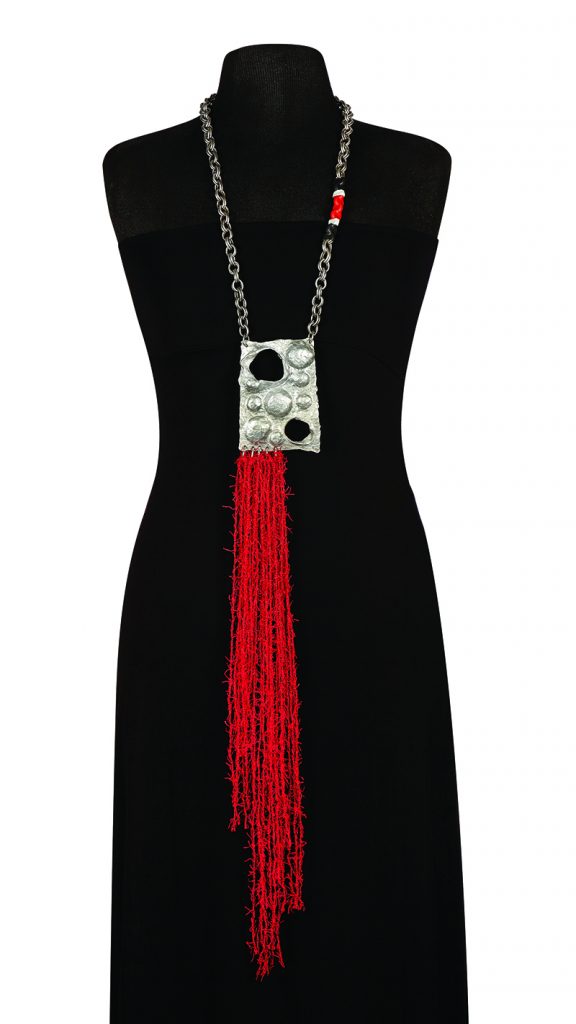 Jewelry Collection: Spectrum Art
One-of-a-kind, limited edition contemporary jewelry made from recycled materials. These pieces were exhibited in Europe where they were showcased in galleries throughout the continent.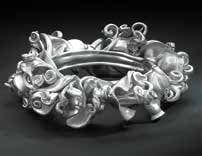 "WHEN PEOPLE TRY ON THE JEWELRY, THEY ARE SURPRISED THAT IT'S MADE FROM TRASH, BECAUSE THEY NO LONGER LOOK LIKE WHAT THEY USED TO BE AND HAVE A
COMPLETELY DIFFERENT HISTORY. THEY EXIST IN A DIFFERENT SPACE."
"THERE'S A STIGMA ATTACHED TO MAKING SOMETHING LIKE JEWELRY FROM RECYCLED MATERIALS— PEOPLE IMMEDIATELY ASSUME IT'S GOING TO BE CRAFTY OR TACKY OR NOT VALUABLE."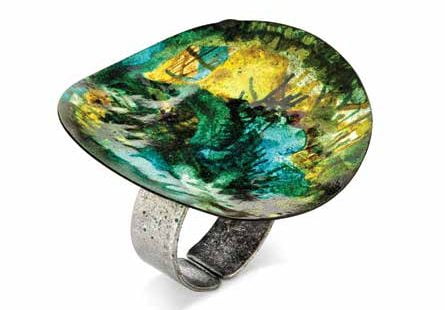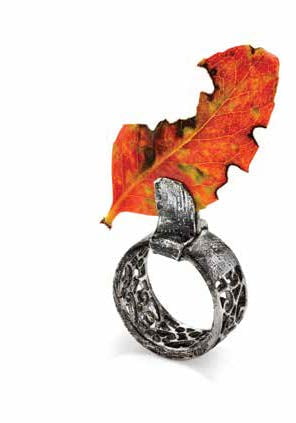 SOCIAL CODE COLLECTION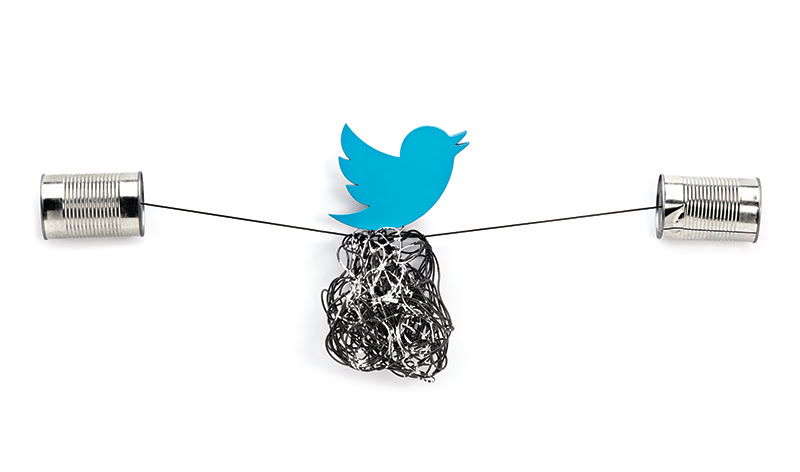 Sonya Sanchez Arias' Social Code collection takes controversial political and social issues head-on, with pieces such as Bird on a Wire and The Experiment, which both explore how we communicate (or don't) in the era of social media, and the impact it is having on our society.
"YOU KNOW THOSE TIN CAN PHONES THAT WE USED TO PLAY WITH AS CHILDREN … BUT THE WIRES ARE KNOTTED TOGETHER IN THE CENTER. THAT'S THE EFFECT SOCIAL MEDIA IS HAVING ON US RIGHT NOW."
"SOCIAL MEDIA IS ONE LARGE EXPERIMENT — I FEEL LIKE IT'S ALL HELD TOGETHER BY A THREAD AND IF IT GOES ONE WAY IT WILL ALL UNRAVEL."
I HAVE A DREAM TOO: A stark image of a child in a cage wrapped in the American flag calls attention to the current humanitarian crisis at the U.S.-Mexico border.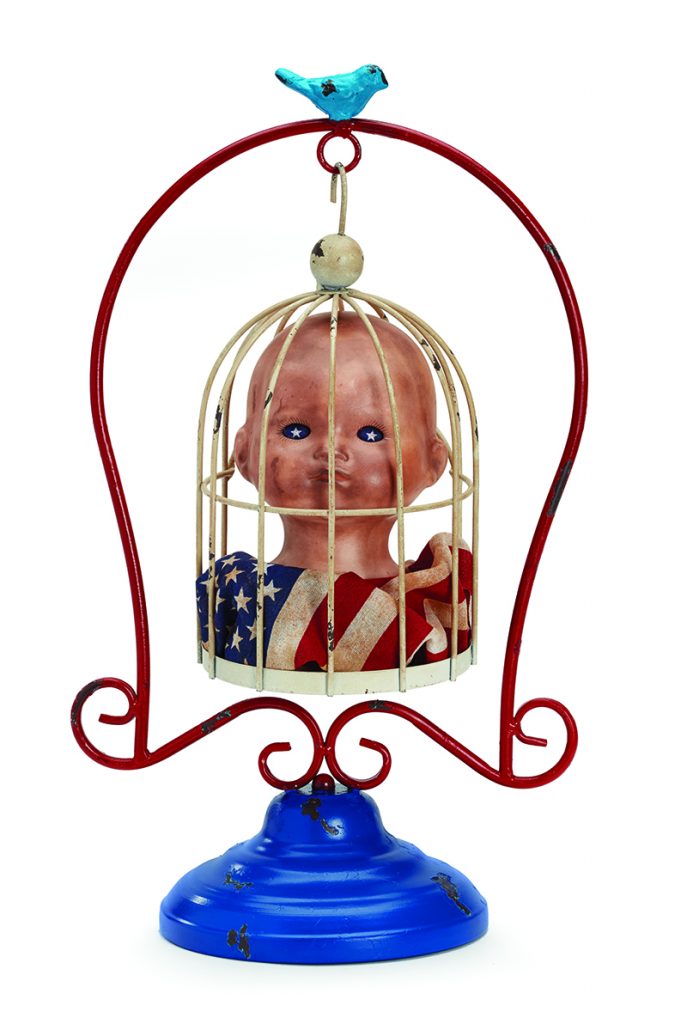 More On Caribbean Art: