From "My Modern Caribbean Kitchen", the first cookbook by Virgin-Islander Julius "The Chef" Jackson.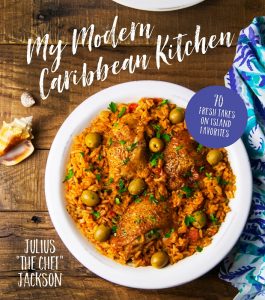 Yield: 10 Servings
INGREDIENTS
• 1 salted Ham Bone
• 2 lb salted Pork, Pig's Tail, Pig's Feet, soaked overnight
• 3 lb Spinach, well rinsed
• 1½ lb Okra
• 1½ lb Snapper Fillet, diced
• 1 large Onion, diced
• 2 cloves Garlic, minced
• 5 sprigs Thyme, roughly chopped
• 1 Scotch Bonnet pepper
• 3 tbsp unsalted Butter
• Salt and pepper
INSTRUCTIONS
Boil the salted ham bone in 3 quarts (2.8 L) of water with the salted pork for 45 minutes.
Taste the water to test for saltiness. If the water is too salty, add 1 more quart (946 ml) of water to the pot.
Boil until the pork is tender, about 1 hour. Remove the pork and set aside, but leave the ham bone in the pot.
Add all of the remaining ingredients, except the butter, salt and pepper.
Bring the soup to a boil. Once the water boils, lower the heat to a simmer, add the pork back to the pot and simmer, covered, for 45 minutes.
Add the butter and stir well. Salt and pepper to taste.
Remove the scotch bonnet pepper before serving hot.