From "My Modern Caribbean Kitchen", the first cookbook by Virgin-Islander Julius "The Chef" Jackson.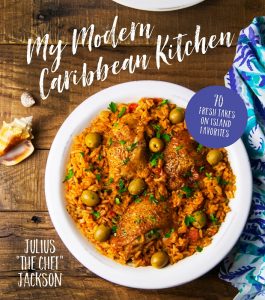 Yield: 10 Servings
INGREDIENTS
• 3 lb bone-in Chicken pieces (wings, thighs, drumettes)
• ½ cup desired poultry seasoning
• 3 tbsp Curry Powder
• 6 Potatoes, diced
• ½ lb Carrots, cut in half lengthwise and sliced
• 2 large Onions, julienned
• 1 cup desired curry powder
INSTRUCTIONS
Season the chicken with the poultry seasoning and 3 teaspoons of curry powder, then refrigerate overnight or for at least 5 hours.
Preheat the oven to 375°F (190°C).
Evenly divide the chicken, potatoes, carrots and onions between two separate baking pans.
Sprinkle half of the curry powder into each pan, then mix very well. Cover the pans with aluminum foil and bake for 45 minutes.
Remove from the oven and flip the chicken over. Place back in the oven and bake for another 45 minutes, leaving it uncovered this time.
Turn off the oven and let the chicken sit for 15 minutes. Remove and serve hot with steamed white rice!