Thanks to today's fully packed calendar of Caribbean-style carnivals around the world, the fete never stops for true die-hards. But no matter where you go, the weather is almost never kind to our make-up looks, from blazing sun rays to random showers. Ahead of next weekend's Miami Broward Carnival (October 5-7), make-up artist Atarah Samaroo gives us the beauty lowdown for the carnival season all year round. The founder of A. Nichelle & Co. Image Consulting Services, and a native Trini herself, Samaroo knows her way around a killer carnival look. Check out her tips and tricks for the best carnival glow-up, from holistic skincare to the wonders of glitter.
What should we use to make our make-up look last all day in the sun?
Be sure to do proper application of makeup where you have layers of face powder and setting powders. I also love Ben Nye Final Seal setting spray, which was especially formulated for stage makeup so performers and actors don't sweat their face makeup off. It sets the look in place. I've tested it for Trinidad Carnival and it lasted over 12 hours.
What should we bring with on the road for touch-up?
This is part of the service I offer when I do makeup. With my carnival makeup fee, I provide a touch up pouch, small enough to not weigh you down and filled with the essentials — a mix of blot powder, sponge applicator, a lipstick in the color used for your carnival makeup and antibacterial wipes.
What skincare tip should we do to get that extra natural glow?
Your skin is a reflection of your insides physically and mentally. Physically by being hydrated always with water, taking the right multivitamins, using the best skin products to exfoliate and add moisture and mentally..just having a happy mentality, a positive vibe and always smiling. Sounds scientific but self care is the number 1 way to glow. A temporary fix will be your highlight palette (Anastasia Beverly Hills Moonchild glow kit is my fave because the highlights are in various hues from blue to purple, green or pink) where you swipe upwards from cheeks to temple, bridge of nose, Cupid's bow of the lips (the v area of the top lip)
Favorite eye-look for carnival this year? 
The best eye look will depend on the person, but Carnival is about color, so I love a variations of glitter, gems, metallic, matte, bright shimmers. My favorite will always be glitter. There's something about the sun hitting your eyes, giving you that extra shine of color.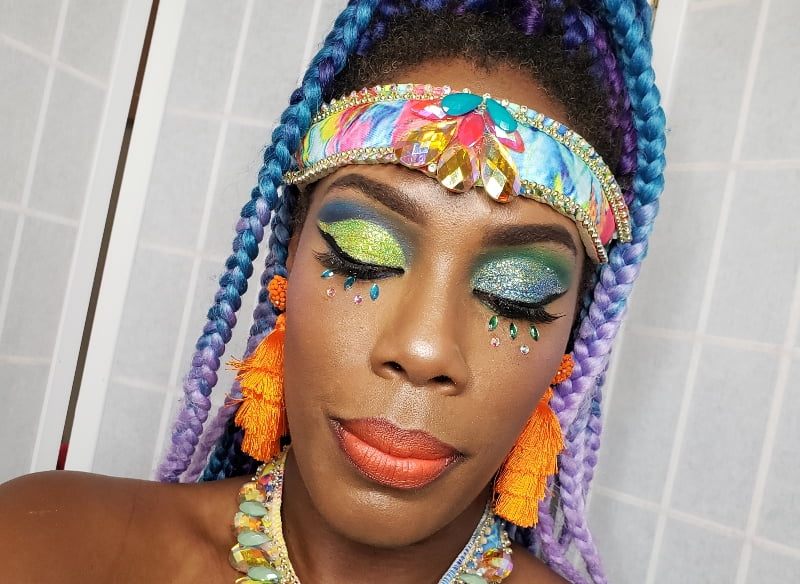 Favorite lip look?
I love a colored lip, whether it's monochromatic or vibrant dual colors, with one shade on the top lip and another shade on the bottom.
Best way to coordinate your make-up with your costume?
Depending on the arrangement of colors in your headpiece and costume, I would either use the non-dominant color or all the colors, or a color that's opposite to the dominant color. For instance, for an orange costume, I would do bright blue eye makeup. For a green and pink costume with gold trimmings, I would do a gold glitter smokey eye to bring out the gold on the costume. If the costume is purple, I'll do a lavender cut crease eye look, where the lid is lavender and above the lid is purple, or I might do a green gradient eye look. It depends what speaks to you the most.