See Jamaican artist Basil Watson's lyrical works up close and personal in his latest solo show in Miami, launching Sept. 27 at at the Historic Ward Rooming House. Hosted by Hampton Art Lovers (HAL), "Awakening" will feature sculptures and sketches by the artist. The show will run through Nov. 16, 2019.
The celebrated Jamaican artist is most known for his sensitive capture of the human form, "which is often forgotten as a true artistic subject without the vanity that so often it has become in the 21st century," notes HAL cofounder Christopher Norwood, "Basil Watson reminds us all through his amazing ability to capture the human form that it's the spirit that lifts the form to life."
The artist has created monumental public works for Jamaica, capturing the island's icons. This includes accomplished Jamaican athletes, like Olympic champions Usain Bolt, Asafa Powell, and Shelly-Ann Fraser-Pryce. He has also portrayed cultural icons like The Hon. Louise Bennett, as well as Jamaica's National Heroes. Basil is currently working on a 12-foot sculpture of Dr. Martín Luther King Jr. commissioned by the City of Atlanta.
The Story of a Jamaican Artist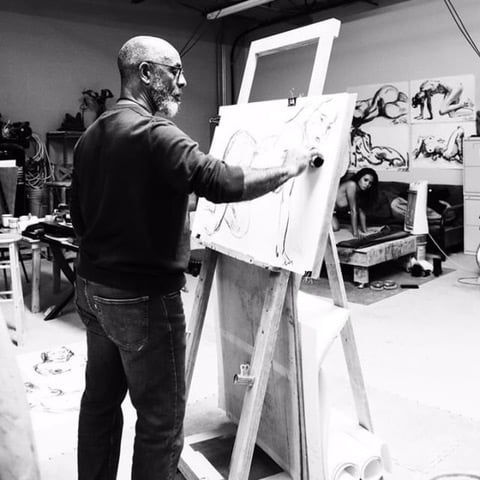 Basil Watson comes for rich artistic stock as the son of renowned painter Barrington Watson. Following his father's footsteps, Basil pursued art at the Jamaica School of Art. Following a successful career as Jamaica's leading sculptor, he received Jamaica's Order of Distinction (Commander) in recognition of his contributions.
Additionally, over his 40-year career, Basil has completed several major commissions for multiple governments and organizations all over the world.His most notable works are on display at Jamaica's primary universities and two of the Island's major stadiums.
After moving to the United States in 2002, Watson established his home and studio in Lawrenceville, Georgia. Here, is has completed commissions for major works in China, Guatemala, and the U.S.
Art In Overtown
"Awakenings" marks the latest project for HAL. As part of their mission The Southeast Overtown Park West Community Redevelopment CRA(SEOPW) are also serving as sponsors for the show.
"Historically referred to as "Harlem of the South", Overtown was once renowned as the center of Black culture and entertainment for the South, reflecting the energy of the community that found expression in the many cultural forms that existed there such as theatre, music, art, and food," says Neil Shriver, Executive Director for the SEOPW CRA.
"In furtherance of the implementation of the Historic Overtown Culture and Entertainment Master Plan, this exhibit is a preview of Overtown once again becoming a global destination of unique culture, history, and entertainment."