From golden sunsets to blue coastline vistas, Caribbean interior design has always enjoyed color in high definition. Trinidadian interior designer Toni SuratSingh has embraced this sensibility head-on in her work. "It's one of the many things I love about being from the Caribbean," she says. "I am much more open and willing to play with color."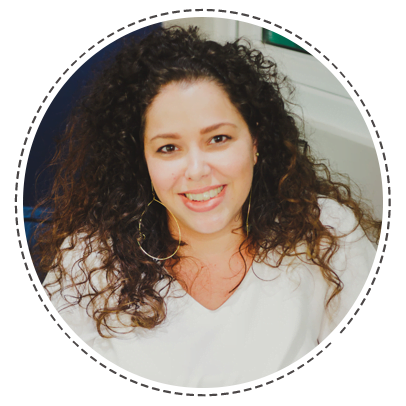 Suratsingh retained this chromatic playfulness when she moved to Toronto, Canada. There, she worked at several design firms, eventually becoming a Benjamin Moore color consultant. And Trinidad became a creative playground again when she and husband/business partner Rishi returned in 2011, launching their own firm—Toni Crockett Design—offering interior design services and color consultation.
CREATING A CARIBBEAN URBAN OASIS
The designer employed both her design and color consultancy skills when tasked to inject more personality into this basic condo in Maraval, a suburb just outside the capital, Port of Spain. The client "wanted the home to feel spacious, sophisticated and lively," notes SuratSingh. "Though most people would never go for bold color in smaller spaces, we wanted to challenge that idea by introducing very dramatic statements with the use of color."
Beginning with a completely blank canvas, once they selected the area rugs the home's palette quickly emerged—a watercolor blend of deep and pale blues in the main living areas, and warmer corals and greens in the master bedroom. "They're almost reminiscent of abstract art," notes SuratSingh about the pieces. "And they paired beautifully with the commissioned painting by artist Ashley Thompson-Steuart."
The designer imbues these hues into the space through striking statement walls, using a deep ocean blue in the living room and vibrant orange for the bedroom. She then balances these bold backgrounds "with lots of simple, modern lines" incorporating streamlined, contemporary furnishings. Golden statement light fixtures and accents also help "to add warmth and a luxurious element to the space."
The project perfectly illustrates how the vivid hues of the Caribbean can easily gel with contemporary design—an aesthetic SuratSingh has fully espoused since returning to her homeland. "Trinidad has opened my eyes to so many things I was missing, but didn't realize," she says. "The homes here in Trinidad are never cookie cutter."
LIVING ROOM: ROYAL AFFAIR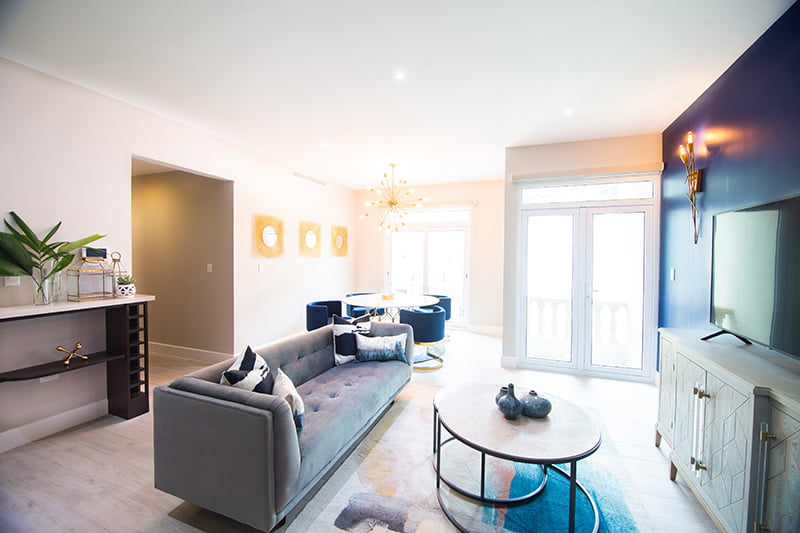 For the living room, "we wanted to inject lots of life and vibrancy through the use of color and soft furnishings," says SuratSingh. Shades of blue dominate, starting with the West Elm area rug and velvet armchair by Willa Arlo Interiors. These dreamy hues are also further emphasized with blue throw pillows and ceramic pieces. These rich hues are balanced by a gray sofa by Willa Arlo Interiors. Hints of gold are also introduced by the angular wall sconce, also by Willa Arlo Interiors.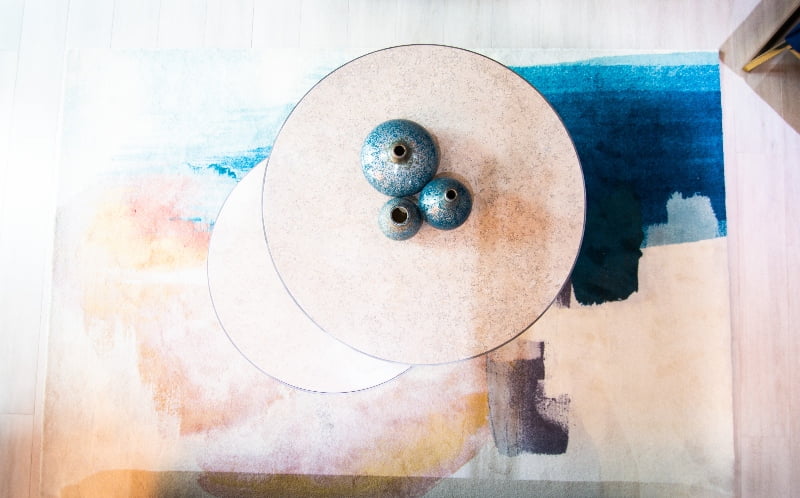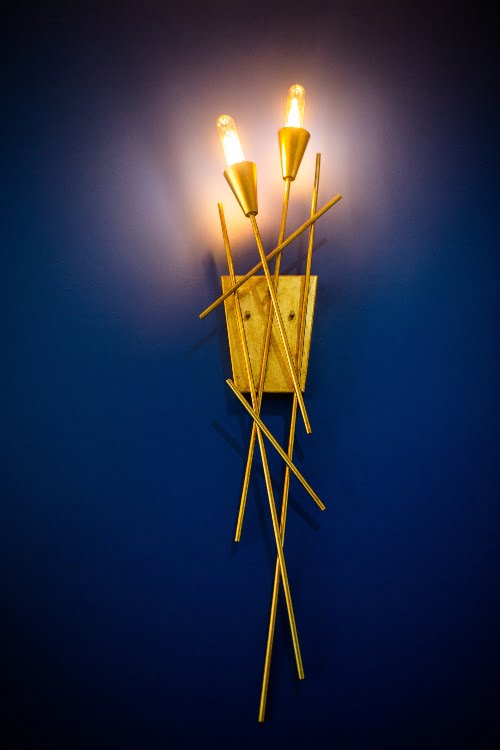 DINING ROOM: BLUE AND GOLD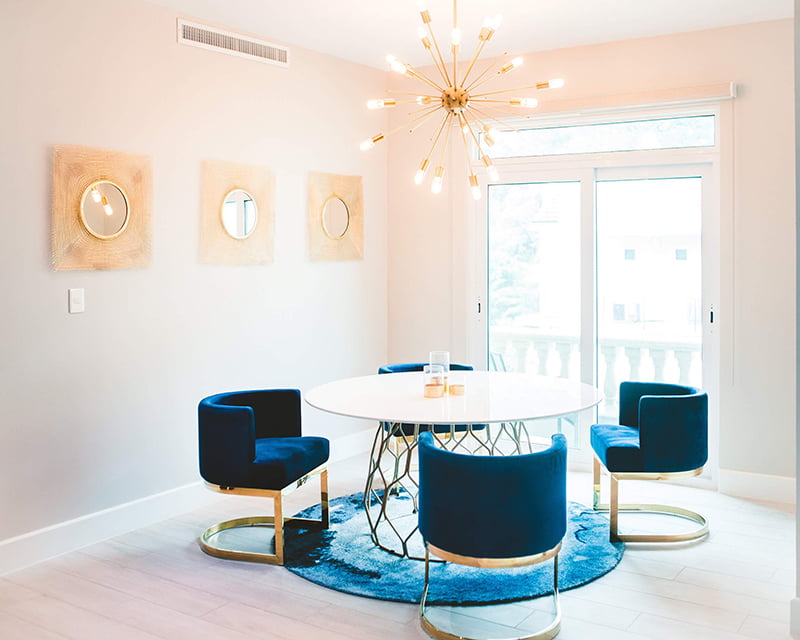 Because the main dining area merges seamlessly into the living room,"we actually treated the whole space as one room," explains SuratSingh. "It was important to have a common thread carried throughout, using color and pattern." The dining space continues the living room's rich blue palette with Hobson velvet dining chairs from Mercer41. And the designer also incorporated more gold geometric shapes with the Circuit dining table from CB2 and a Meredith Sputnik chandelier by Langley Street.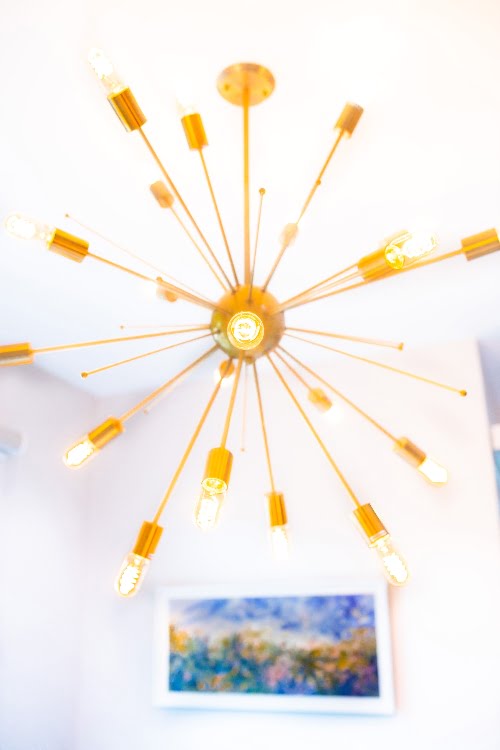 MASTER BEDROOM: GOLDEN SUNRISE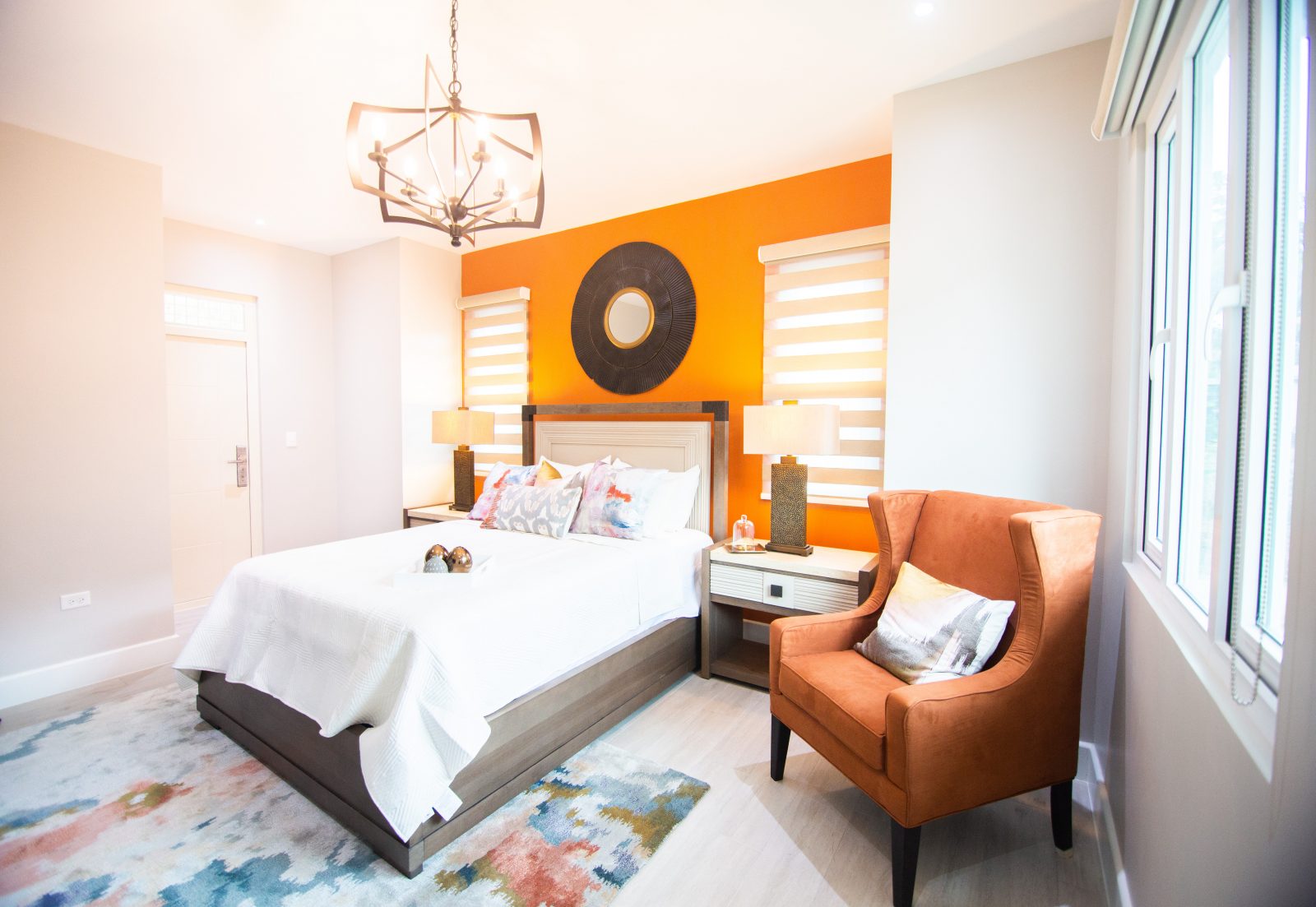 For the master bedroom, the designer defied the typical palette of soft, soothing hues. "I think the idea of any color being unconventional for any room in particular is limiting," says SuratSingh. "I think color should be chosen based on the client's likes. Orange is such an uplifting and happy color to wake up to in the morning." So to balance the bold statement wall, she employed more neutral shades for the furniture and accessories, using warm woods and fresh white linens. The bed and side tables are from Dwellings Trinidad, and the lamps are by Uttermost.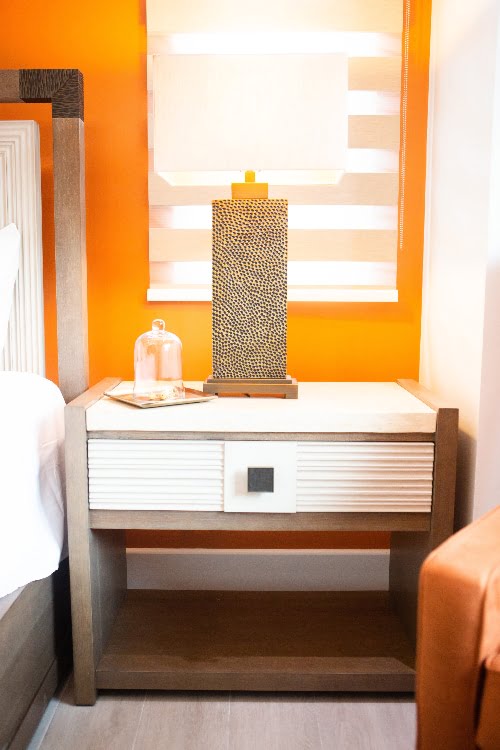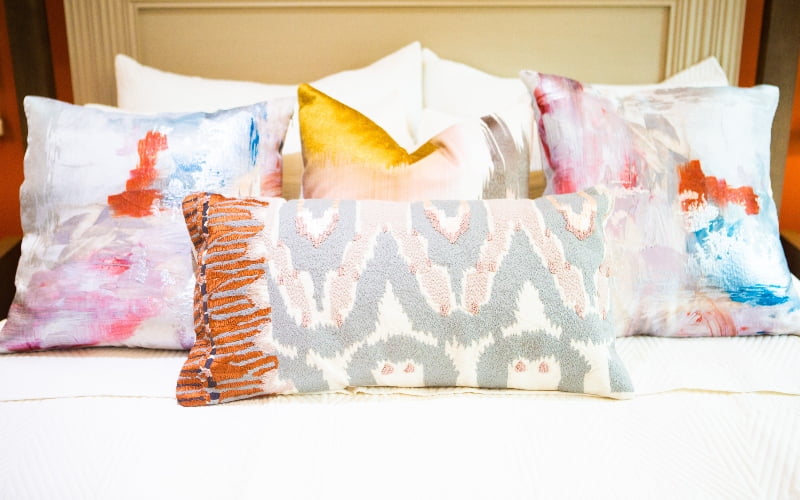 More Caribbean Interior Design: