Each February, the bustling streets of Port of Spain, Trinidad are transformed by a swarming kaleidoscope of colorful sequins, feathers, and glittery, sweat-covered bodies. Revelers in Caribbean carnival costumes and masses of onlookers "chip" to the heart-pounding rhythms of soca music. It's an entrancing sea of Trini culture that suspends all worries, and biases, even just for the duration of the carnival season.
A FEW ISLANDS TO THE NORTHEAST, Barbadians celebrate Crop Over, a six to eight weeks-long festival culminating on the first Monday in August with a massive street parade. Masqueraders "jump" to lively soca music in a blowout finale on Spring Garden Highway in the capital city, Bridgetown.
And, on Boxing Day (December 26) and New Year's Day, Bahamians "rush" down Bay Street, Nassau, entranced by the Junkanoo music played with goatskin drums, horns, cowbells, conch shells, and other locally made instruments. A few years ago, they added a pre-Lenten celebration, the Bahamas Carnival, to their event roster.
Each celebration has a different origin, but all share a common thread of colorful, meticulously designed costumes.
According to media personality and carnival enthusiast Vanessa James, whose documentary Carnival to the World is set for release in 2019, during slavery "Africans were not allowed to participate in the celebrations (of their masters) and thus rioted and forged their own celebrations. They had their own festivals and made their own costumes and sent their messages (of resistance and rebellion) through the seamstresses who designed their costumes." Participants used Caribbean carnival costumes and songs to challenge the status quo, and through satire, mocked their masters openly.
Costume designers today continue to play an integral role in carnival, creating vibrant artwork with spandex and feathers, using writhing human bodies as their canvas. It is worth noting that the satire in song has also stood the test of time.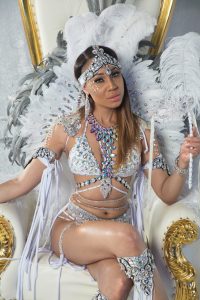 EXHIBITING ARTISTRY
Costume-making for The Bahamas' Junkanoo bands is a little different than their other Caribbean counterparts. For starters, participants—both children and adults—usually make their own costumes using cardboard and crepe paper, then decorate them with feathers, gems, and any other materials they wish, bound only by the limits of their imagination. These costumes are distinctly Ghanaian—Akan to be exact—and feature brightly colored, elaborate masks that can be fierce and whimsical. The results are often stunning.
However, for the springtime carnival celebration, costume designers like Anton James provide their services. James is one of the designers of the Bahamas Masqueraders, ensuring that The Bahamas is represented in carnivals at home and abroad. He is currently creating costumes for the Wassi Ones, a Bahamian mas band that will participate in the Miami Broward Carnival in October 2018. James wants local Bahamian designers to have a fair chance to exhibit their artistry. He believes that while costumes have to be beautiful and sturdy structures, they should also be comfortable and easy to wear.
Notably, Bahamian carnival costumes feature both the extravagant, bedazzled beadwork and exotic plumage of traditional French costume designs, and West African elements such as horns and cowbells.
FROM THE STAGE TO THE STREETS 
Brooklyn-born Bajan clothing designer Nicole Harris has outfitted reggae artists such as
Tarrus Riley and Sean Paul. But four years ago she segued into carnival costume design—a natural transition since she was raised in a family from Barbados and was always
playing mas (masquerade). She currently has her own section, Nsirrah, themed "Moonshine-Harlem, The Golden Age," for the Miami Broward Carnival 2018 band Djunction Mas. Harris started planning for this year's carnival last October, one week after the Miami celebration ended. She creates costumes for every position in the band: back line (little or no feathers), front line (bigger feathers) and a premium and extravagant costume for the section leader. Her costumes range from $300 to $1,500. She also stresses that as flamboyant as her costumes appear, they're lightweight and allow revelers to move freely.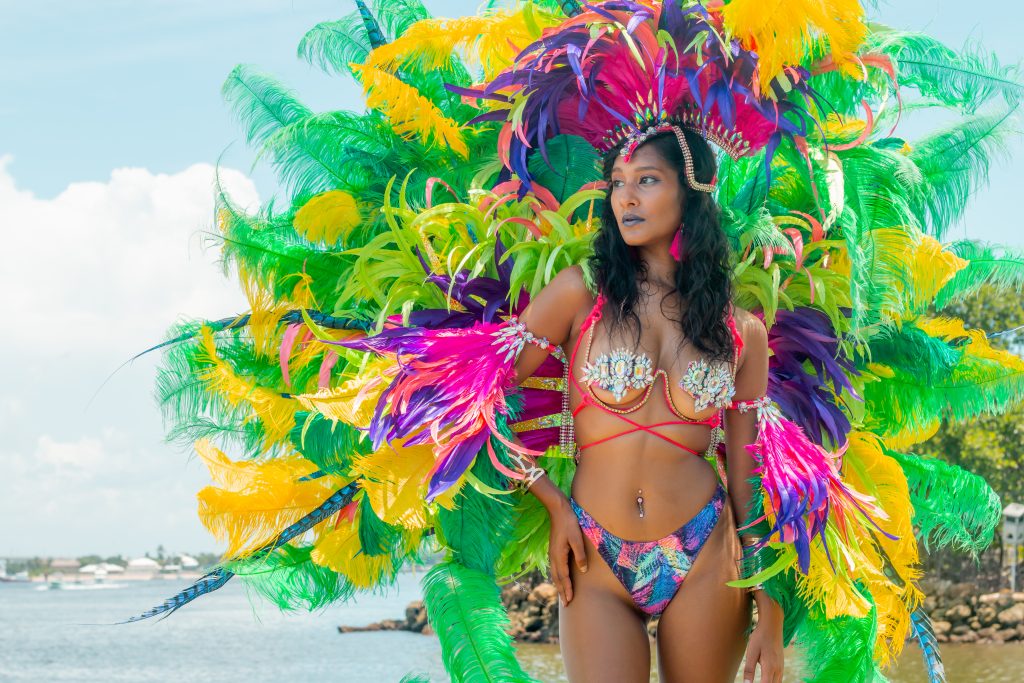 MORE THAN SWIMSUITS AND FEATHERS
Natashia Vernon of Exotic Stitch Creative Production, LLC is a Trinidadian carnival costume designer. She currently builds costumes out of Miami and Orlando for Miami-based Trinidadian mas band Jamdong Management. Vernon says they begin the process of building costumes for the following year immediately after the current carnival ends. They decide on a theme, conduct thorough research, select the right fabrics, beading, wiring, and gems, then construct the various components of the costume.
Vernon explains that a good costume designer must not only know how to sew, but also how to weld, and bend wire creatively. She sees design trends returning to their cultural roots with the creation of traditional, meaningful costumes, rather than simplistic celebrations of nakedness. For her, "It is not about a swimsuit and feathers. It's about structure and form. I am designing for all shapes and sizes, so (my designs) are versatile, but complement and enhance any body type."
While Vernon, Harris, and James represent different islands and are driven by different influences, they all have a passion for the process of costume design, and a skillful hand in preserving their culture for generations to come.
Writer Shelly-Ann Parkinson | Photography @royaleyez