In the world of high-end fashion, talent is the heart, but money is virtually the life blood of business. Designers must gain industry recognition, maintain relevance, and establish and sustain financial profitability to find lasting success. Money may not be the motive, but you certainly can't do high-end fashion right without lots of it!
ISLAND ORIGINS SPOKE TO THE MEN at the helm of two successful fashion houses, Bill Edwards Clothing Company and Garçon Couture, who helped us understand how they thrive tactically and financially in the fiercely competitive high-end fashion industry.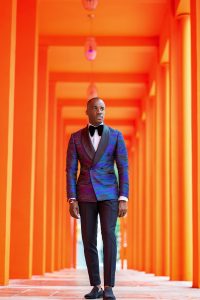 GARCON COUTURE
A wealthy clientele offers a great support system for Jean Francillon and Ilbert Sanchez, principals of Garçon Couture, an online menswear company with physical locations in Miami, Florida and Grand Central Station in New York City.
Haitian-born Francillon, and Sanchez, a Honduran, met as college roommates and decided to merge their talents for a fashion venture. With Francillon's sharp eye for stylistic detailing and Sanchez's expertise in entrepreneurship, Garçon Couture was born, and officially launched on Black Friday in 2016.
Their clients can order online, and customize everything from fit, to monogram and lining via digital or in-person consultation. Their finely milled fabrics are sourced from Italy and Shanghai.
"Our target market is 65 percent men / 35 percent women between ages 22 and 47," Francillon explains. "From the experience of designing your piece with one of our team members, to the fit of your garment; these are all hallmarks of the Garçon experience. We create pieces that our competitors are not, because we create with our clients. Perspective is not something you can reproduce or mimic," he asserts.
Their celebrity client list includes actors Rotimi and Omari Hardwick from Power, Caleb Mclaughlin of Stranger Things, Joel Embiid of the Philadelphia 76ers, Tahiry Jose of Beautiful Destroyer, and Jamie Hector from The Wire.
High profile support does not encourage complacency for Francillon, Sanchez, and their staff of four.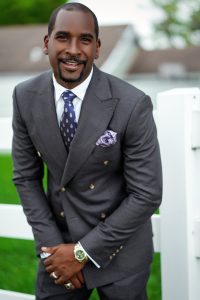 "In business, there are always challenges. Sometimes we come across hurdles that require a lot of problem-solving. Being in a climate where we have four seasons, we learn to adapt with the traffic flow depending on what season it is," Sanchez explains. "Summer is usually our slow season. So… we actually increase our marketing tactics to maintain our profitability margins."
Typical of a growing business, the partners have a tight-knit crew and every cent counts as they seek to expand.
"We source the capital ourselves and reinvest our profits into the business. We do all custom tailoring," Francillon says.
Though aggressive social media campaigning is one of Garçon Couture's main marketing strategies, Francillon points to customer satisfaction as a key element in their growth.
"We have return customers. They rarely just come and get one suit. Our word-of-mouth clientele is growing immensely and our social media presence is amazing," Francillon says. "What you see is what you think you will get, but when you get it, it's 10 times what you ever imagined. All of our clients leave our showroom with the WOW factor. Always a great feeling."
BILL EDWARDS
Bill Edwards, one of Jamaica's premier clothing designers, is a highly recognizable name in men's design on the island. Five years after he began producing custom-made suits, he was approached by Elias "Lee" Issa, a leading hotelier in the island, and owner of a high-end retail clothing chain called Lee's Fifth Ave.
"He told me that we have something special and we should go for branding," Edwards recalls. "He put our products in his hotels and stores, and that really put Bill Edwards designs out there."
The Bill Edwards line was officially launched in 1997, amidst a financial crisis in Jamaica. It was not the right environment to seek investors, especially for an industry not known for making quick returns.
"When I started out, there was hardly any bank that would look at me. It was the 1990s in Jamaica and interest rates were through the roof," Edwards says. "But we persevered and got assistance… the key thing is, I paid my bills!" He also paid his dues.
While raising capital was critical for expanding his fledgling enterprise, it was Issa's faith in Edwards' talent, and his access to ideal distribution channels, that created the right environment for the designer to succeed. Within months, his Italian linen suits, shirts, and shorts were displayed in Lee's stores, as well as shops at his Couples Resort.
Today, Bill Edwards clothing is sold throughout the Caribbean—in Barbados, St. Lucia, Trinidad and Tobago, and the United States Virgin Islands. Jamaican politicians such as former prime ministers P.J. Patterson and Portia Simpson Miller have worn his creations, as have popular dancehall artists such as Beenie Man.
Now 63, the designer says his business turned the corner about 10 years ago when he acquired a factory space in Kingston, Jamaica's capital. He is currently creative director of a company that employs 32 people, including five designers, and when the demand increases going into the December holiday season, he hires more people.
"In fashion, if you're not manufacturing you're not doing anything. It just makes no sense," he says.
Edwards travels to fashion conferences throughout the Caribbean and United States, introducing his line of "Caribbean chic" to new interests. He's also been to Poland and Lithuania to source material for his product.