For Caribbean power couple Carla and Marlon Hill, their romance is a tale as old as time, the embodiment of the opposites attract cliché. As students at Florida State University, she was the tattooed musical theater kid in love with punk rock and Prince, and he was the straight laced future lawyer. He was a Jamaican, and she a carnival-loving, first generation Trinidadian-American. "We like to joke that we have a mixed marriage," says Carla, a TV host with TV station South Florida PBS.
During one fateful dinner at the Silver Slipper in Tallahassee, with Marlon's law school graduation on the horizon, Carla did consider letting him go. "I never saw myself as anyone's wife, far less someone as wonderful as Marlon," recalls Carla. "I was trying to save him from my non-domestic ways." But when he proposed, "Something in me just said you better say yes."
"I knew the river of separation was about to happen," recalls Marlon, now a partner at Hamilton, Miller & Birthisel and candidate for Miami-Dade Commission, District 9. "But I knew we needed to remain together, no matter what direction the river went."
It turned out their unique qualities fit perfectly like puzzle pieces, her creative adventurousness matching his calm temperament. "So much of being in love is an exchange," says Marlon.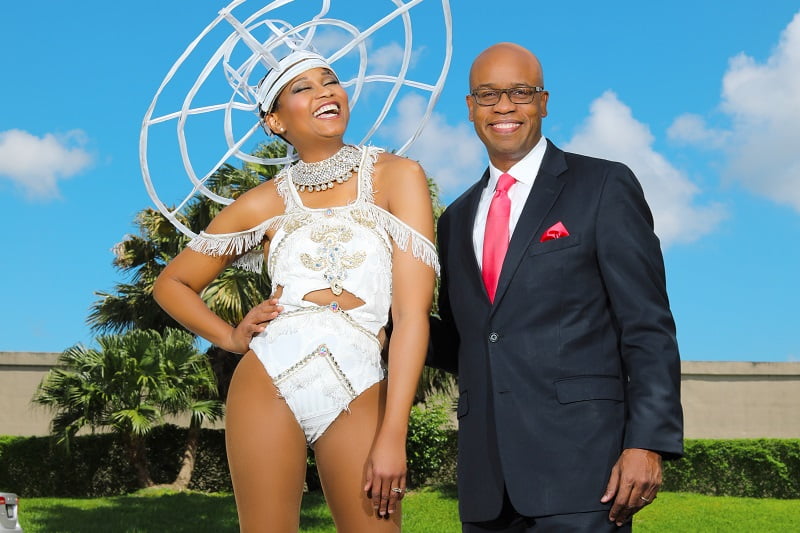 They also proved alike where it mattered, with a fierce loyalty to each other's dreams, from Carla's career in the arts to Marlon's pursuits in politics. "He has always supported me doing the things I love," says Carla, who in turn has been an active spokesperson for his civic endeavors. "I may be the first politician's wife with visible tattoos, but he loves me to be me." Their partnership has led them through many hurdles over 21 years of marriage, including Carla's kidney transplant and multiple breast cancer diagnoses. Since then, they've launched the Carla Hill & Hazel Bethel Breast Cancer and Organ Donation Fund, also honoring Carla's mother, a fellow breast cancer survivor. The organization campaigns to improve breast cancer awareness, and access to mammograms among young women of color.
Through life's many uncertainties, they've learned "to have faith in the love you have," explains Marlon. "Where we're going may be unknown. But we know we're in this together."