I happily started research on this article by going to the Savage x Fenty website, where I quickly realized that with her new lingerie line, Rihanna was, of course, doing something completely different from the norm. I slowly scrolled through, marveling at the stunning, non-traditional selection of models Riri's team chose for this campaign. The "savages" broke with every imaginable stereotype—no standard size 6 and smaller, no bias against cellulite and stretch marks. Most models had some meat on their bones… and they were all sexy.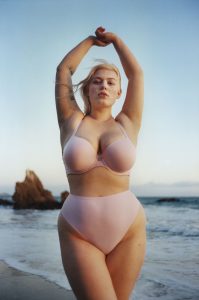 IN A VIDEO HALFWAY down the front page of the site, a voluptuous woman wearing cream-colored lingerie leans back on a couch with her legs crossed. Her expression—boundless confidence.
Much like Fenty Beauty, Rihanna's makeup line that caters to every skin tone, her lingerie line makes sexiness accessible to real women, not just the perfectly airbrushed "skinny girls." With each of her models and designs, the Bajan bad gal resists and remixes traditional beauty standards. Rihanna told UK Vogue "It was important to me to push the boundaries. I want women to feel…confident, sexy, flirty. But most of all, I want them to feel like themselves."
THE UGLY SIDE OF THE BEAUTY INDUSTRY
Savage X is a body-positive brand. It's part of a social movement that embraces the acceptance and appreciation of all body types, regard – less of size, color, texture, or other facet of appearance. Take a look at the "Savages"—any woman can see herself in them.
This powerful move dismantles decades of body-negative messaging, which imposed a rigid standard of beauty accessible only to the fair-skinned, straight-nosed, and slender—unrealistic for most, deadly for some. The statistics on women plagued by eating disorders such as anorexia and bulimia, for example, are staggering.
According to the University of Maryland Medical Center, between 85 and 95 percent of people with anorexia are women. And the organization Mirror-Mirror Eating Disorder Help says people with anorexia are 56 times more likely to commit suicide than non-sufferers. This is not to say body negativity and low self-esteem are the only factors causing these disorders, but they do play a part.
FOR EVERY MOOD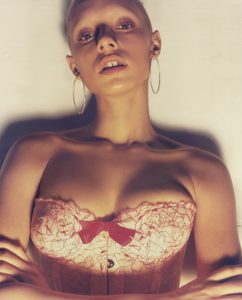 It's refreshing to see a megastar like Rihanna embrace body positivity, catering to all women and all moods. She divided the collection into four categories: "On the Reg," a selection of T-shirt bras; "U Cute" for items with lacy details; "Damn," which includes corsets and bodysuits; and "Black Widow," crotchless panties.
I love how Rihanna widens the scope of lingerie offerings. She says, "You don't have to stick to one personality with lingerie; it's fun to play around. You can be cute and playful one week and a black widow next week… I want people to wear Savage X Fenty and think, I'm a bad bitch."
The collection includes bra sizes from 32A to 44DD, underwear ranging from XS to XXXL, and offers several shades of nude—because nude comes in many different shades, right? And it's reasonably priced. While other major lingerie brands may carry larger sizes, their models are usually one size—stick thin. At Savage X, there's a clear break from that mold.
WHAT PEOPLE ARE SAYING
In a review on the Savage X website, Susan, a size 2x/3x, wrote: "… Thank you for understanding that some of this world is more than a size 12 (sometimes way more)!"
There's a social media frenzy around the brand as well. Chire wrote on Facebook, "Just the range in sizes alone makes me feel included… She's paid attention to what women look like, what this industry lacks, and addressed it."
"Most fun I ever had shopping for my wife #SavageXFenty," tweeted G.L. @8plus9. "If she gets pregnant we naming this baby Rihanna."
CONTINUITY
With Savage X Fenty and other collections that follow suit, I'm hopeful that more women will see reflections of themselves, and beauty standards will shift over time. It's also significant that Rihanna launched her line at the height of her career, while she is still an influencer of millions, somehow validating all women, acknowledging we can all be sexy.
Through this lingerie line, Rihanna proclaims the ideal body is the real body, and that's pretty empowering. She emphasises on the website that women should enjoy lingerie for themselves, adding "I want women to own their beauty." We agree!