No thanks to COVID-19, we've all been relegated to simply daydreaming about the blissful joys of the divine dishes we enjoyed just a few short months ago, from our favorite eateries. In figuring out ways to cope with the uncertainty we now face during quarantine, many Caribbean folks have turned inward—into our homes that is—to seek refuge in our kitchens cooking comfort food. As a result, our creativity has begun to shine.
My 23-year-old son, Masai, has come up with some interesting baking concoctions, including a new cornbread recipe that incorporates our stash of M&M's. The surprisingly delicious combination doesn't quite qualify as traditional Caribbean cuisine, but it does speak to our ingenuity and resourcefulness. I noticed these qualities in many of the snapshots of their culinary feats my friends are proudly sharing on social media. I also noticed some pretty consistent trends.
Thank you, Aunty Enid!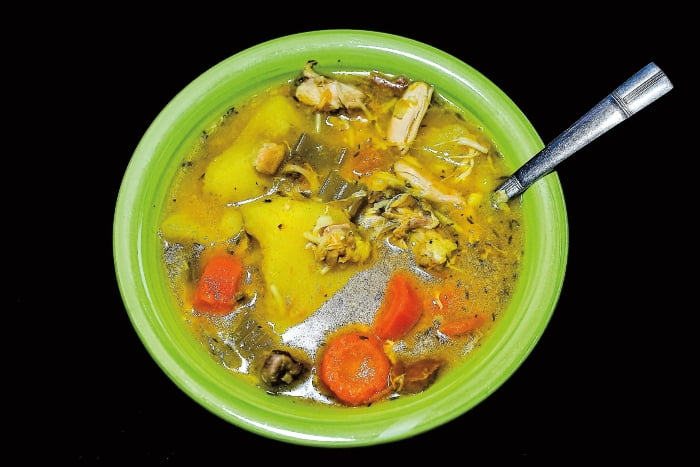 Diving back into the kitchen, families have been tapping into well-thumbed cookbooks for inspiration. It seems the 1993 recipe book, "The Real Taste of Jamaica," by Enid Donaldson remains a beloved resource.
Second-generation Bahamian-American Cathleen Dean turned to the classic book to jumpstart her kitchen. As a young mom, "I felt like a short-order cook, making what my son wanted," Dean recalls. "I took a long hiatus from cooking, so it's been years since I did any serious cooking until the Coronavirus outbreak." Dean finally cracked open her copy to try Donaldson's banana bread recipe. Featuring a dash of cinnamon, "It's now our staple banana bread, and there's been many loads of banana bread over the last couple months."
Jamaican Bridgette Miller Taylor and her family are so fond of the book that they consider themselves on a first-name basis with the famous author. "Aunty Enid's cookbook is on regular rotation during the lockdown," she shares. "We have indeed been getting kitchen creative." Inspired by her, they have also started making more traditional dishes like Saturday soup, where Bridgette does most of the preparation, while her husband Hans is on yam and dumpling duty. The couple finds fun bringing their own spin to the old-school dish. "We argue about the correct ingredients because our respective families did it differently when we were young," she says. "The final result is a blend of both."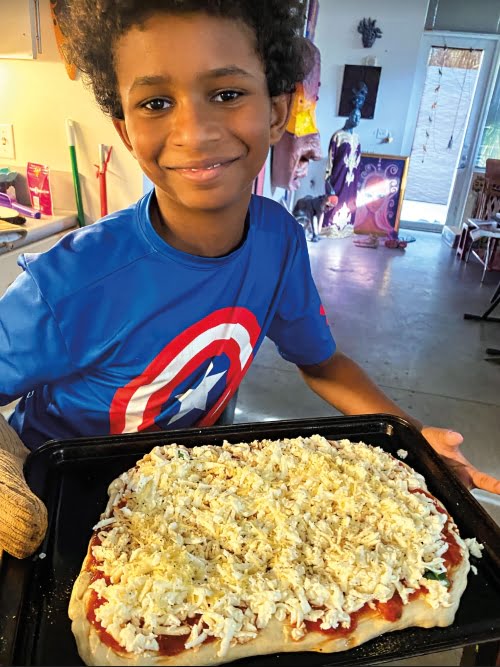 In addition, "there is a lot of stress baking happening, with all of the cakes and muffins and things with fruit and whatnot," says Taylor. This however has provided precious opportunities to engage the kids in the cooking process, which they have embraced head-on. "The firstborn is making pasta from scratch, and there's sourdough starter all over the place. Because girls don't eat meat, there are all sorts of interesting vegetarian meals happening. And our son is also learning the basics, and ruining a few pans along the way, to be sure. It's been great fun all around."
Roti Chronicles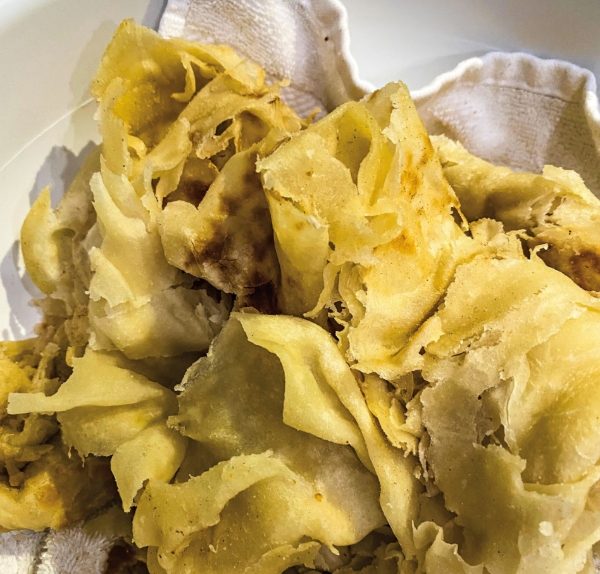 Spending more time at home, many cooks have gotten to work mastering their favorite dish. Melissa Goolsarran Ramnauth, a proud half Guyanese and half Trinidadian, has been reaping the rewards of her mum's recent roti experimentation. Though mom had been making various types of roti for 50 years, she "started watching YouTube videos and experimenting with her long-standing recipes," says Melissa.
Inspired by YouTubers like Trinidad's "Cooking with Natasha," mom began adding some butter to her own paratha roti (also known as buss up shut), and it came out softer. For bake roti, she added sugar, which made it sweeter and fluffier, and she used the same new bake recipe to make aloo pie.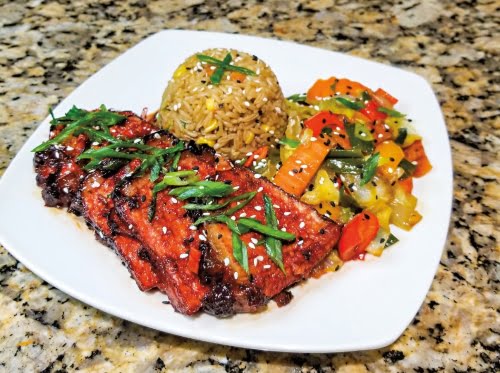 Trinidadian Shelley-Anne Glasgow-Wilson had never cooked paratha roti in her life before the COVID-19 outbreak. Since the lockdown, though, she's made it three times. "YouTube has become my friend," she says, sending special props to Trinidadian channel "Cooking with Ria." Making all this roti during food shortages, however, was tricky. "I had to bulk buy flour because it was sold out in the supermarket. Now I have 25 pounds of flour to use, and I will be the size of this house by the time I leave it."
The Mother of Invention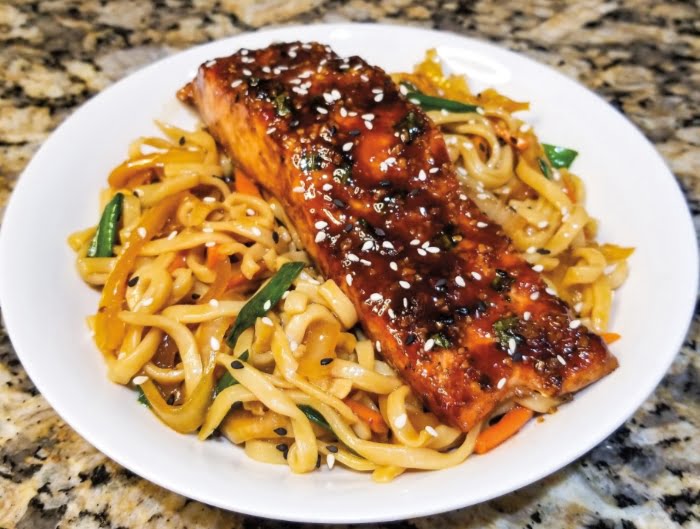 These food shortages have also prompted other cooks to look at their pantries and refrigerators in a different lens, trying out familiar staples in new ways. My brother Rich says he seasoned his stir-fry sesame steak "with some instant ginger tea, which turned out so tasty."
Fellow Jamaican Suzanne Morrison-Williams has been watching a great deal of Food Network, where she discovered the famous tostones burgers from Pincho Factory, a craft burger chain based in South Florida. It inspired her to swap out the buns for some freshly fried plantains when the family made burgers.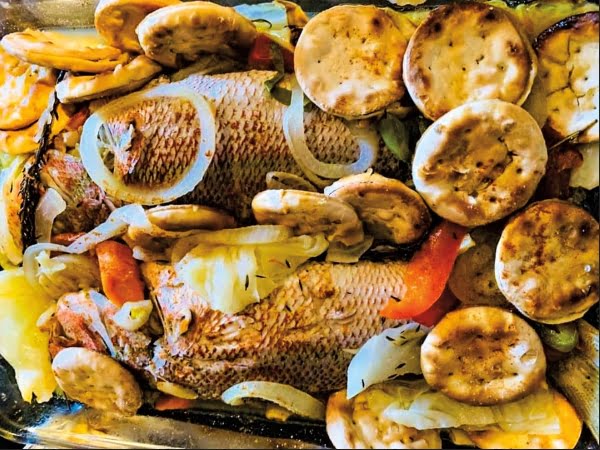 For Kenya Campbell, just entering her kitchen on a regular basis is an adventure in itself. "I normally don't like cooking," says Kenya, a self-confessed UberEats aficionado. "It's not my forte. The purchasing of the food, the preparation of the food, and the cleanup afterward. I don't like the process."
"But life changed in the pandemic, and I now have more time because I'm working from home." Kenya first explored by making jerk chicken, calling up her Jamaican mom for a recipe. She also went on to make a jerk chicken pasta from the leftovers and loved the result. "I've actually discovered that I can defend myself in the kitchen, and I didn't know that before. This has definitely shown me that I can take care of myself."
More Caribbean Comfort Food For Quarantine: