2018 turned out to be a historic year for contemporary Caribbean artists, with survey exhibitions and ground-breaking installations around the world. With so much important work from a new generation of voices, it's difficult to pick just a few highlights. But we've rounded up a few artists from the Caribbean diaspora whose work this year will linger on for years to come, from emerging artists to landmark masters.
Ebony G. Patterson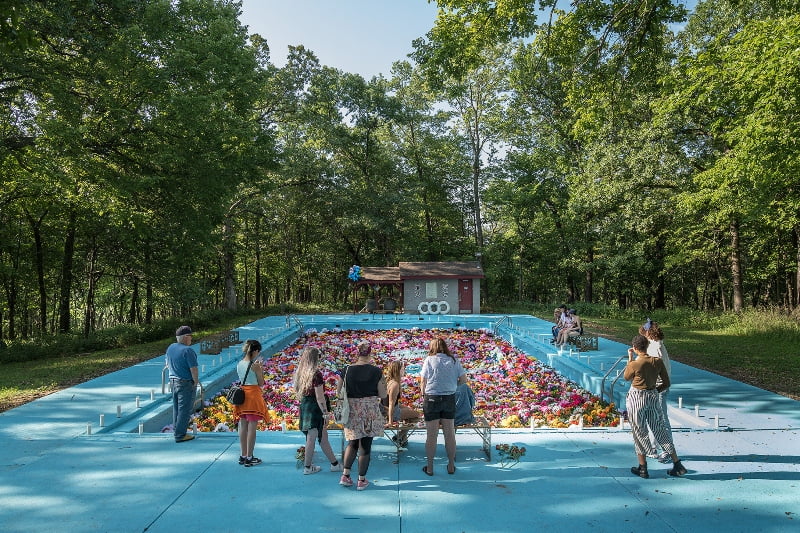 The work of Jamaican-born mixed-media artist Ebony G. Patterson expands in leaps and bounds with some ambitious exhibitions this year. She exhibited a solo show at the University of Michigan, and received the Tiffany Foundation Biennial Grant. For the "Open Spaces" installation show in Scope Park, Kansas City this summer, Patterson also transformed an abandoned pool into a ethereal bed of flowers, as a memorial for children who suffered from incurable ailments and did therapy there. The Baltimore Museum of Art also features a solo show, on exhibit until April 7th, 2019. The Perez Art Museum Miami is also exhibiting Patterson's largest showcase yet, featuring examples of the artist's work produced over the last five years, embedded within a new installation of a whimsical and dark magical garden. The exhibit runs until May 5th, 2019.
Tania Bruguera
Cuban artist and activist Tania Bruguera has experienced a difficult December, arrested again by the Cuban government — this time for protesting against Decree 349, a proposed censorship law that would limit artistic expression. This experience is just another (though eventful) chapter in the artist's storied career dedicated to advocacy for the marginalized. Most notably this year, she created a landmark installation at the prestigious Tate Modern in London, UK, exploring the global refugee crisis and migrant experience. This installation will run until February 24, 2019. The installation includes a heat sensitive floor, where visitors can work together and use their own body heat to reveal a hidden portrait of Yousef, a young man who left Syria to come to London. In a small room nearby, an organic compound in the air induces tears and provokes what the artist describes as "forced empathy."
Angel Otero
Known for his vivid, abstract-expressionistic paintings and oil paint wall hangings, Puerto Rican artist Angel Otero has brought his work to a new arena. He started 2018 with his solo show "Elegies" at the Bronx Museum. His work was also a part of the "Inherent Structures" exhibit this year at the innovative Wexner Center for the Arts at Ohio State University. The Lehmann Maupin Gallery also hosted Otero's first solo show in South Korea, called "Piel de Luna." This most recent show features recent large-scale paintings, paint collages on paper, and a tapestry-like work composed entirely of oil paint that hangs directly on the wall.
Hew Locke
British-Guyanese sculptor Hew Locke has been making ground-breaking work for decades, and the artist is showing no signs of letting up, with new and innovative installations this year. This past October in New York City, he unveiled his "Patriots" series, where he smothered large images of historic statues like George Washington, J Marion Sims, Christopher Columbus, Alexander Hamilton and Peter Stuyvesant in garish decoration. These works attempt to question and fragment the apparent authority of these Western figures, mocking their sanitized histories. This is the latest series in his career-long exploration of western colonialism and iconography, especially connected to the shaping of national identities. Also, Locke will next have a survey of his work at the Ikon gallery, from 8 March to 2 June, 2019, featuring his more recent work. For the show, plans are in the works for Locke to decorate a real historic statue: transforming the statue of Queen Victoria in Queen's Square into a Vodun Queen.
Andil Gosine
Emerging Canadian scholar and artist Andil Gosine dived into his Trinidadian roots for his ground-breaking solo show "Coolie Coolie Viens," on display until January 12 at the McIntosh Gallery, Western University in London, Ontario Canada. Exploring intimate family photography, the multi-media show examines the legacy of Indian migration and indentureship in the Caribbean, and how it shaped racial, cultural and sexual identities. Ultimately the show offers "an auto-ethnographic study of life after the end of indentureship, interrogating its legacy and the social and political effects it has had on Indo-Caribbean communities, transforming their lives through intergenerational trauma," says the artist statement. Some pieces from this series was also featured in the landmark Caribbean contemporary traveling exhibition," Relational Undercurrents," which is currently on display at the Frost Art Museum in Miami, and will be up until January 13th, 2019. Also earlier this year, the Robert McLaughlin Gallery also exhibited another series, "All the Flowers."