Interior Designer Monique Duarte knows the power of transformation—how the right silhouette or fabric can change how a room looks, and more importantly, how it feels. She applies this knowledge to the design of colorful and inviting interiors for clients locally and around the world through her company Monique Duarte Design.
DUARTE, WHO IS BASED IN VIRGINIA, traces her creative genes to her Trinidadian mother and grandmother, and their annual family trips to the island's Carnival. Both women were gifted artists and dressmakers, so "from an early age they would take me to the mas (masquerade) camps, and I got to look at and feel fabric… see the different patterns," recalls Duarte. Today, you can still see hints of that childhood fascination with color, pattern, and texture in the bespoke design interiors she delivers.
Duarte, formerly a corporate marketer for top tech brands like Yahoo and Microsoft, made a personal transition to the world of design when she began decorating her own home. "I fell in love with the process and that feeling of waking up every morning in a beautiful space," she recalls. "That's when I learned just how important it is to have a home you enjoy. People live their best lives in a space that truly represents what they are."
She is known for her effortless blend of international styles, from Caribbean coastal to European traditional, and her creative focus is always led by the client. "I believe the space should be an expression of the person you're designing for," she explains. "My job is to bring out their vision and personality."
This close collaboration may happen during in-person meetings, or remotely through her unique e-design service, which offers custom concepts and curated shopping lists via online consultations.
No matter where she designs, nothing beats that final make-over reveal. "It's a great feeling to have clients walk into the completed space and see their jaw just drop," muses Duarte. "It's such a pleasure showing them that we really brought their vision to life."
Beautiful Spaces - Interior Design by Caribbean Designer Monique Duarte
Beautiful Spaces - Interior Design by Caribbean Designer Monique Duarte2
Beautiful Spaces - Interior Design by Caribbean Designer Monique Duarte3
Beautiful Spaces - Interior Design by Caribbean Designer Monique Duarte1
Beautiful Spaces - Interior Design by Caribbean Designer Monique Duarte4
Photography by Ted Moore
GLAMOR, MEET FUNCTION
For a recent project in New Jersey, Monique Duarte Design was tasked with injecting color and glamor into the bedroom, living room and office/lounge area of a new home.
The client had just moved into her new home and Duarte says she "wanted a design that would incorporate more color as well as accommodate the items she already had, like her sectional sofa and assorted artwork. She also works from home quite a bit, so she wanted to create an office/lounge area that was functional but also energizing."
The result was a stunning transformation the client absolutely loved.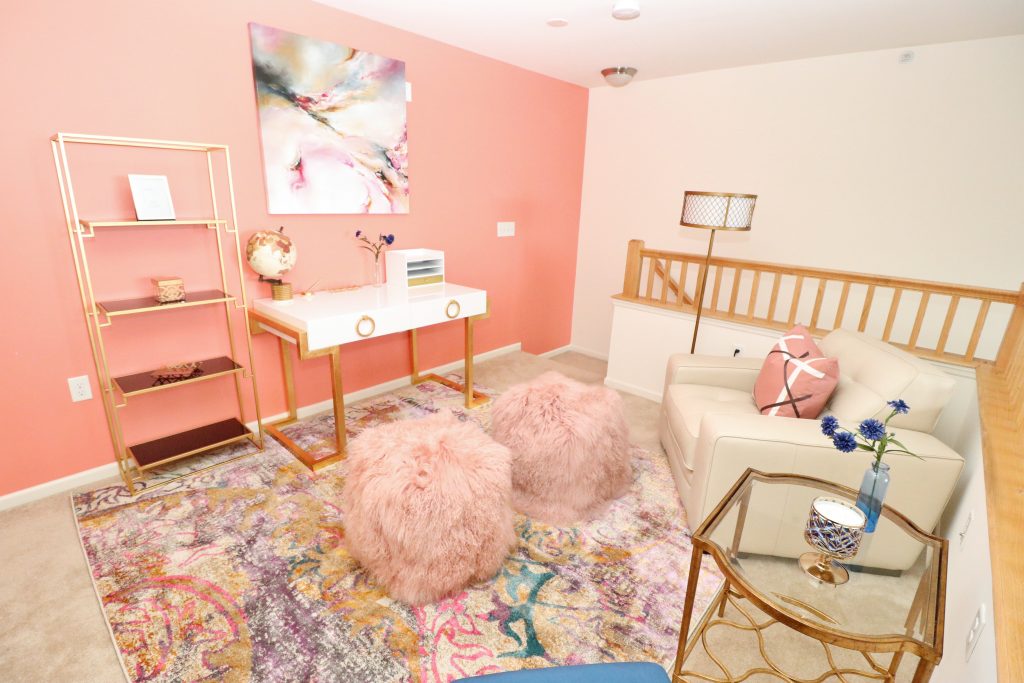 TIPS FROM THE DESIGN PRO AT MONIQUE DUARTE DESIGN
We spoke more with the designer about her favorite transformation tricks, from selecting color schemes to figuring out what to do with Grandma's dining table.
What are your favorite hues to work with?
I am a color person but I like a clean palette, so I love coastal colors—that turquoise family of cool greens and blues. Those colors are so relaxing, and clients tend to like
these colors too, because you can do so much with them. On the flipside, I love vibrant colors too, like oranges and pinks.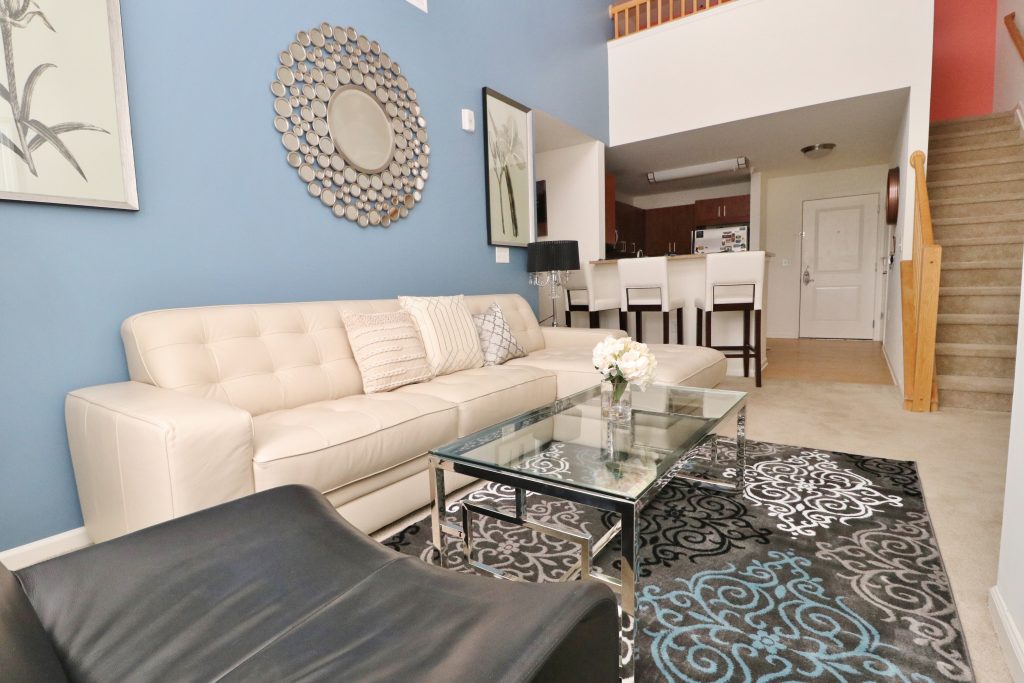 Name your go-to accessories for completing a room.
The right lighting can transform a room. Tall floor lamps with big lampshades are really popular right now. Plants also add such life to a room, especially if you're looking to
create that coastal feel. And I love using wall mirrors. They come in all different shapes and sizes, and make spaces seem bigger.
Any advice on what to do with family antiques (like those heavy mahogany pieces from your Caribbean grandma)?
Those handmade pieces have such a special quality that's just timeless. So don't feel you need everything brand new to feel contemporary. Mix and match different pieces from different eras, and have fun with it.