Nothing calms the mind and soothes the soul like a traditional home-cooked meal. During these stressful times of the COVID-19 pandemic, Caribbean folks are turning to familiar dishes to bring a sense of home wherever they are. With this in mind, we're gathering our favorite Caribbean comfort food recipes to add some island flair to your kitchen. This week, the bright, bold Haitian flavors are the star of the show, filled with decadent stews and carb-loaded deliciousness.
Poule en Sauce (Haitian Stewed Chicken)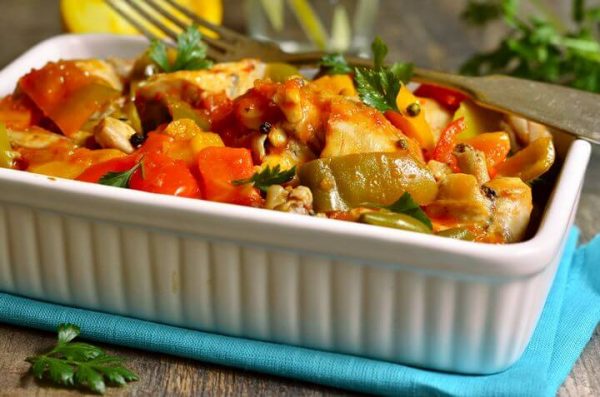 Poule en Sauce is a staple of Haitian cuisine. This delicious dish of tender stewed chicken with garlic, onion, peppers, and spices is easy enough to throw together on a weeknight. Serve with rice for a satisfying family dinner.
(Serves 4)
Total Time: 1 hr 5 min
INGREDIENTS
1 medium chicken, cut in pieces, or 6 whole chicken thighs
1 lime or lemon, cut in half
Garlic, chopped, to taste
Salt and pepper, to taste
Ground cloves, to taste
4-5 tbsp oil
1 large onion, sliced in rounds
2 green bell peppers, sliced
1/3 cup tomato paste
3/4 cups water
1 hot pepper, whole (optional)
INSTRUCTIONS
Preheat oven to 350 degrees F.
Rinse the chicken under cool water, rub with the lemon or lime, and sprinkle with salt and pepper
Heat the oil in a pan and fry the chicken pieces on each side for a short time, just until golden brown.
Arrange the chicken pieces in a large ovenproof pan and sprinkle over the onions and bell peppers.
In a small bowl combine the garlic, tomato paste, water and a pinch or two of ground cloves and mix well. Taste and add more seasoning if desired. Pour the sauce over the chicken. Add the hot pepper if desired.
Bake uncovered for at least 45 minutes, until the chicken is thoroughly cooked.
Serve hot with a side of rice.
Tasso Beouf (Haitian Fried Beef)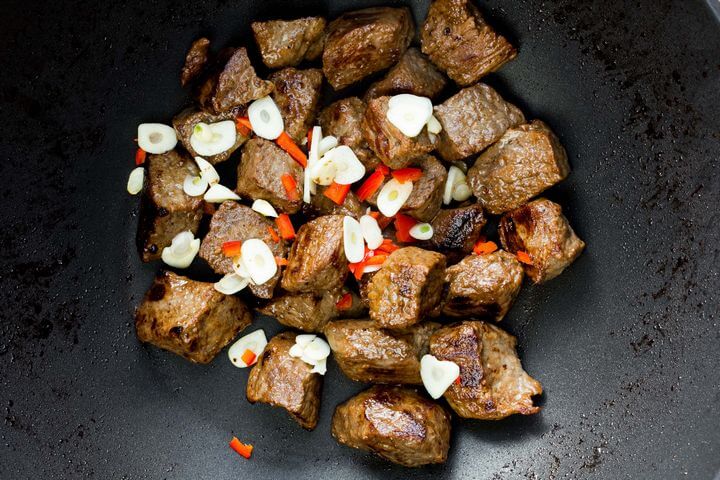 Haitian Tasso Beouf, or fried beef, packs robust flavor. In this classic recipe, flank steak or pot roast is marinated in garlic, peppers, scallions, citrus juices, and spices before being fried. The fresh sour orange and lime juices in the marinade brighten the flavor of this entrée. Try it with a side of Diri Kole or Djon Djon Rice.
INGREDIENTS
3 lbs fresh brisket, flank steak, or pot roast, cut into 1/4″-1/2″ slices
Juice of 2 sour oranges
Juice of 2 limes
4 cloves garlic, finely chopped
2 scallions, finely chopped
1 tbsp salt
2 scotch bonnet peppers, chopped
4 sprigs thyme
1 tsp ground cloves
1 tsp ground black pepper
1/4 cup oil
INSTRUCTIONS
Combine all ingredients (except oil) in a large bowl, cover, and allow to marinate overnight or for at least four hours in the refrigerator.
Transfer meat and marinade into a cooking pot and add enough water to cover. Bring to a boil, then reduce heat and simmer, covered, until meat is tender.
Fry meat in a large frying pan until golden brown. Remove from oil and place on paper towels to drain and cool.
Serve.
Adapted from Haitian Traditional Cuisine
Pain de Mais (Haitian Corn Bread)
Haitian Pain de Mais is a dense and delicious quick bread reminiscent of American pound cake, banana bread and corn bread, combined. In Haiti, corn is a native plant and is grown everywhere, making this bread a natural result of "what to do with all this mais!" You probably already have many of the ingredients in your kitchen for this easy mix-and-bake recipe.
Prep Time: 30 min
Total Time: 1 hr 30 min
INGREDIENTS
2 sticks butter
1 cup brown sugar
1 cup granulated sugar
2 eggs
2 bananas, mashed
1 cup flour
2 cups cornmeal
1 can Carnation milk
1 can coconut milk
Zest of 1 lemon
1 tsp nutmeg
1 tbsp ground cinnamon
1 tbsp ground ginger
1 tsp baking powder
1 tbsp Haitian rum
2 tsp vanilla extract
1 cup shredded coconut
INSTRUCTIONS
Preheat oven to 350-degrees F. Grease a 13″ x 9″ pan.
Combine all dry ingredients in a large mixing bowl and stir.
Combine all wet ingredients in a separate bowl and stir.
Pour the wet mixture into the dry and stir well.
Pour mixture into the greased pan. Bake for one hour.
Allow to cool, serve.
Diri Kole (Haitian Rice and Beans)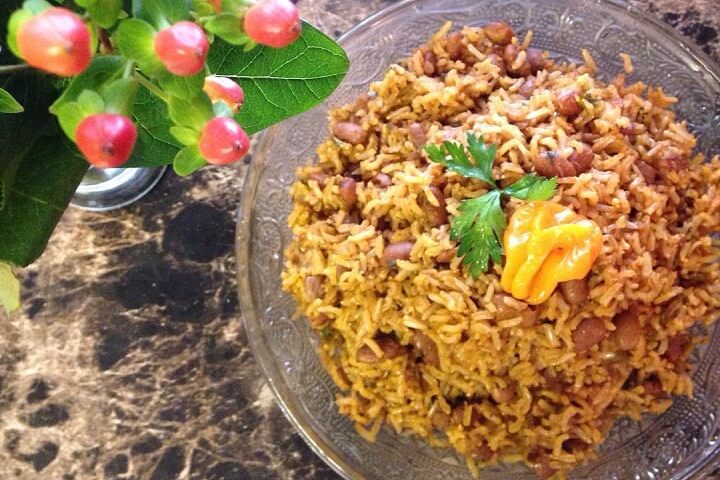 Warm, comforting Diri Kole can be found just about everywhere in Haiti. The dish can easily stand on its own, but it's also the perfect companion to spicy meat entrées.  While some variations of Diri Kole make use of cornmeal instead of rice, in this classic recipe you'll find long-grain white rice with red beans.
INGREDIENTS
1 1/2 cups dried red beans
2 cups white long-grain rice, rinsed
1 tsp salt
1 tsp ground black pepper
1/2 bouillon cube, crushed
1/8 – 1/4 cup onions, roughly chopped
2 cloves garlic, crushed
5 whole cloves
2 tbsp + 1 tsp canola oil
1 tbsp butter
INSTRUCTIONS
Discard any broken, bruised, or discolored beans. Rinse beans, place in a bowl, and pour in enough water to cover them. Soak overnight and drain before cooking.
Add the beans to a pot and pour enough water so that they are completely covered, plus a couple more inches of water.
Add the salt and bring to a boil; boil for 45-60 minutes, until the beans are soft. Add more water if the level gets below the beans. Strain, reserving the water.
Heat 2 tablespoons of the oiI in a large frying pan over medium-high heat. Add the onions, garlic, and chicken bouillon cube and sauté for 4 minutes.
Add in 3/4 cups of the cooked beans and continue to sauté for 3-4 minutes.
Once the beans begin to brown, add in the remaining beans, black pepper, cloves, and the reserved water the beans were boiled in. Cover pan and bring to a boil. Taste and add more salt if needed.
Add the rice. Boil until the water has reduced to the level of the rice.
Stir in 1 teaspoon of oil and the butter. Cover the pot and reduce the heat to medium-low. Simmer for 15 minutes.
Reduce the heat to low and allow to gently simmer for 10-15 more minutes, until everything is tender.
Serve hot. Enjoy Diri Kole with Griot or Tasso Beouf
Macaroni au Gratin (Haitian Baked Mac & Cheese)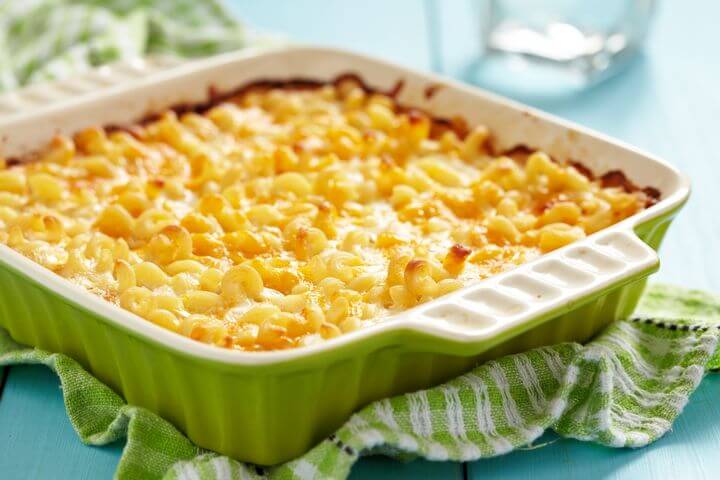 Haitian Macaroni au Gratin is not your standard mac-n-cheese. This full-flavor recipe includes seasonings like Worcester sauce, white pepper, and mustard which can be adjusted to suit your own taste… and three different types of cheese!
INGREDIENTS
8 oz penne pasta
15 oz ricotta cheese
1/2 tsp onion powder
1 tbsp mayonnaise
2 tsp Worcestershire sauce
2 tsp soy sauce
1 tsp mustard
1 1/2 tsp white pepper
1 large egg
1/2 chicken bouillon cube, crushed
1/4 cup milk
6 oz mozzarella cheese
3 oz parmesan cheese
3 oz cheddar cheese
1 clove garlic, chopped
INSTRUCTIONS
Preheat oven to 400 degrees F.
Boil pasta in 4 cups salted water until just soft enough to press.
In a large mixing bowl, whisk the egg. Add all of the ingredients except for the Parmesan cheese and stir well.
Drain pasta and add to the bowl. Mix very well to evenly coat the pasta.
Pour everything into a large casserole dish and sprinkle the top with Parmesan cheese. Bake for 20-30 minutes, until bubbling and light brown.
Allow to cool for 5-10 minutes. Serve.
More Caribbean Recipes: