Contemporary Caribbean Art has staked its claim on the international art market. At the top end of the multi-billion dollar global art industry, uber-wealthy collectors and investors will spend millions on a single piece from key names. In fact, in 2017, the 1982 untitled painting of a skull by late Caribbean-American artist Jean-Michel Basquiat became the most expensive piece ever sold at auction by a U.S. Artist, at a record-breaking $110.5 million.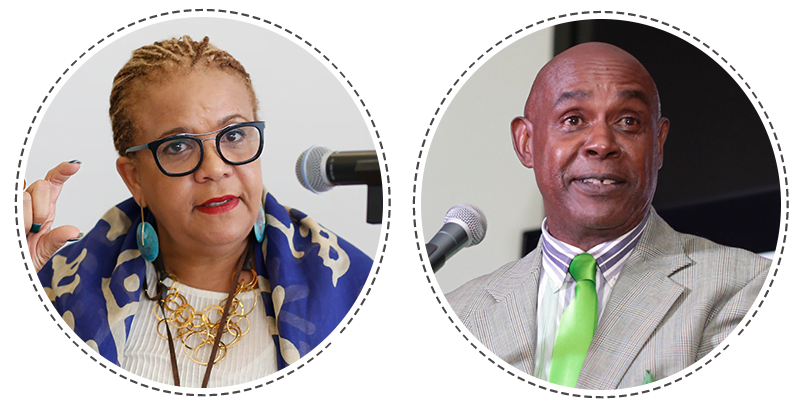 At the other end of the spectrum are art lovers who would like to secure original work but may have limited budgets or have no idea how to navigate the art world. To shed some light on the issue, we spoke to art advisor and curator Ludlow Bailey, managing director of Contemporary African Diaspora Art (CADA) and Rosie Gordon-Wallace, founder and senior curator of Diaspora Vibe Gallery and Diaspora Vibe Cultural Arts Incubator (DVCAI).
STATE OF OUR ART
"The Caribbean is now becoming more aware of how to promote its creativity in the visual arts. And Miami is becoming somewhat of an epicenter for Caribbean art," says Bailey, who helped artists like St. Lucia's Jallim Eudovic to find his way into the global market. Eudovic was later tapped by the Chinese government to create a bronze sculpture for the largest sculpture park in the world, Changchun International.
Recently, the Pérez Art Museum Miami (PAMM) received a $1 million  grant from the Andrew W. Mellon Foundation to help fund the museum's Caribbean Cultural Institute. Bailey and Gordon-Wallace, both Caribbean-Americans, will curate exhibitions this year: Roots of the Spirit in Broward October 12 through December 27 and InterSectionality: Diaspora Art From the Creole City in Miami November 14, 2019 through March 20, 2020, respectively. Then, there's Miami Art Week in December, where there will be myriad opportunities to buy Caribbean art.
WHY INVEST IN ART
According to recent research by University of London professor Semir Zeki, viewing art can increase dopamine in the brain. The experience even give a feeling similar to being in love. Gordon-Wallace explains that art stimulates conversation, and based on the type of art collected, dictates a certain lifestyle. Of course, with value appreciation, smart buying and careful timing yields financial benefits if an artist becomes more valuable.
"The collector is an investor in the genre [or multiple genres]— an intellectual investor, an economic investor and an investor in the culture—who will do due diligence, and, before even buying the first piece, will have a conversation with the artist," says Gordon-Wallace. She implores buyers to visit art exhibitions with a collector's mindset, with "wisdom, experience and knowledge."
However, she advises you don't have to be a collector—or have unlimited cash—to start acquiring pieces that you love. Be deliberate, but trust your instincts and buy what you like.
SMART ART BUYING
Acquiring great pieces for reasonable prices also requires a savvy approach, Bailey says. For example, buy work from leading art students, before they come to market. Gordon-Wallace encourages would-be buyers to set a realistic budget. Potential buyers should start visiting public places that have openings, and speaking to the artists, whenever possible. "The repeated practice of learning about the people who created the work moves you from someone who wants 'a little thing' on your wall to someone who is collecting work," she concludes.
More On Contemporary Caribbean Art: