Writer Calibe Thompson | Photography Rolando Diaz
In the trendy area of Miami known as downtown Brickell, a two bedroom condo in one of the area's newest buildings became a blank canvas for Cuban American designer Maite Granda.
Floor to ceiling windows bathe living spaces in sunlight during the day, while offering the young Brazilian couple who have made this their vacation home, a breathtaking, panoramic view of the city.
Clean, modern and eclectic are words that come to mind when observing Granda's design aesthetic. A variety of bold patterns find their way onto floors, pillows and walls, never becoming overwhelming, always knowing their place.
She says her biggest challenge on this project was the large, lean, structural column piercing upward through the living room, from the floor below and into the floor above. Instead of approaching it as an eyesore to be hidden, Granda embraced its peculiarity, and made it the focal point of the room, taming its rotund opulence by adding equally prominent blocks of muted color to its base.
In the sitting rooms, the black and white color palette with grey and pastel accents suggests an effortlessness, belying the meticulous attention to detail that allows fuzzy pink pillows to coexist peacefully with a wicker basket lampshade, sleek modern cabinetry, and slick, white art deco chairs.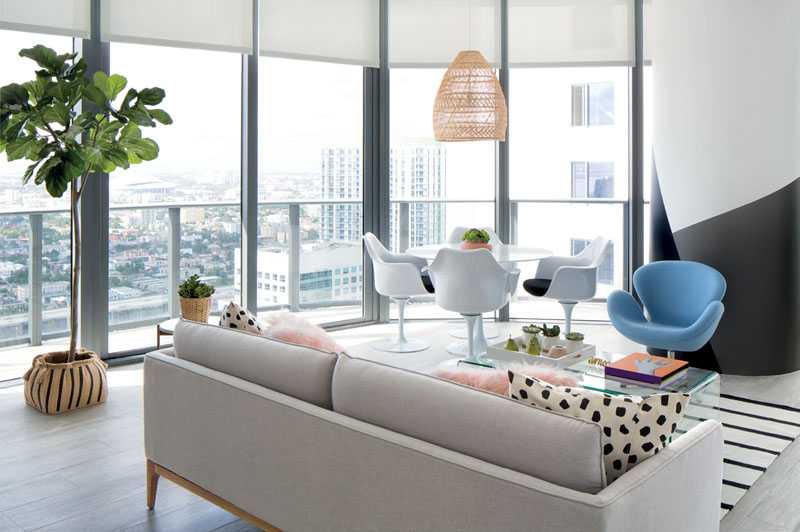 A swirl of deliberate, black paint strokes dance across a plain white canvas, rounding out the exquisite curiosities in the sitting room, meant to catch your eye.
In one of the bedrooms, another fuzzy pink pillow is nestled into simple, white bedding, basking under an accent wall whose white and pink patterns are a sneaky, inverted nod to the pillow's whimsical silhouette. Blue and grey tones add subdued points of interest here, and throughout the other rooms.
There's a work area whose black and white decor is punctuated by a single pop of red on a wall, a few green leaves, and a pair of wicker arm chairs. With a tidy collage of perfectly positioned wall hangings, the room is clean and simple, but far from boring.
Granda's clients left her with a blank canvas, and returned to a newly completed vacation home that they "absolutely loved". She declares, "I just love the process. Reinventing and designing without limits. If you care about your craft and your ideas, you'll take the extra time, and add the touches that you know will make your work really shine."