Sometimes the craving for Caribbean food just feels too strong, filled with fresh fruits and vegetables. But the items in your fridge may not prove up to the task. Not to fear! These Caribbean recipes take advantage of your common pantry staples to create something truly delightful. Try your hand at these easy Caribbean concoctions with ingredients you have handy.
Caribbean Brown Stewed Chicken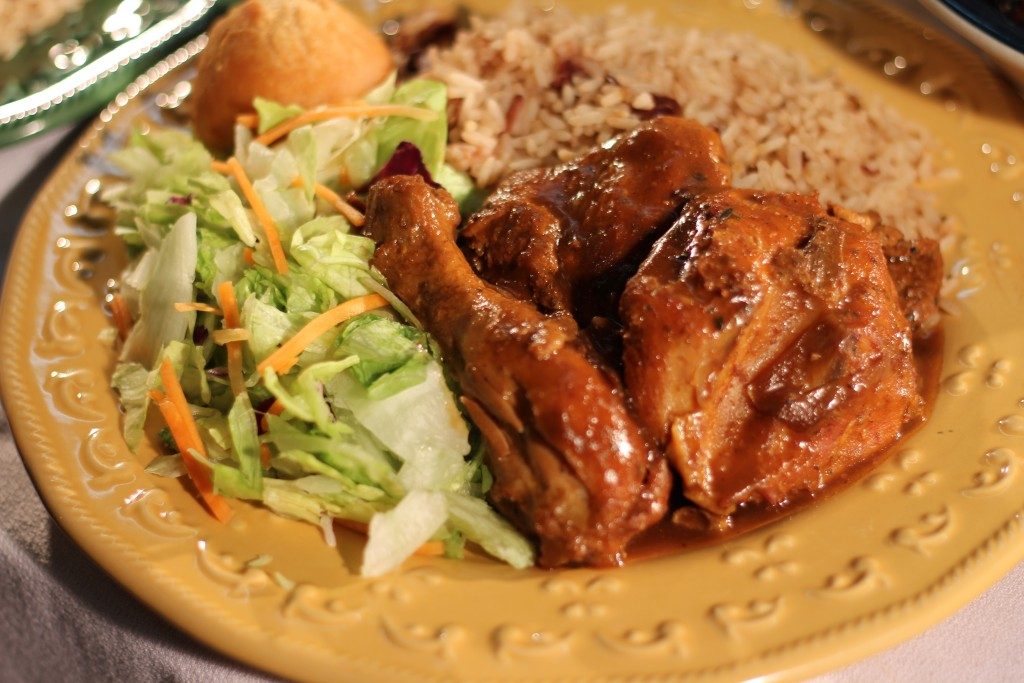 Craving a decadent Sunday dinner? You don't need much to upgrade your basic chicken dish thanks to this Caribbean brown stewed chicken recipe. A little onion, garlic, ketchup and thyme create an extremely well-seasoned dish that's fall-off-the-bone tender. This stick-to the bones dish will "hold you" for hours.
INGREDIENTS
3 lbs chicken, cut in pieces and skin removed
CHICKEN SEASONINGS
2 tsp salt
1/2 tsp black pepper
2 tsp sugar
3 large cloves garlic, minced
2 stalk scallion (white part only), chopped
GRAVY
1/2 cup cooking oil (for frying chicken)
1 large onion, chopped
1/4 each, red and green bell pepper, chopped
1 sprig of thyme or 1 tsp dried
1 tsp pepper sauce
1 tbsp tomato ketchup
2 cups hot water
1 tsp salt (to taste)
INSTRUCTIONS
Tip: Wash the chicken and make sure to dry it with a paper towel to remove any water before frying.
Season chicken with salt, black pepper, sugar, garlic and scallion (green onion).
Marinate the chicken overnight or at least one hour before frying.
Remove scallion from chicken and, on High heat, fry the chicken in cooking oil for 2 to 3 minutes on each side, until browned.
Remove chicken from pan.
Remove half the cooking oil in a pan and use the remaining oil to fry onions and bell peppers until onions are transparent.
Add thyme, hot pepper sauce, tomato ketchup and 1 cup of hot water to pan and stir
Taste the gravy and add 1 tsp of salt, if needed; let simmer for 5 minutes.
Add chicken to the gravy.
Add 1 cup of hot water and turn heat to low and cover the pan.
Simmer chicken for 30 minutes or until it is tender and the gravy has thickened.
Enjoy your delicious Caribbean Brown Stew Chicken with rice and peas, white rice, salad and/or fried plantains.
Fried Dumplings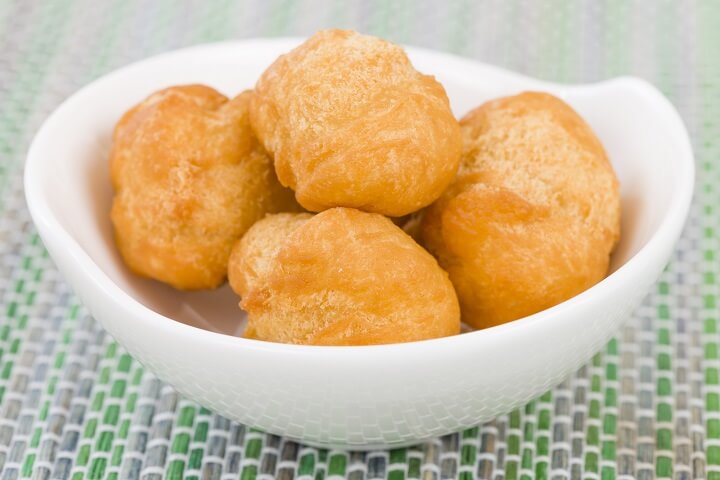 Craving some freshly fried carbs? Nothing proves easier to make than a fresh batch of this fried dumpling recipe. They can accompany any meal throughout the day, but taste particularly scrumptious with breakfast. Plus, you only need a little flour, baking powder and butter, and it's easy to prep and fry up.
INGREDIENTS
2 cups all-purpose flour
1/2 to 1 tsp salt (if using salted butter or margarine, use 1/2 tsp salt)
3 tsp baking powder
3 tbsp unsalted butter or margarine (cold)
3/4 cup cold water
1/2 cup cooking oil
INSTRUCTIONS
Combine flour, salt and baking powder in a bowl
Blend butter into dry ingredients with hands or mixer until crumbly
Add water, a little at a time, to dry ingredients until dough holds together (you may not need all the water). Sprinkle with more flour if the dough is too wet.
Knead dough until smooth; do not over knead. Wrap in plastic wrap and place in the fridge for 15 minutes
Shape dough into 8 small balls (enough to fit in palm)
Pour cooking oil into a frying pan until it is high enough to cover your rolled dumplings to half their height.
Set stove to medium heat. Once the oil is hot, place dumplings carefully into the pan
As each side browns continually, turn dumplings until all sides are brown and dumplings are light and fluffy. When fully cooked, they will be light brown and crispy on the outside and will sound hollow when tapped.
Place on a paper towel to drain any excess oil and serve hot.
Tip: If you feel like cheating, try Grace Johnny Cake Fried Dumpling Mix. This easy pantry staple proves just as delicious and gives a nice short cut to delicious.
Adapted from cooklikeajamaican.com
Corn and Black Bean Salsa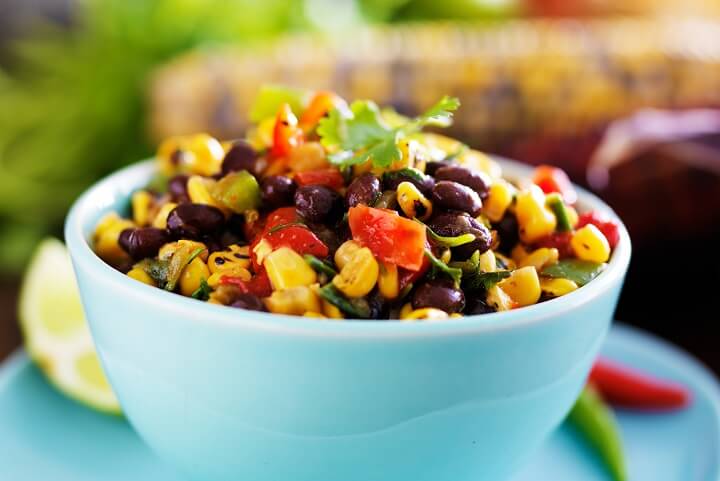 Recipes made from pantry canned food staples can sometimes seem both bland in flavour and colour. However, a little lime juice and fresh cilantro utterly transform the medley of canned vegetables and beans in this Caribbean salsa recipe. This recipe for corn and black bean salsa proves perfect when served chunky along with tortilla chips or as aside. This recipe tastes robust with a mix of hearty flavours and textures.
INGREDIENTS
15 oz can yellow corn, drained
15 oz can white corn, drained
30 oz cans black beans, drained and rinsed
14.5 oz can Italian-style diced tomatoes, drained
1 bunch finely chopped cilantro
5 green onions, finely sliced
1 small red onion, finely chopped
1 red bell pepper, seeded and chopped
1 tbs minced garlic
1/4 cup lime juice
1 avocado – peeled, pitted, and diced
2 tbs olive oil, or to taste
INSTRUCTIONS
Stir the yellow and white corn, black beans, tomatoes, cilantro, green onion, red onion, bell pepper, and garlic in a large bowl.
Gently mix in the lime juice and avocado.
Drizzle with olive oil to serve.
Tembleque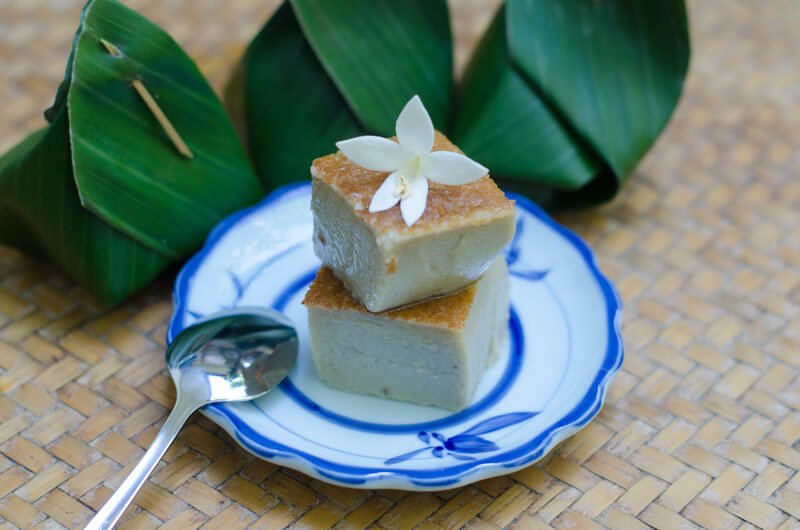 Need to satisfy your sweet tooth? But can't be bothered with elaborate recipes? A classic Puerto Rican is the ultimate Caribbean pantry staple recipe. This delicious dessert only requires a handful of pantry ingredients and just 5 minutes of active cooking time. And it's bound to delight with a name that literally translates to "jiggle." And when you try it you'll see why!
INGREDIENTS
4 cups coconut milk
½ cup cornstarch
2/3 cup sugar
½ tsp. salt
1 tbsp. orange blossom water (optional)
the ground cinnamon, to taste
INSTRUCTIONS
1. In a saucepan over medium-high heat whisk together the cornstarch in 1/4 cup coconut milk until it's completely mixed with no lumps.
2. Add the rest of the coconut milk, sugar, and salt. Stir constantly and reduce the heat to low as it begins to thicken. Continue stirring, constantly, until thickened (about 5 minutes).
3. Immediately pour into wet moulds, pans or cups. Allow to cool, then cover and refrigerate for at least 2 hours.
4. Carefully separate the tembleque from the mould using a knife and turn it over onto a dish. Sprinkle with cinnamon.
Adapted from El Boricua
More Caribbean Recipes: