Nothing summons a sense of home quite like the scent of something familiar and delicious cooking on the stove. For those seeking some respite for both body and soul, we're gathering our favorite Caribbean comfort food recipes. This week, we head to Cuba for some traditional Cuban stews and sweets.
Fricase de Pollo (Cuban Stewed Chicken)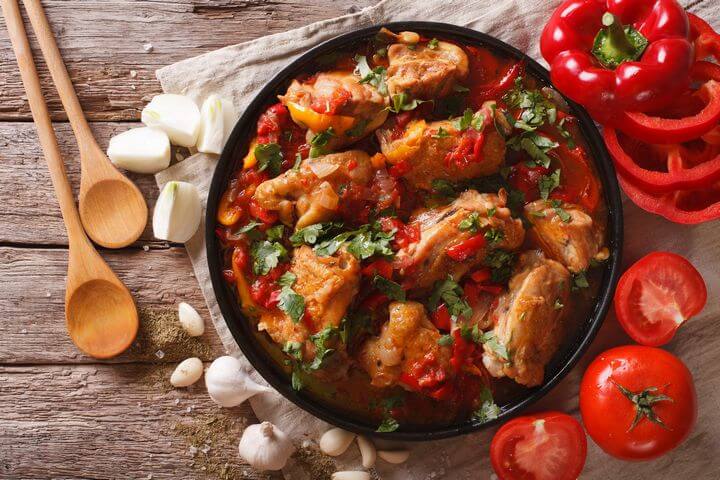 Fricase de Pollo is a mouthwatering Cuban dish of tender chicken in a stew of vegetables, tomato sauce, broth, wine, herbs, and spices. Fricase de Pollo is traditionally made with a whole chicken, but this recipe with chicken breast is a lot quicker to make and just as good! Comforting potato and carrot contrast with pimento-stuffed green olives for a well rounded dish that hits every taste bud.
---
(Serves 4-6)
INGREDIENTS
2 lbs boneless, skinless chicken breast, cut into 2″ pieces
2 tbsp lime juice
2 cloves garlic, minced
1/2 tsp ground cumin
1 tbsp olive oil
1 medium onion, finely chopped
1 green bell pepper, seeded and finely chopped
1 red bell pepper, seeded and finely chopped
2 tbsp chopped cilantro
1 tsp dried oregano
1 bay leaf
1/2 cup vino seco or dry white wine
1/2 cup tomato puree
2 cups fat-free, reduced-sodium chicken broth
1 large baking potato, peeled and cut into 1″ pieces
2 carrots, peeled and sliced crosswise in 1/2″ pieces
Salt, to taste
Black pepper, to taste
1/2 cup pimento-stuffed green olives
INSTRUCTIONS
Combine the chicken, lime juice, garlic, and cumin and toss to coat well. Cover and refrigerate for 30 minutes.
Meanwhile, heat the olive oil in a large nonstick skillet over medium heat. Add the onion, bell peppers, cilantro, oregano, and bay leaf. Cook, stirring frequently, for 5 minutes or until the vegetables are soft, but not brown.
Stir in the marinated chicken and cook for 3 minutes, or until the chicken turns white on the outside.
Add the wine and tomato puree, increase the burner to high heat, and bring to a boil.
Add the chicken broth, potato, and carrots. Season with salt and pepper. Reduce heat to medium-low and simmer for 30 minutes, or until the chicken is no longer pink in center, the potatoes and carrots are tender, and the sauce has thickened.
Serve hot with rice.
Adapted from The Hungry Cuban
Cuban Shrimp in Cilantro Cream Sauce
This recipe for elegant Cuban Shrimp in Cilantro Cream sauce has a smooth, subtle flavor. Shrimp, onions, tomatoes, and garlic are bathed in rich cilantro cream. Quick and easy to prepare, this is a great choice for your next date night- and sure to impress 🙂
2 lbs shrimp, peeled and deveined (reserve shells)
1 qt lightly salted water (for shrimp stock)
1/2 cup (1 stick) salted butter
1/4 cup flour
1/2 cup onion, chopped
1/4 cup olive oil
1 cup roma tomatoes, seeded and chopped
4 cloves garlic, chopped
Salt and pepper to taste
1 cup heavy cream
1/4 cup white wine
1/3 cup fresh cilantro, chopped
FOR THE SHRIMP STOCK
Make shrimp stock by boiling the shells of the shrimp in the lightly salted water. Strain and reserve the stock.
FOR THE DISH
Use a 3-quart saucepan and melt the butter over medium-low heat until it just begins to brown.
Whisk in the flour quickly to make a smooth roux or paste.
Add 1 cup of the shrimp stock and the wine, blending with your whisk to avoid any lumps. Simmer over low heat, stirring constantly until the sauce thickens. Remove from direct heat, but cover and keep warm for later.
Sauté the onion in the olive oil in a large sauté pan over medium heat, until it begins to soften.
Add the shrimp and continue to sauté for a minute or 2 only, flipping frequently.
Add the tomatoes and the garlic and cook for an additional 3 to 5 minutes stirring occasionally. Salt and pepper to taste.
While the shrimp is cooking, finish your sauce. Add the cream with a whisk and blend in thoroughly. Increase heat to medium to bring the sauce up to serving temperature. Stir constantly and do not let the sauce come to a boil.
Remove sauce from heat and add the chopped fresh cilantro. Pour the sauce over the shrimp and vegetables in the sauté pan, turning with a spoon to blend.
Serve immediately over white rice.
Adapted from Three Guys from Miami
Pescado en Escabeche (Cuban Fish in Vinegar Sauce)
Cuban Pescado en Escabeche is similar to Jamaican Escovitch Fish in that a fish is fried and soaked in a vinegar-based sauce, but with ingredients like olives and capers, this Cuban dish has a very different flavor. The fish of choice for Pescado en Escabeche is usually swordfish that is sliced and fried, then marinated in oil and vinegar with sauteed onions and bell peppers, olives, capers, and spices. This dish can be kept in the refrigerator for a week or more, and is best served cold.
---
INGREDIENTS
3-1/2 lbs swordfish or fresh tuna, cut into 1/2″ slices
1 cup all-purpose flour
1-1/2 cups olive oil
2 large onions, sliced
2 large green bell peppers, sliced
1 cup olives
1/2 cup capers
1 tbsp salt
1/2 tsp pepper
1/2 tsp paprika
Equal parts olive oil and apple cider vinegar, to cover
INSTRUCTIONS
Dredge the fish slices through the flour.
Heat the oil in a frying pan over medium-high heat. Fry the fish slices until they are golden, then place on paper towels to drain, leaving the oil in the pan.
Saute the onions and green bell peppers in the same oil.
Place the fish in a glass or ceramic bowl (do not use stainless steel). Add the sauteed onions and peppers, the olives, capers, salt, pepper, and paprika.
Add equal parts olive oil and apple cider vinegar to cover all of the ingredients. Cover the bowl and refrigerate overnight before serving.
Serve cold with saltine crackers.
Recipe adapted from Cuba Travel.
Masitas de Puerco Fritas (Fried Pork Chunks)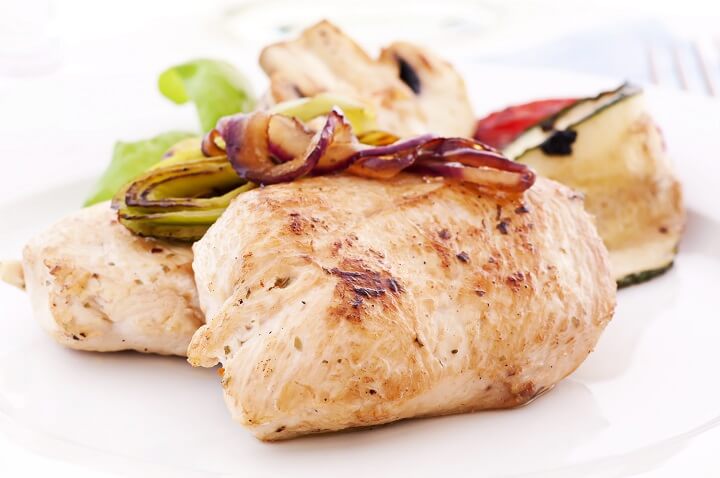 In this recipe for Cuban-style fried pork chunks, or Masitas de Puerco Fritas, pork is marinated in a classic Cuban mojo sauce. The marinated pork chunks are simmered in water and lard until all of the water has evaporated, and then fried in the remaining lard until tender and crispy. In true Cuban style, plenty of onions are thrown in, and the dish is finished off with salt and lime juice. Delicious!
---
Serves 6
INGREDIENTS
2 1/2 lbs. boneless country-style ribs or pork shoulder
Mojo (store-bought or homemade)
2 cups water
1/4 cup lard
1/2 tsp. salt
1/2 onion, sliced into rings
1 lime, cut in wedges
INSTRUCTIONS
Cut the pork into 2-inch chunks and place in a bowl. Pour enough Mojo to cover the pork and marinate in the refrigerator for at least 4 hours or overnight.
Remove meat from marinade and pat dry with a paper towel. Place the meat in a pot with 2 cups of lightly salted water and the lard.
Bring to a boil over high heat, then reduce the heat to low and simmer, uncovered, until all water has boiled away (about 30-45 minutes). Keep checking to make sure your pork doesn't burn!
Once the water has boiled off, continue to cook the pork in the melted fat until it is lightly browned and crispy on the outside.
Toss in the onion slices and sauté briefly.
Garnish with lime wedges and serve.
Adapted from Three Guys from Miami
Cuban Guava Cheesecake Dessert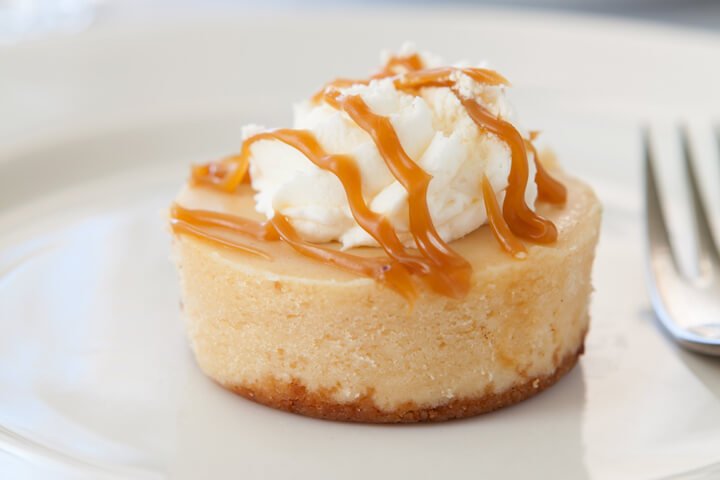 This recipe for Cuban guava cheesecake features complex flavors with a tangy fruit puree of canned, poached, guava shells, rum, orange zest, and other ingredients blended into classic, rich and creamy cheesecake. Well loved, especially in Cuba, guava has a distinct mildly sweet "tropical flavor".
---
FOR THE CRUST
30 Maria Cookies, well ground but not powdery
6 tbsp. Unsalted Butter, melted
FOR THE FILLING
1 1/2 lbs. Cream Cheese, room temperature
1 cup Sugar
1 14.5 oz. can Poached Guava Shells, well drained
2 tbsp. Orange Juice
1 tbsp. Dark Rum
Zest of one large Orange
1/2 tsp. Salt
1/4 cup Flour
4 Eggs
1 Egg Yolk
¼ cup Guava Jelly (optional for glaze)
4 oz. Guava Paste (optional for decoration)
INSTRUCTIONS
Preheat the oven to 350 degrees F. Lightly grease an 8″-9″ spring form pan and set aside.
Combine the cracker crumbs and melted butter in a large bowl and mix well. Scoop mixture into the pan and press into the bottom. Use the bottom of a measuring cup to try to get it as even and flat as possible.
Bake for 9-10 minutes, until lightly browned. Remove from oven and set aside to cool completely.
Cover the bottom of the pan with aluminum foil and set aside.
Reduce the oven temperature to 300 degrees F.
Combine the drained guava shells, rum, orange juice, orange zest, and salt in a food processor or blender and puree until smooth. Set aside.
Beat the cream cheese with an electric mixer on medium speed until smooth, about one minute.
Increase the speed to medium-high and slowly add the sugar. Continue to beat until light and fluffy, about 5 additional minutes.
Reduce the speed to medium-low and add the guava-orange mixture and the flour.
Scrape down the sides of the bowl as needed. Add the eggs one at a time, and continue blending just until combined.
Remove the foil from the pan and pour in the filling. Place the pie pan within a larger baking pan, and pour enough hot water into the baking pan so that it comes about halfway up the sides of the pie pan. Carefully place the nested pans in the oven and bake for one hour and 15 minutes.
Turn off the oven, but leave the pans inside for an additional hour.
Remove pans from oven. Place cheesecake in the refrigerator to chill overnight, or for at least four hours.
OPTIONAL DECORATION AND GLAZE
Cut guava paste in 1/4″ thick slices. Use a small jelly (aspic) cutter to punch out forms in desired shapes. Press the shapes into the surface of the cheesecake.
Heat guava jelly over medium heat until melted, about 3-5 minutes. Lightly brush the top of the cheesecake with the glaze.
Slice guava cheesecake and serve cold.
Adapted from Hungry Sofiacent
More Comfort Food Recipes: