Mother's Day breakfast in bed is the dream for every mom at every age. That means whether you're a child looking to honor the matriarch of the family, or you're the father and your kids are too young to take up the mantle yet, you should keep reading.
We've gathered a few favorite Caribbean breakfast recipes that the mom in your life are sure to enjoy. Most of the ingredients you'll need are already in your pantry. Enjoy!
Ripe Banana Fritters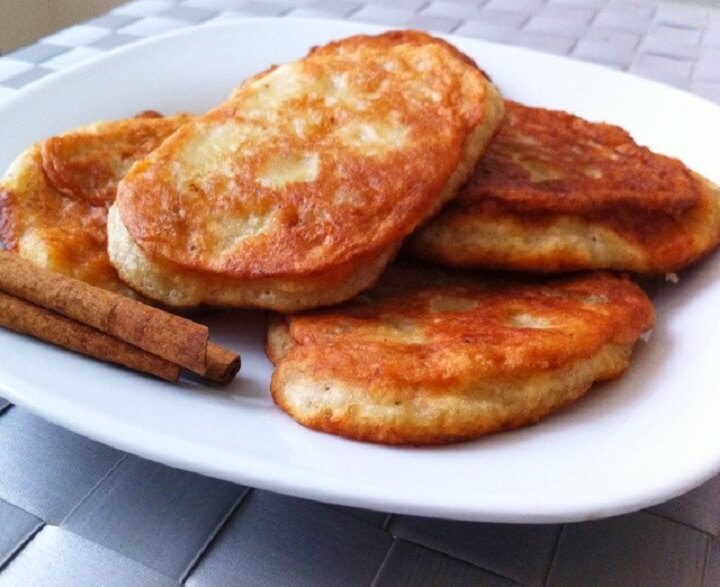 When done right, ripe banana fritters are crispy, fluffy and sweet, all in one bite. Ripe banana fritters are a traditional breakfast or brunch item served in Jamaica and many other islands, and are a far more interesting alternative to your regular old pancakes.
INGREDIENTS
3 ripe bananas
1 egg
1 tsp vanilla extract
½ tsp cinnamon
¼ tsp nutmeg
½ cup brown sugar
2 cups all-purpose flour
1 tbs baking powder
½ cup milk
INSTRUCTIONS
Peel and mash the ripe bananas.
Beat egg, sugar, vanilla, cinnamon, and nutmeg.
Incorporate egg mixture with mashed bananas.
Then add flour and baking powder and mix completely.
Add up to 1/2 cup of milk, but only enough to obtain a batter that is slightly more solid than pancake consistency. (The difference will depend on the consistency of the bananas added)
Add oil to a frying pan and place on medium high heat. Drop spoonfuls of the batter into the hot oil. Flip when the edges start to get golden brown.
Add confectioner's sugar or whipped cream to the hot fritters and serve. No need for pancake syrup unless you have a raging sweet tooth.
Jerk Turkey Pumpkin Frittatas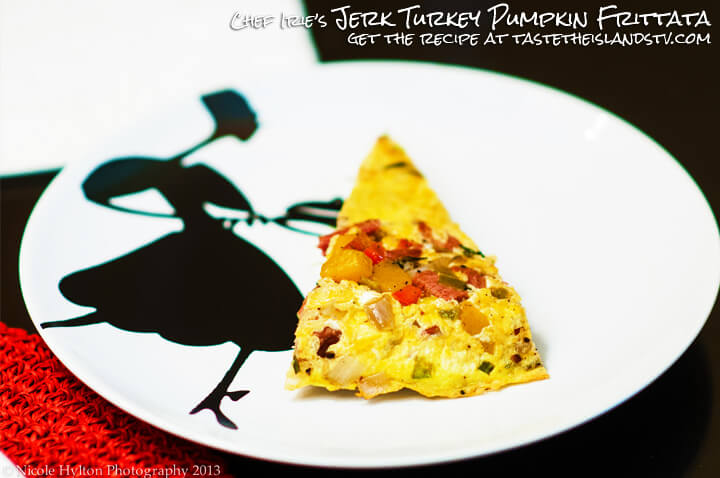 Jerk Turkey Pumpkin Frittatas are one of Chef Irie's signature Caribbean breakfast and brunch recipes. He made the recipe in Season 1 of Taste the Islands with just eggs, smoked turkey or other protein, Jerk Seasoning, pumpkin and a few other goodies. It's easy, tasty, filling, and for Mother's Day breakfast, it looks like you've put in much more effort that scrambled eggs!
INGREDIENTS
6 beaten eggs
1 tbsp prepared jerk seasoning
½ cup diced red and green peppers
¼ cup red onions, diced
1 ½ cup blanched diced calabaza pumpkin
1 ½ cup smoked turkey, diced
1 tbsp thyme leaves
2 tbsp butter
Salt & pepper to taste
INSTRUCTIONS
Turn oven to 350 deg.
Whisk eggs with jerk seasoning in medium size bowl
Add butter to medium pan on medium heat. Then add the vegetables and sauté for about 1 minute. Add the turkey and thyme leaves and sauté for another minute. season with salt and pepper. Reduce heat to medium low.
Add the whisked eggs and stir to combine mixture in pan. When the eggs just start to set remove from heat and place pan into oven. Cook until omelet in pan is set with just a slight brown on the top. Remove from oven and let cool.
When cooled, use a small knife to rim around the edge of pan to release omelet from the sides, place a plate on top of pan face side down then invert the pan onto plate. Omelet should slide out.
Omelet can be sliced into wedges and served warm or room temperature.
Coconut Bread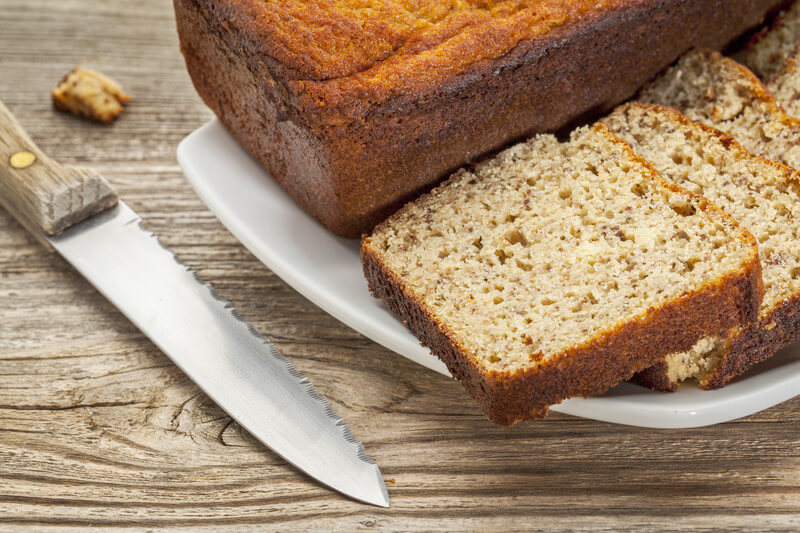 Throughout the Caribbean, each island has its own unique variation of coconut bread. This simple, sweet version with shredded coconut and cinnamon comes from St. Kitts and Nevis, and is a great addition to your Mother's Day breakfast menu. You can also try this recipe made in muffin tins and baked for 35 to 45 minutes.
INGREDIENTS
2 large eggs
1 1/4 cup milk
1 tsp. vanilla extract
2 1/2 cups all purpose flour
2 tsp. baking powder
2 tsp. ground cinnamon
1 cup sugar
3/4 cup shredded coconut
1/3 cup unsalted butter, melted
INSTRUCTIONS
Preheat oven to 350°F. Grease and line an 8″ x 4″ loaf pan with parchment paper.
Lightly whisk the eggs, milk and vanilla in a bowl.
Sift flour, baking powder and cinnamon into a separate, large bowl. Add sugar and coconut and stir until just combined.
Make a well in the center of the dry ingredients and gradually stir in the egg mixture until just combined.
Add melted butter and stir until mixture is just smooth (do not over-mix).
Pour into the prepared pan and bake for 1 hour or until a skewer inserted into the center comes out clean.
Set aside in the pan for 5 minutes to cool, then turn out onto a wire rack to cool completely.
Serve in thick slices.
Bake and Saltfish Buljol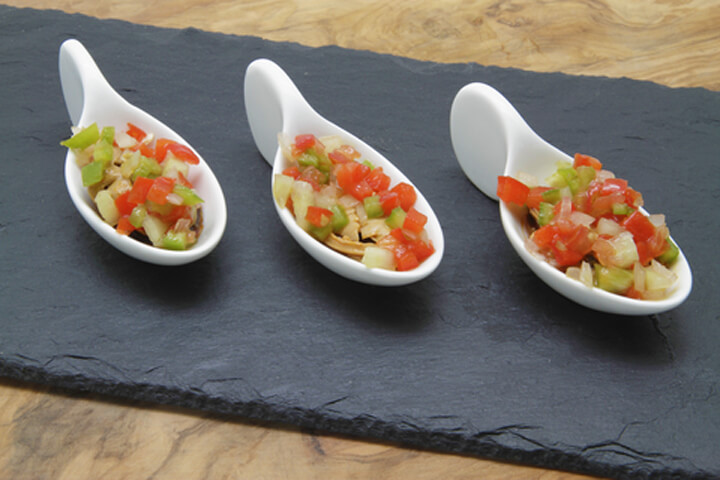 Bake (fried dumpling) and Saltfish Buljol is a breakfast dish enjoyed year-round in Trinidad. Boiled salted codfish is sautéed with onions, tomatoes and scallions, and paired with deep-fried bakes for a dish that is laden with savory and salty flavors, and harmonious texture. Be sure to take the extra time to properly boil the saltfish to avoid a too-salty result in your Mother's Day breakfast.
FOR THE SALTFISH
1 lb saltfish (bacalao)
3 tbsp olive oil
1/2 cup chopped tomatoes
1/2 cup chopped scallions
1/2 cup chopped onions
1/4 tsp black pepper
FOR THE BAKES
2 cups flour
Salt, to taste
2 tsp baking powder
3/4 cup water
1 1/2 cups oil
MAKE THE SALTFISH
Place the saltfish in a pot of boiling water and boil for about 10 minutes. Drain, add fresh water, and boil for another 10 minutes. Taste and repeat a third time if the fish is still very salty. Drain well. (Don't boil too long as fish may become hard).
Flake the saltfish into small pieces, ensuring that you remove any small bones you find.
Heat the olive oil in a medium saucepan over medium-high heat. Add the onions, scallions, and tomatoes and sauté for about 2 minutes.
Remove from heat and stir in the saltfish and black pepper.
MAKE THE BAKES
Mix the flour, salt, and baking powder in a medium bowl.
Add up to 3/4 cups of water slowly, while stirring, until a soft dough is formed
Knead well, return the dough to the bowl, and cover with a towel. Allow to rest for at least 30 minutes.
Divide the dough into small pieces. Form each piece into a ball, then roll flat to form 4″-6″ wide circles.
Heat the oil in a frying pan over medium-high heat. Without crowding the pan, add the dough circles a few at a time and fry each side until golden-brown.
Place bakes on paper towels to drain and cool.
ASSEMBLE AND SERVE
Slice open bakes and stuff generously with saltfish. Serve hot.
MORE RECIPE IDEAS: