Successfully crisscrossing the world of music and the booming cannabis enterprise is another member of Jamaica's Royal Family of Reggae, Julian Marley. My conversation with him was warm and enlightening… like catching up with a longtime friend.
You could hear the smile crinkles in his voice as he spoke, echoing some of the cadence of his iconic dad Bob. We spoke about As I Am—his first new album since 2009, his entrepreneurial ventures in wellness with his new JuJu Royal CBD-infused olive oil product, and his identity as a Jamaican man born in England.
We caught up with the star during promotions for his album and the Kaya Festival he and his brothers produce in Miami.
The timing of the As I Am album following a 10-year hiatus, he said, was organic. "It feel to just come now," there was no rushing or forcing the flow. He hadn't stopped writing and recording during that time; he was in fact "still making music in the laboratory, still writing songs in the bedroom, and still writing songs on the beach."
Julian Marley "As I Am"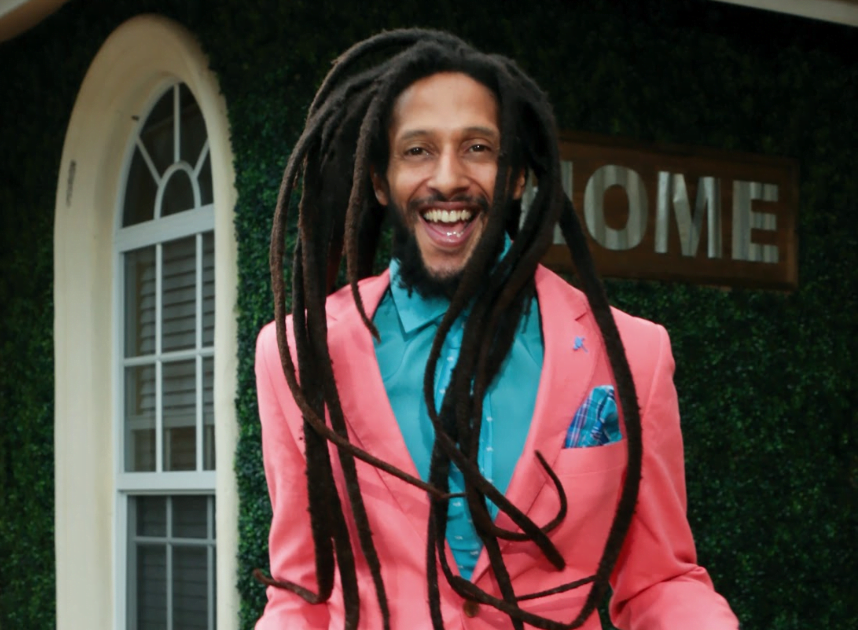 The album's many themes include love, revolution, community, ganja, and wise philosophies for life too. As a person passionate about social justice, one of my favorite tracks is called "Can't Cool The Fire."  
"Well that one as you know is to rebelize and wake the minds of the people. It was produced by Stephen, my brother. 'You nah cool the pressure, we nah cool the fire,' that's what we are saying. If Babylon don't cool the pressure, the people have to stand up and still have to fight for their rights?"
While solo records like "Straighter Roads" and "Hey Jack" have already helped catapult the album way up into the Top Ten Billboard Reggae charts, As I Am also features some powerful collaborations.
On "Too Hot To Dance," a collaboration that took shape after the two connected at the Raggamuffin Festival in Australia, Shaggy adds his "Boombastic" stylings to a New Orleans brass-band-meets-pop-reggae sound, and Julian delivers that Marley vocal sunshine.
Beenie Man was perfect for "What's New Pussycat," complementing Julian's rendition of a classic Burt Bacharat tune, also covered by Bob in 1965, with his incomparable dancehall don flow. Spragga Benz provided a pleasant surprise on the track "Panic Mind States." Overhearing the ska-tempo roots reggae track while randomly passing by Julian's recording session, Spragga offered to do a feature. The track turned out nothing like we've heard him on before!
As I Am is a gift well worth the wait. It's an honest, soulful and dynamic album with songs that dance between traditional roots reggae, and rock, jazz, funk and dancehall-infused riddims. It closes out with an instrumental track I Am The Sound (Addis Pablo Version), nostalgically laced with a haunting melodica solo—a contemplative and nourishing conclusion with which to digest all the goodness of the album, and a respectful nod to the dub pioneer Augustus Pablo.  
More Than a Musician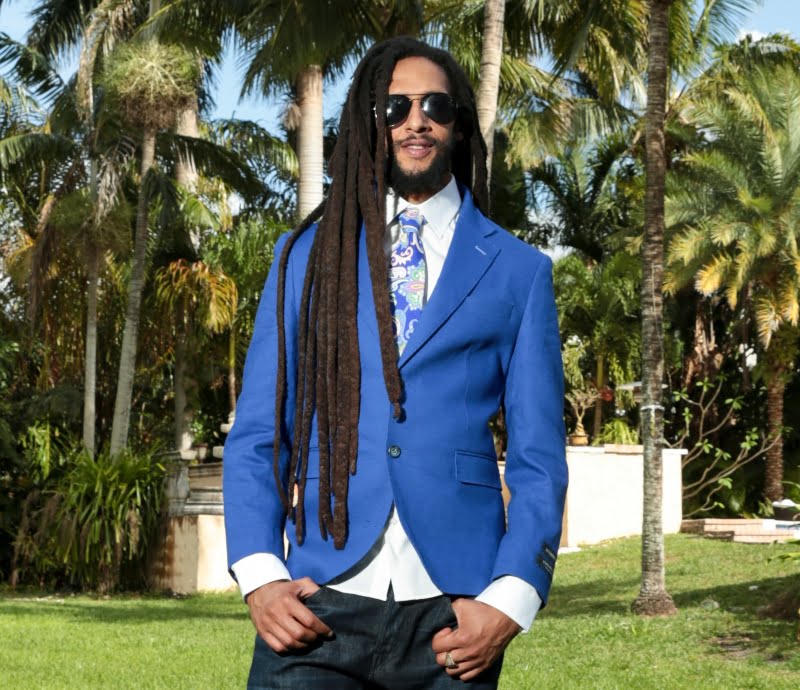 Julian Marley is also a social entrepreneur, through his work, championing the message that Rastafari has been preaching for decades—that cannabis offers many healing properties and benefits. He is the founder of the Juju Royal brand, and is currently distributing a new CBD-infused olive oil product under it. "You can cook with it, heal yourself, calm your nerves, all with eating."   
It's a product that has great synergy with one of his other business endeavors, the Kaya Festival. "Kaya, now that is obviously my father's album," he said. I couldn't help reverting to a fanboy and recalling my first favorite Bob Marley record that I played front to back over and over as a pre-teen. I blurted out a "Yes!! Definitely! Respect!"
That smile in his voice persisted as he said, "Give thanks." He explained his brother Stephen took the classic album and transformed it into a festival concept.
The festival teaches people about "the herb, the earth, the plants, and the benefits and healing agents of the plants, which Rasta has been speaking about for all these decades." It also features five Marley brothers—Ziggy, Stephen, Ky-Mani, Damian, and of course, Julian—on stage.
Julian has become clearly driven by the fulfillment of a long-held Rasta mission to legalize cannabis. He reflected on how JuJu Royal and the Kaya Festival could impact this movement.
"It's a great thing to be a part of, especially as Rasta. If Rasta had our way from back then, we probably would have been doing the same thing then too. Like when Peter [Tosh] say "Legalize it…" from 1976, you know? So it's something that we see as natural to be a part of, and also to teach the people that it's a spiritual connection, not just make it free up because it's good for the people, or good for your pocket."
"It's different from alcohol. It's a spiritual strengthening agent with a whole heap of benefits. Yes, even the doctors are telling us now. And we were telling them then! Full circle. Is a greatness to see the education finally coming out about this plant. We are the spokespeople for the herb."
A Man of the World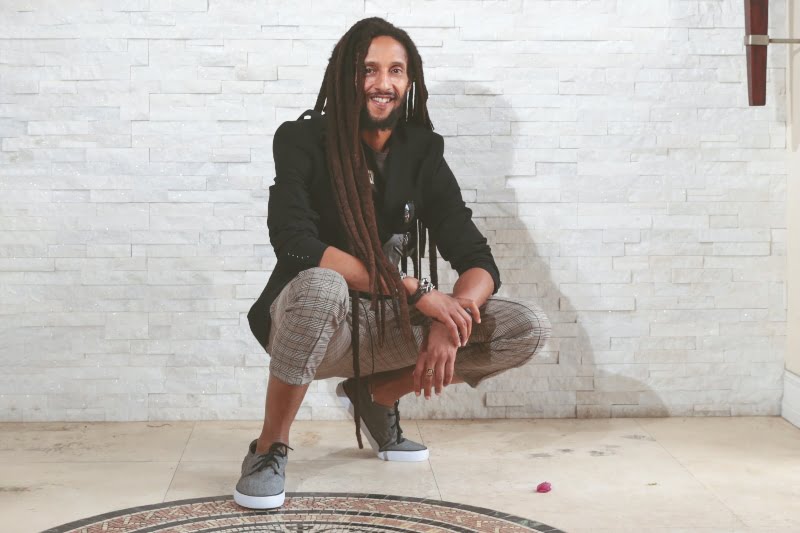 Born and raised in England, and having lived in Jamaica and the U.S., Marley is a global citizen, yet profoundly and unquestionably Jamaican. We found common ground here. I was born in New York City. I'm a descendant of Maroons. My parents were born in Jamaica, and most of my schooling happened there. But people still try to tell me I'm not a "real Jamaican." Julian responded vociferously, "Can't say dat! Can't tell me dat!"
"Being a traveler and live-r on the earth, I have come to find out one thing," says Julian. "The only thing that divides us is language, barriers, and accent. And you know, maybe a taste of cuisine. But differently me learn that we are all the same. Whereas, what is my culture? What has been growing me all of these years coming up? Reggae music, Bob Marley, Rastafari, Jamaica, you know?"
"Cause even when you are in England, you're getting all of that culture. England is different than the U.S. In England, you get it like you almost in Jamaica. Because the people gravitate to the music. In every corner you find roots, reggae culture." This is especially true of British Jamaican cultural strongholds like Brixton, and throughout the U.K. where you can hear Jamaican-isms infused into Black British culture.
Julian concluded: "For me, I just be natural. Even like me now, born in England, come to Jamaica, now I'm in America—but yet the accent is Jamaican. My ting jus' a mix up, like you blend a nice smoothie with plenty different fruits." We both laughed at that one.
Julian's "Straighter Roads," and "Hey Jack" videos are out now. He's also looking forward to interacting with all the "wonderful fans and beautiful people" on his 2019 east coast tour.
More On Julian Marley: