Dunns River Island Café is a casual dining, Jamaican restaurant serving up delicious traditional dishes and cultural fusion cuisine. It boasts an extensive seafood selection and tasty vegan options. The restaurant, established in Tampa in 2012, found a second home in Hallandale, South Florida last year.
Conveniently located on West Hallandale Beach Boulevard just east of the I-95 highway, Dunns River Café welcomes customers with an eclectic mix of reggae and dancehall music, matching perfectly the aromas of their Jamaican-style cuisine. Their rustic yet refined décor creates a pleasant ambiance for diners, who can enjoy meals and beverages in a variety of spaces, including the full-service bar with mounted flat screen TVs for sports fans, or dining tables and booths for more intimate or casual diners. There's also a well-equipped stage for live entertainment.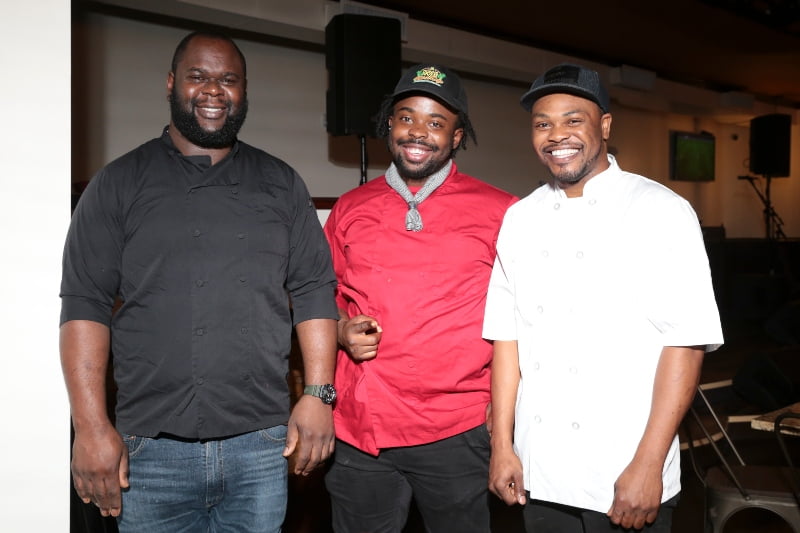 While there, I spoke with Head Chef Sheldon Cooper, along with chefs Kashmar Brown and Claude Bucknall—the three men that coordinate, produce, and prepare everything Dunns River offers at this new location. And, of course, I had the pleasure of sampling their mouth-watering creations. The chefs describe their working relationship as familial, with the usual ups and downs, but said they helped each other work towards excellence as a team. They were also very happy to tell me they have lots of fun in the kitchen.
Classic Remix
As a food-a-holic, I've often allowed my server to choose my meal, which is a really great way to try any restaurant's best cuisine. On prior occasions when I had been to this restaurant, I used this method and ended up with some really amazing tastings. For this particular visit, it was no different. I asked my server, Alia, to bring me their best dishes to be photographed and reviewed. She presented me with the Reggae Jerk Chicken and the Lobster Trio.
A significant serving of moist, well-seasoned, spicy jerk chicken sat atop a mound of coconut milk-infused rice and peas, accompanied by mixed, steamed vegetables and fried, sweet plantains for a beautifully plated dish. It quickly made its way to my taste buds, much to my delight. The side of steamed veg deserves special mention, since it was nicely seasoned with a blend of mild spices and had a pleasant crunch—it's one of the best I've had in my life. And the gravy—an outstanding balance of authentic jerk sauce with a consistency typically found in Jamaican stews. The combination of all the components of the meal offered a delightful melding of flavors I'd almost be willing to die for.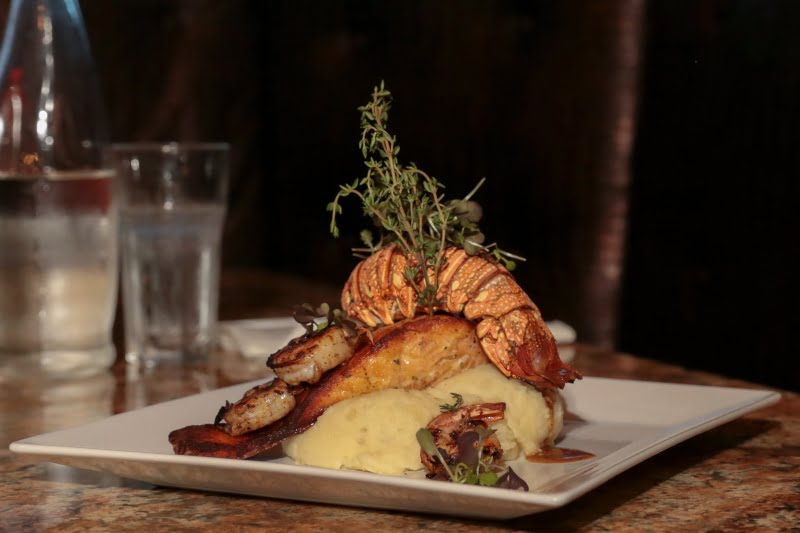 The Lobster Trio is another aesthetically pleasing dish served with mashed potatoes beneath a slice of baked salmon adorned with grilled shrimp, and topped by a grilled, jerk lobster tail, split in its shell. A flavorful combination of seafoods, each item had just enough spiciness to add some zing, but was not as hot as typical jerk meats. The salmon in particular had a mild jerk flavor, enhanced by the crunchy skin. I enjoyed the juiciness and tenderness of the lobster tail complemented by the rich jerk flavor.
Final Finish
To accompany my meal, I sampled two of the restaurant's natural juices—cucumber and "cold defender." The cucumber juice, mixed with ginger, was a simple, cool flavor which pairs well with most meals. Meanwhile the cold defender, with its blend of pineapple, green-apple, and ginger, was more on the sweet side and would be more appropriate for a post-meal beverage. All-in-all, the food was delightful, and was the highlight of a very memorable experience. I look forward to trying more of their delectable cuisine.
Visit Dunns River Island Café at 908 W Hallandale Beach Blvd, and tell them Island Origins sent you.
More On Caribbean Restaurants: