Welcome the new year with some delicious Caribbean recipes to add to your weekly rotation. Whether you're looking for a showstopper to wow the crowd, or a good Saturday soup recipe, these dishes will seriously upgrade your skills.
1. Jamaican Jerk Turkey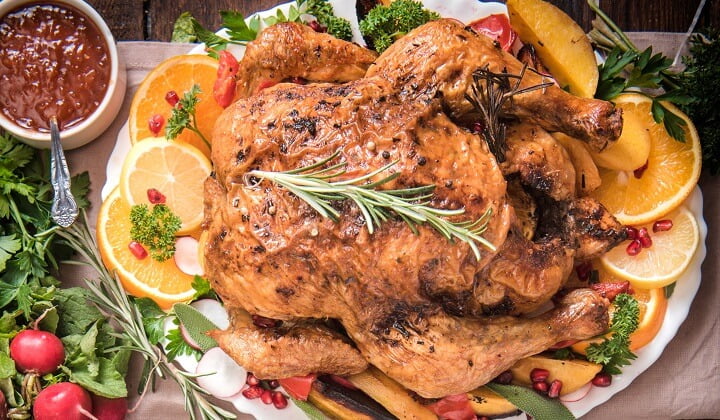 Say buh-bye to boring roast turkey and hello to a tasty new island inspired holiday tradition! This recipe for Jamaican Jerk Turkey is simple and delicious. Try it with Sorrel Chutney instead of your typical cranberry sauce
INGREDIENTS
INSTRUCTIONS
Clean the turkey and pat it dry, removing innards and accessories.
Apply jerk seasoning liberally all over and under your turkey as well as in the cavities. Cover with aluminum foil and store in the refrigerator.
3 hours before cooking time, remove the turkey from fridge and add salt all over and inside the cavities. Replace cover and leave on top of kitchen counter to come to room temperature.
Preheat oven to 260C /500F.
Grease roasting pan with oil. Tuck the wing tips under the turkey and truss the legs together. Tying the legs together is essential for even roasting.
Place the turkey bottom-side-down in the center of the roasting pan. Place in the center of the oven and cook 30 minutes, then reduce oven temperature to 130C / 265F.
After an hour, turn the turkey over to ensure even browning.
Bake for 2 – 2.5 hours or until the deepest part of the breast gives a reading of 70 C/ 161 F. Remove from the oven to rest for at least 30 minutes. Do not poke or prod the turkey while it is resting.
Serve, carve and enjoy!
NOTES
For best results marinate at least three days but up to 1 week before roasting.
Adapted from designsponge.com

2. Keshi Yena (Aruban Stuffed Cheese Shell)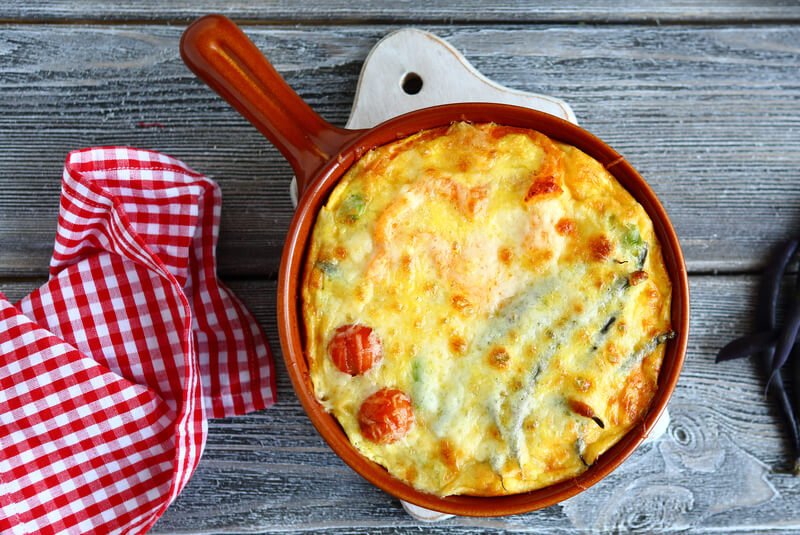 Keshi Yena is a popular dish throughout the Dutch Caribbean and especially in Aruba. When the Dutch brought Edam cheese to the Caribbean, locals found a way to transform the shell of the hollowed out cheese into this delicious casserole. A sauteed mix of tender shredded chicken with sweet raisins, spicy peppers, salty olives and capers, and a tangy blend of sauces are all wrapped up in a mouthwatering cheese shell for a meal that hits every taste bud.
INGREDIENTS
2 onions, sliced
1 clove garlic
1 green bell pepper, chopped
1 small Edam cheese (2 – 2 1/2 lbs.)
2 lbs. cooked chicken, shredded
3 tomatoes, peeled and chopped
1/4 cup sliced olives
1 tbsp. capers
1 tbsp. parsley
1/4 hot pepper, minced (or hot sauce to taste)
1/2 cup raisins and chopped prunes
1 tbsp. tomato paste
2 tsp. Worcestershire sauce
2 tbsp. ketchup
2 tbsp. mustard
Salt and pepper, to taste
2 tbsp. butter
5 eggs
INSTRUCTIONS
Slice the top off the cheese, reserve. Gently scoop out the inside, leaving a 1/4″ – 1/2″ shell. Soak the empty shell in hot water and peel away the red wax.
Preheat oven to 350° F.
Heat butter in a large pan and sauté the remaining ingredients, except the eggs. Reduce the heat and simmer for about 20 minutes.
Remove pan from heat. Whisk 4 eggs and stir into the pan.
Spoon everything into the cheese shell and replace the reserved top. Beat remaining egg and brush over the top of the cheese to seal it.
Grease a shallow baking dish and fill it with about 1 inch of water. Place the stuffed cheese in the dish and bake for 1 – 1 1/2 hours.
Serve piping hot, cut into wedges.
Adapted from Arecetas
3. Soup Joumou (Haitian Pumpkin Soup)

Soup Joumou is a colorful, pumpkin-based soup traditionally enjoyed with fresh bread on Haiti's day of independence, January 1st. With beef, vermicelli, and plenty of veggies and spices, it's full of flavor and has everything you need for a complete meal.
INGREDIENTS
1 lb beef stew meat, cubed
Juice of 1 lemon
2 lb Caribbean pumpkin, peeled and chopped
1 lb cabbage, sliced and chopped
3 carrots, peeled and sliced
2 stalks celery, sliced
1 large onion, chopped
6 medium potatoes, peeled and cubed
1 lb malanga, peeled and cubed
3 medium sized turnips, peeled and cubed
Juice of 2 limes
1/4 lb vermicelli, broken up into short noodles
4 cloves garlic, mashed
2 scallions, sliced
1 tsp thyme
2 tsp salt
1/4 tsp ground black pepper
1 scotch bonnet pepper, whole
INSTRUCTIONS
Rinse the beef in hot water and rub with lemon juice. Place in a large bowl.
Combine the garlic, scallions, thyme, salt, and black pepper. Add spice mixture to the beef (coat well) and allow to marinate for at least one hour.
Bring 3 quarts of water to a boil in a large stockpot. Add the marinated beef and whole scotch bonnet pepper, cover, and cook for 1 1/2 to 2 hours, until tender.
Add the carrots and pumpkin. Continue to cook for 20 more minutes, until pumpkin is soft.
Strain out the pumpkin and scotch bonnet pepper. Discard pepper and puree pumpkin. Return pumpkin, now pureed, to the pot.
Add the potatoes, celery, turnips, and malanga. Reduce the heat to medium and simmer for about 15 minutes.
Add the cabbage and cook for 20 more minutes. Add more water if level gets low or soup becomes thick. Continue to simmer until vegetables are cooked and meat is tender, about 30 more minutes.
Add vermicelli and continue cooking until tender.
Taste and add more salt and additional seasoning if needed. Pour in lime juice and stir.
Serve hot with fresh sliced bread.