Writer David I Muir  | Photography David I Muir
When Chef Danny Peñalo Dominguez puts his gourmet spin on traditional dishes from the Dominican Republic, the results are exceptional. Chef Danny, who was born and raised in the DR, also studied culinary arts there.  On the day I visited his family-owned eatery, serving a fusion of Caribbean, South American and European cuisine, I had one of my very best gastronomic experiences.
Chic, modern, yet universally appealing, Yarumba Restaurant & Lounge launched in 2013 as a hotspot for music and dancing, which made sense for founder Sergio Dominguez, a former DJ, and Chef Danny's dad. It has since evolved into one of the premier Latin restaurants in Miami Gardens.
What really impressed me at Yarumba – a name fashioned by the owners, and invoking the rhythms of music  and dance – were three distinctive details: the friendliness and helpfulness of all their staff, the spectacularly scrumptious presentation of their dishes, and, most of all, the exquisite combinations of flavors, aromas, and textures of each bite.

I sampled a few guest favorites including 3 Golpes, Sancocho, Mofongo, Chivo, and Dulce de Coco Al Horno. I enjoyed them all but will elaborate on a few.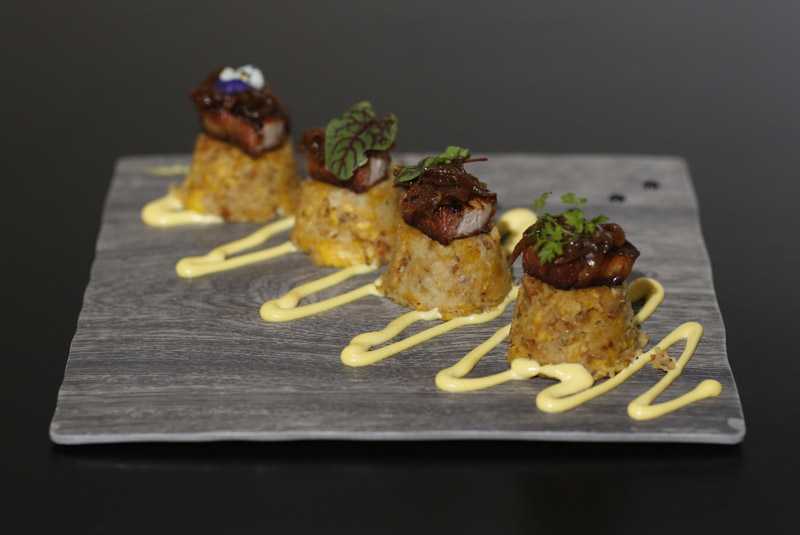 To start, I was presented with four eye-pleasing mounds of delectable bite-sized Mofongo, called Mofonguito. This combination of garlic-flavored, fried green plantains with pork cracklings mixed inside, was topped with slow-roasted pork and garnishing. Inside each mound is a hint of mustard flavor, adding an unusually moist sauciness to this delicate combination. I just loved the layers of flavors and textures in this offering!
Chivo (goat stew), a traditional delight, was served with white rice and pigeon peas. The goat, tender and juicy, seemed to have been well-marinated for days. In its spicy sauce, I could detect oregano, garlic, and pepper flavors dancing harmoniously together.
The Thai Snapper may just be the highlight of my life! It was absolutely delicious, and the presentation was nothing short of amazing. On the plate, it appeared to be a whole fried fish, drizzled with light sauce and topped with a few shrimps. However, when I started cutting into the flesh, I realized the fish was filleted, stuffed with aromatic Asian rice, sweet plantains, and sweet chili sauce, then skillfully reconstructed.
Just when I thought I couldn't handle any more deliciousness, a delightfully attractive dessert, Dulce de Coco Al Horno, came into view. Chef Danny said it's his grandmother's special recipe. This warm, pudding-style coconut cake, topped with vanilla ice cream and freshly made whipped cream, was pure bliss. My taste buds really appreciated the decadent finish.
With so many dishes to return for and additional ones to try, I'm already planning another visit!