When the reality of balancing family, personal life, and a paycheck sets in, it's easy to get comfortable living in spaces that fall sadly short of our desires. That hand-me-down sofa and dull carpet are just enough to get by, but they fail to inspire or celebrate who we really are. It doesn't have to be this way, says design expert and host/producer of TV show SoFlo Home Project, Martin Amado, who specializes in creating stunning transformations for homeowners in need of change.
With a few tricks of the trade, argues Amado, it's so easy to significantly upgrade your home's style quotient. His new book One-Day Room Makeovers shares the three-step design process behind his show's dramatic revamps, focusing on walls, furniture, and accessories to create the spectacular rooms his clients' heart's desire. Each chapter also includes inspirational photos and affordable DIY projects to recreate a certain look. "My goal is to empower the homeowner to become their own DIY designer," Amado explains.
For the Miami native, home is more than just a place to rest your head. Amado's inspiration comes from his tight-knit family, particularly his grandparents who escaped their native Cuba to start life over in the U.S. In fact, he dedicated the book to his beloved grandmother Noma Fabelo Cue Sosa, who passed away last year. "Designing is about creating that beautiful connection between home and heart," says Amado, adding that "it's so important to enjoy our homes every day. Whether you rent or own, you still deserve that." To inspire your style overhaul, the designer broke down the process behind these four stunning transformations.
Living Room: Cozy Modern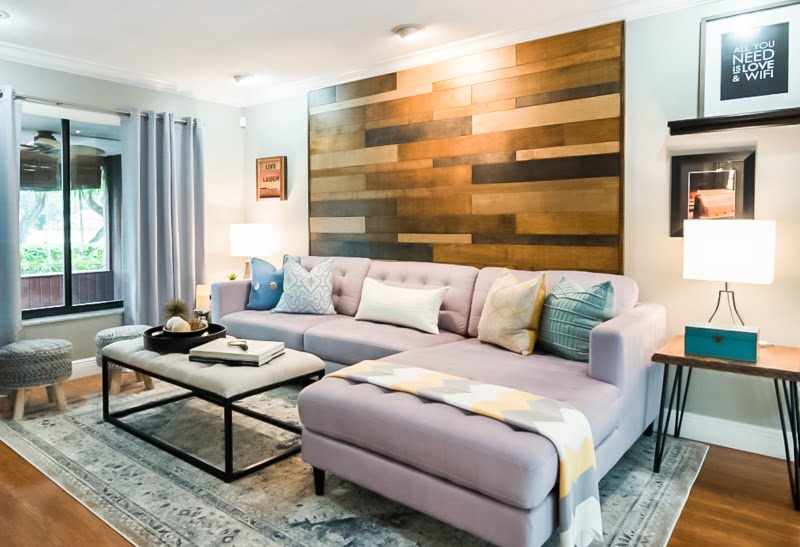 For this living room, the close-knit family wanted "something comfortable and loungy," with touches of modern industrial. Choosing the right furniture took top priority, as the previous sofas were too clunky and discordant to work for the family's needs. Investing in the one perfect piece that suits your style, says Amado, "can be the best way to stretch your decorating dollars." The sleek chaise sectional fits the bill, adding a modern edge while providing plenty of room for lounging.
An upholstered coffee table adds softness, while matching end tables replace the old, makeshift TV trays and help ground the room. To add an extra layer of luxe, he also created a DIY barn-inspired wall panel, using basic pine planks and wood stains of various shades. "I knew we needed a wow statement," says Amado. "A wood plank wall is the perfect way to bring in that modern industrial vibe." This project can also be adapted easily for other purposes, like a headboard.
Dining Room: Farmhouse Charm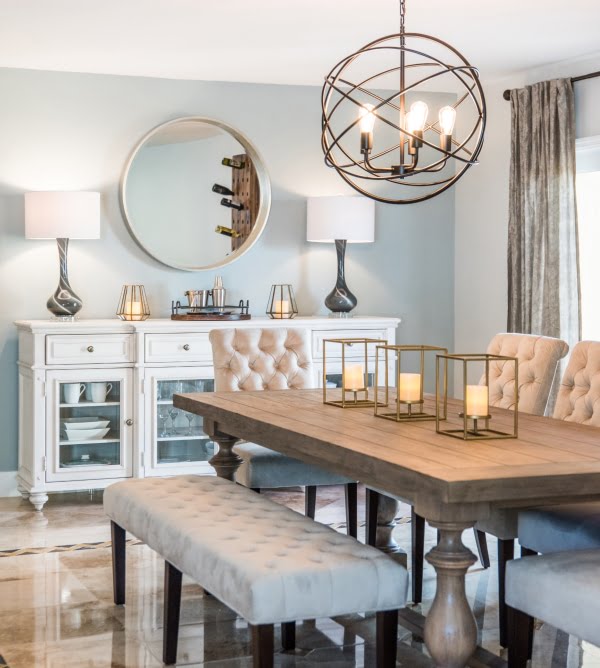 Starting from scratch in a new home, this family had their heart set on a farmhouse-inspired dining room, "but they wanted a more formal version of the style." To strike this balance, the designer skipped the readymade dining set and instead paired a rustic trestle table with sleek velvety seating. "I always advise homeowners to mix and match," says Amado about creating a more eclectic style. "Sometimes it's better and more affordable to buy pieces from different collections to create a personal look."
He also added a whitewashed sideboard to accommodate more decorative pieces, like an elegant round mirror and chrome side lamps. The right lighting is also crucial to creating a composed dining space, he observes. "A dining table and a good light fixture must go hand-in-hand to create a focal point for a dining room." Here the designer focused the eye with a bold globe chandelier in a rustic finish, and added candles for ambiance. "Don't save your nice things only for special occasions. Little things like candles and fresh flowers bring the decor to a new level."
Bedroom: Restful Retreat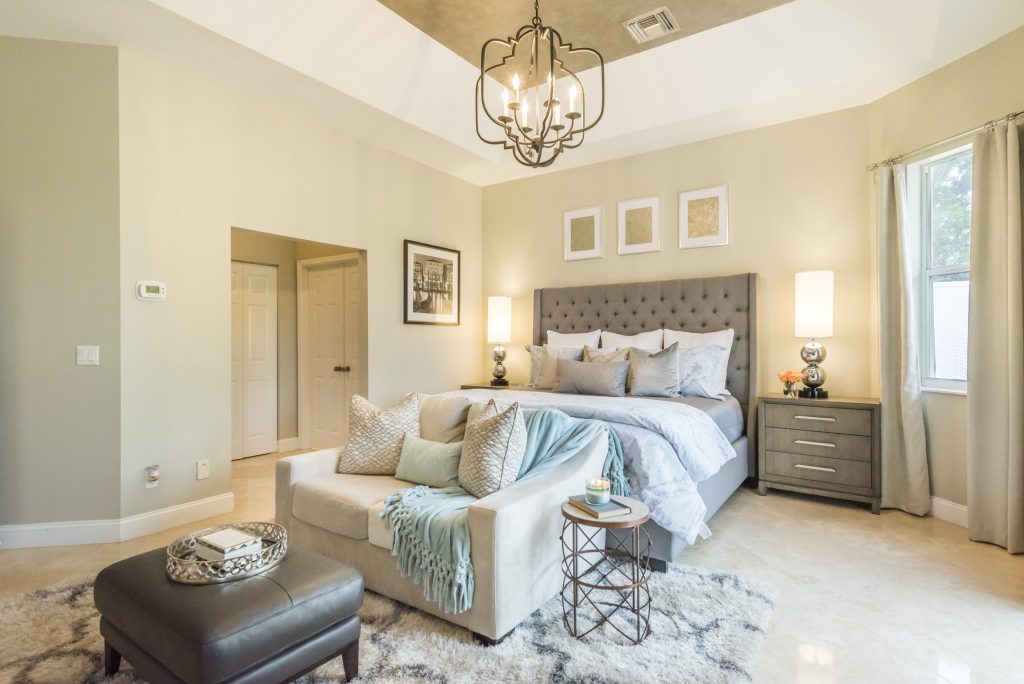 A master bedroom "should be your sanctuary at the end of the day," says Amado, who infused a hotel-chic atmosphere for this project. He focused on creating luxurious softness with the furnishings and accessories. A seating area adds another moment of repose, styled with a plush area rug and plenty of throw pillows and blankets in soft hues. "I also love using upholstered headboards," he shares. "They add a more feminine quality in the space."
For an extra dose of glam, the designer also recommends highlighting "the fifth wall" by painting a jolt of color on the ceiling. Here, Amado illuminates the beautiful tray ceiling with metallic paint, made even more dramatic with a new gilded chandelier. "When you have such architectural features, it's important to bring them out," he says. One thing you won't find in this bedroom, however, is a desk. "I try to persuade clients away from a work area in the bedroom… this space should be your oasis."
Outdoor Living: Personal Paradise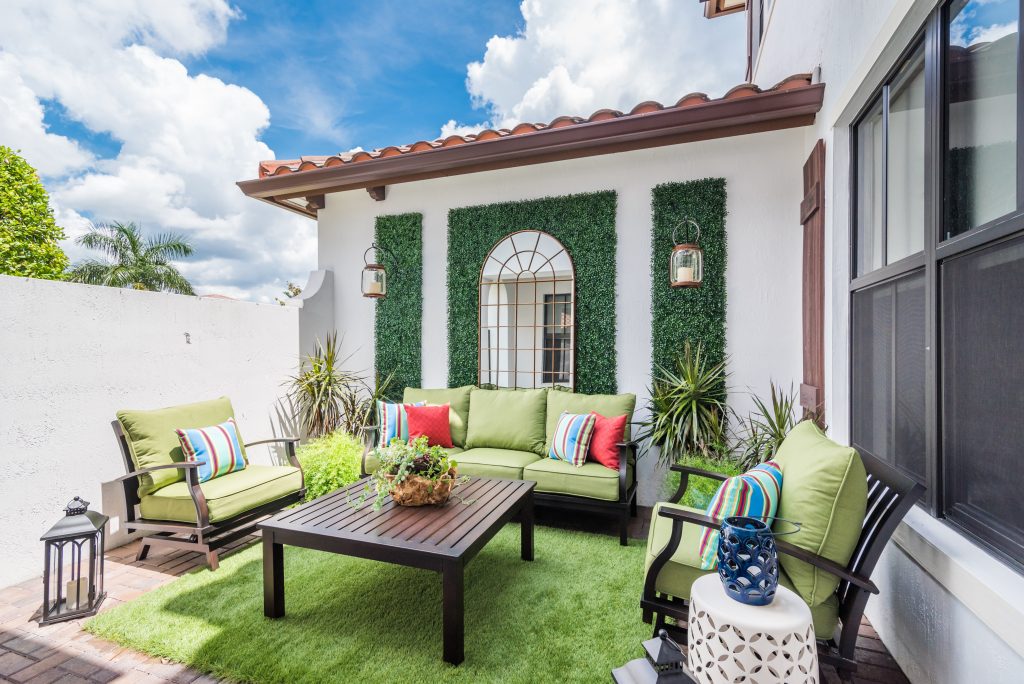 According to Amado, in Florida, "all outdoor spaces are extensions of our home. If you don't decorate these spaces so you can enjoy them, you're losing valuable square footage." With this outlook in mind, Amado brought an underutilized courtyard to life. "It was the first thing you see when you enter the house, so we couldn't leave that blank."

To break up the surrounding hardscape, he got creative with artificial turf for an inventive DIY project, installing strips of faux ivy to mimic traditional wall paneling, and plush astroturf carpeting to define the space. To accessorize, he also added outdoor lanterns, hardy potted plants for additional texture, and a massive wrought iron mirror that will naturally weather into a vintage patina finish. For the furniture pieces, though the designer enjoys a more eclectic mix indoors when designing outside "I like using a complete set, so there's uniformity in the materials." This chic aluminum set with a faux teak texture was a clearance find at $500—a lesson, Amado adds, "to always shop clearance first."  
Get more amazing interior design tips from Amado's book below: