Writer Shelly Ann Parkinson | Photography Supplied
Behind the crystal-beaded veil of the celebrity lifestyle, there are regular people—albeit with thousands more social media followers than we have—whose real lives we, the adoring, clamor to see.  They grant us access through their art, fashion lines, autobiographies, and through their culinary endeavors. As they look to connect on a deeper level with their fans, pursue alternative passions, and generate additional streams of income, we're seeing an uptick in the celebrity restaurant and cookbook trend. Naturally, our Caribbean stars are also turning their fervor for food into palatable pleasures for adoring fans and general epicures alike.
Viva La Cocina Cubana
One of the newest celebs to join the restaurateur's club is none other than Mr. 305—Pitbull, who is set to open his restaurant, iLov305, inside the Bel-Air Hotel on Ocean Drive, Miami Beach, this summer. Though he was born in Miami, Pitbull is known for paying heavy homage to his Cuban roots. His party anthems infused with hip-hop, pop, Miami bass, reggaetón, and crunk, have always been distinctly Latin, and he never lets you forget that Cuba runs through his veins.
iLov305 will serve line-caught yellowfin tuna, pork belly sliders, Cuban sandwiches and 305 burgers, all of which can be washed down with 50 kinds of mojitos. As Pitbull would say, dale!
In the '80s and '90s, before Pitbull was a household name, Cuban-born icons Gloria and Emilio Estefan, were exposing the world to a unique fusion of Latin rhythms, Miami bass, and American pop and soul. The couple took these distinct influences to the kitchen through their Miami and Orlando restaurants, Bongos Cuban Café, Larios on the Beach, and Estefan Kitchen. All their restaurants serve up hearty, traditional Cuban recipes, as well as more calorie-conscious choices. The Estefans also share their favorite recipes in their 2008 Estefan Kitchen Cookbook.
Ital and Herbal Marley Recipes
Ziggy and Cedella Marley, children of reggae legend Bob Marley, have become culinary ambassadors of Jamaican flavors, sharing their heavily Rastafarian-influenced, 'ital' (natural and salt free) diet through cookbooks and food products.
Cedella has presented 75 marijuana-infused recipes in her book Cooking With Herb, highlighting the benefits of using THC-infused canna-oil and cannabutter in traditional Jamaican recipes.
Grammy and Emmy winner, Ziggy Marley, has also written his own, Ziggy Marley and Family Cookbook, which focuses on recipes using whole, organic ingredients. In its pages, foodies can find healthy and delicious recipes such as vegetarian hash, fish soup and a decadent tofu in curry sauce.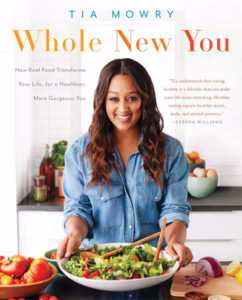 Bahamian Cooking Sensation
Identical twin actresses, Tia and Tamera Mowry, were born to a Bahamian mother, Darlene. Now decades away from their child-star days of '90s sitcom Sister, Sister, the twins have been carving out their own niches and are independently pursuing their passions. While Tamera plays co-host on The Real talk show, Tia has turned her attention to the kitchen, with her Cooking Channel reality show, Tia Mowry at Home. She has also penned a cookbook called Whole New You: How Real Food Transforms Your Life, For a Healthier, More Gorgeous You. In this book, although she doesn't lean heavily on her Caribbean heritage, she does offer healthy, healing alternatives to family favorites. Her options, including spaghetti and turkey meatballs, lamb burgers, and zucchini fries, as well as delectable cocktails such as a chile-mango margarita, a pear-rosemary bellini, and a red wine sangria, reflect influences from around the world. Cheers!
Turn Me on to Something Delicious
If you're ever in Kingstown, St. Vincent and the Grenadines, be sure to stop by Chill'n, Kevin Lyttle's Caribbean eatery. Lyttle, whose 2004 Billboard chart-topping party anthem, "Turn Me On," made him an international phenomenon, partnered with his wife Dr. Jacqueline James-Lyttle to create this restaurant, lounge, and sandwich shop.
According to Dr. James-Lyttle, Chill'n "serves as an escape from the madness of the city. That was the vision, and it feels amazing to see it realized." She says, "Kevin and I remembered, and wanted to recreate and update a similar vibe that existed in that same spot when we were younger. [It was] the only place where you felt like you could afford its delicious menu, even on a teenager's budget."
Chill'n serves up freshly made patties, rotis, burgers, pizzas, wraps, and desserts, and features a salad station and signature cocktails like 'Vincy Embassy' and 'Beautiful Disaster Cocktail.'
"Visitors don't usually leave without trying our world-famous patties. Families share a large pizza with our signature sauce. In the evenings, the vibe is transformed, and cocktails such as 'Passionate Chill' are flowing, as professionals take a load off, just footsteps from their workplace," adds Dr. James-Lyttle.