AS Bob Marley's harmony group for six years, the I-Three are used to standing ovations, from London to Auckland, New Zealand and Harare, Zimbabwe. However, nothing compared to the reception they received on March 5 at the Little Theatre in Kingston, Jamaica's capital.
Rita Marley, Marcia Griffiths and Judy Mowatt received the Iconic Award during the Jamaica Reggae Industry Association (JaRIA) Awards. At the announcement of their names, a full house stood and gave them a rousing reception.
"It was like magic inside the theater. Everyone took out their cameras because they knew it was an historic moment," said veteran booking agent and tour manager, Copeland Forbes.
The I-Three are rarely seen together. Griffiths, celebrating her 55th year in music, described the group as the "Trinity unbroken." Mowatt, youngest of the trio and a born-again Christian, said: "It has been a hard journey for us; we worked tirelessly. Pregnant, coming off tour and just going into hospital to have the baby. But here we are. We want to just thank JaRIA for presenting us with this award. It has been over 30-odd years but indeed today, in 2019, we are still being recognized and still being awarded. We give God thanks."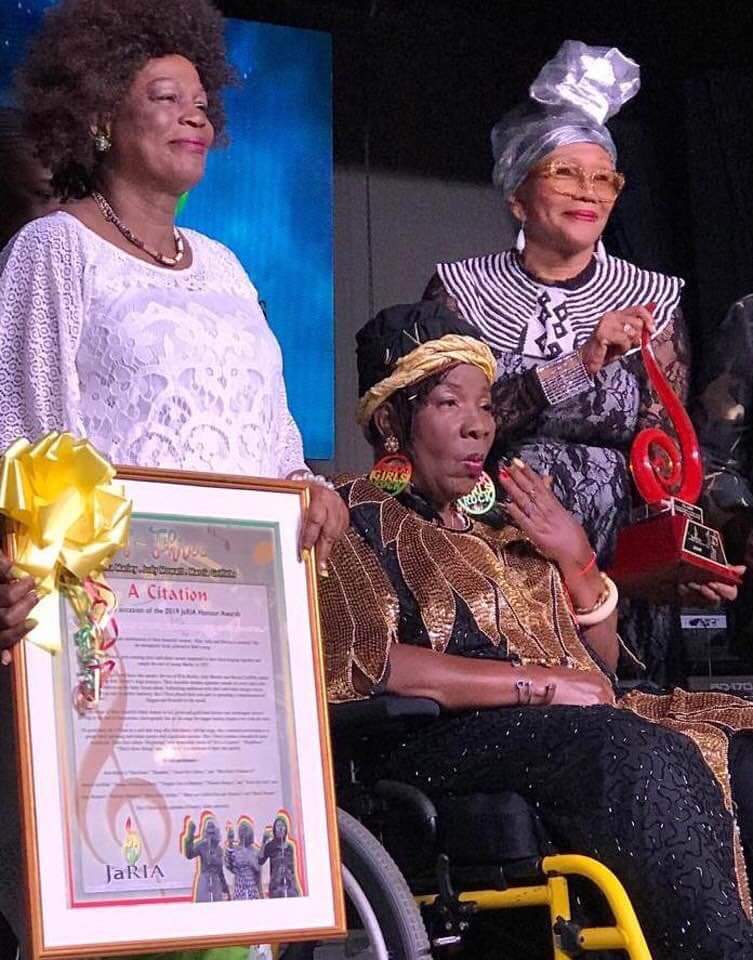 Marley, widow of Bob Marley, is unable to speak fluently after suffering a series of strokes. She acknowledged the audience's adulation by waving.
Each woman had established careers before coming together as The I Three. Their name was coined by Bunny Wailer and first worked with Marley on his 1974 album, Natty Dread.
Until 1980 when cancer ended his career, The I Three toured relentlessly with Marley and his band, The Wailers. After he died in May, 1981 at age 36, they performed together intermittently at events marking his birthday and legacy, but have not been seen together in years.
Because of illness, Rita Marley makes only select appearances. At the JaRIA Awards, she was greeted by well-wishers including Tommy Cowan, David Hinds of Steel Pulse and Brinsley Forde, former member of Aswad.
The Jamaica Reggae Industry Association awards top performers annually in dancehall/reggae for the past year, as well as lauds pioneer artists like The I Three. Twenty-five persons received awards this year.