Are you looking to start a small culinary-related business, but don't want the overhead that comes with maintaining an industrial kitchen? Haitian chef Vicky Colas, owner of Pro Kitchen Hub, has just the solution for you. Born in raised in Haiti, award-winning Chef Vicky's commissary-style rental kitchen provides the perfect space for caterers, bakers, and food truckers galore. However, the community-minded Chef Vicky still manages to find the time in her demanding schedule to give back, partnering with many local nonprofits throughout South Florida for her nutritional education endeavors.
Growing up in Haiti, Chef Vicky's holiday experience was centered around her family's compound. Her grandfather owned and operated a rum distillery, and a couple months before Christmas, he would bring home a wild turkey. "When we saw the turkey, we knew the holidays were coming," she remembers. Served with classic Haitian djon djon (or black mushroom) rice, her recipe for turkey roulade may be a bit fancier than the family's original dish, but the essential components of Haitian cuisine remain.
Wild Style Modern Caribbean Turkey Roulade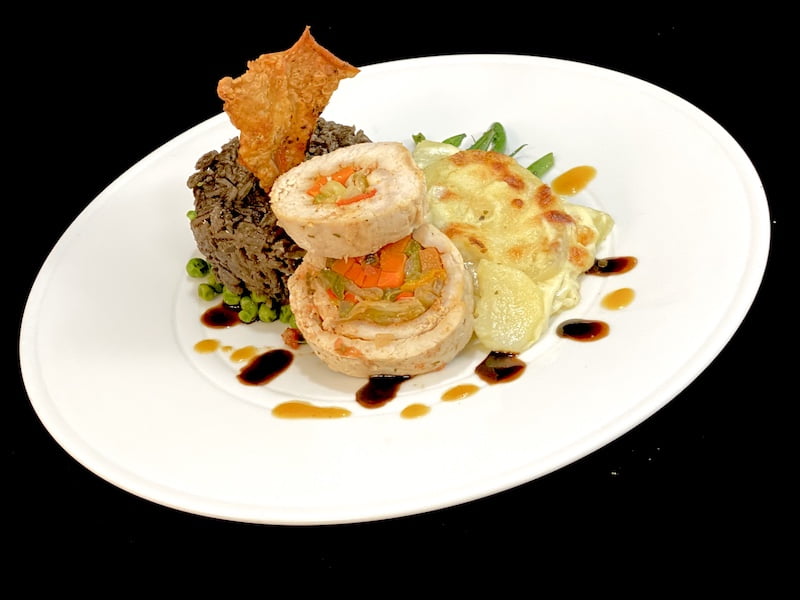 1 turkey breast
8 ounces celery, batonnet cut
8 ounces carrots, batonnet cut
8 ounces leeks, julienne cute
8 ounces onions, julienne cut
2 tablespoons minced garlic
1 tablespoon garlic powder
1 tablespoon onion powder
1 teaspoon paprika
1 teaspoon cinnamon
1 tablespoon salt
1⁄2 tablespoon pepper
2 tablespoons olive oil
Preheat your oven to 375 F. In a sauté pan over medium heat, add olive oil, celery, carrots, leeks, and garlic. Stir for about 5 minutes. Set aside. Butterfly the turkey breast with a boning knife. Lay out the breast on top of a cutting board and cover with a plastic wrap. Use a meat tenderizer to gently flatten the breast. Remove wrap and season the turkey breast surface with salt, pepper, cinnamon, garlic powder, and onion powder.
Place the sautéed vegetables on top of the seasoned turkey and roll the turkey breast as tightly as possible, keeping the vegetables from spilling from the sides. Wrap the turkey in a sheet of aluminum foil, and secure the ends to prevent juices from leaking out. Place the wrapped turkey on a cooking sheet in the oven and cook for about 40 minutes, or to an internal temperature of 165 F. Use the turkey skin to make a turkey chip by placing on sheet pan in aluminum sheets. Add sheet pan on top to press, and season to taste. Bake at 350 F for 15-20 minutes. Use as garnish.
Djon Djon Rice ( Black Mushroom Rice)
1 cup parboiled rice
2 cups water
1 cup djon djon mushrooms (for broth)
2 tablespoon minced garlic
2 sprigs of thyme
2 tablespoons onions, small dice
1 teaspoon ground cloves
2 tablespoon olive oil
1 tablespoon salt
1 tablespoon pepper
1⁄2 cup vegetable broth
1⁄2 cup green peas
In large saucepan, add water and djon djon mushroom. Bring to a boil for 2 minutes, then
turn it down to a simmer for 6 minutes. Strain the mushrooms and preserve the water.
Wash and rinse rice under cold water and set aside. In a medium saucepan over medium heat, add olive oil, then sauté onion and garlic for three minutes, until soft. Add 1 1⁄2 cup of the reserved mushroom water to the pan. Season with salt, pepper, ground cloves and thyme, and bring to a boil. Add rice. Let it cook for about 8 minutes or until 2⁄3 of the water has evaporated. Gently stir the rice and cover it. Bring the heat down to low. Leave it covered for 10-15 minutes before checking. Cook until fluffy. If the rice is dry, add more mushroom water.