When Marvel's Black Panther hit the big screen last February, Caribbean folk beamed with pride to see ourselves represented in Wakanda, with actors like Guyanese-born Letitia Wright (Shuri), Winston Duke (M'Baku) from Tobago, and Nabiyah Be (Nightshade) the Brazilian-born daughter of Jamaica's Jimmy Cliff. Even more significant, this epic film took Afrofuturism from underground and made it a global phenomenon.
Afrofuturism is a movement that combines sci-fi, fantasy, folklore, ancestral wisdom, technology, and envisions futures from the perspective of the African Diaspora. Jamaica is fertile ground, humming life into all of these components.
Afrofuturism is in the legacy of Maroons who organized rebellions to liberate enslaved Africans. They utilized the ancient technologies of drums and abeng horns to transmit long-distance messages, long before the advent of WhatsApp. It's Marcus Garvey's Black Star Liner, harnessing the galactic image of a starcruiser amongst "black stars" to galvanize black people across the world. It invited them to come aboard and be transported to the motherland—and a future with the humanity, self-knowledge, pride, cooperative economic sufficiency, and freedom we deserve. It's Rex Nettleford and Louise Bennett-Coverley, who used their bodies as receptacles to store and transmit our folklore and heritage through dance and oral history.
And there are many more visionaries, legends, and afrofuturist avatars in Jamaica. Grace Jones and Lee "Scratch" Perry represent our brightest, shining Sirius twin-stars in the constellation of contemporary Jamaican Afrofuturism.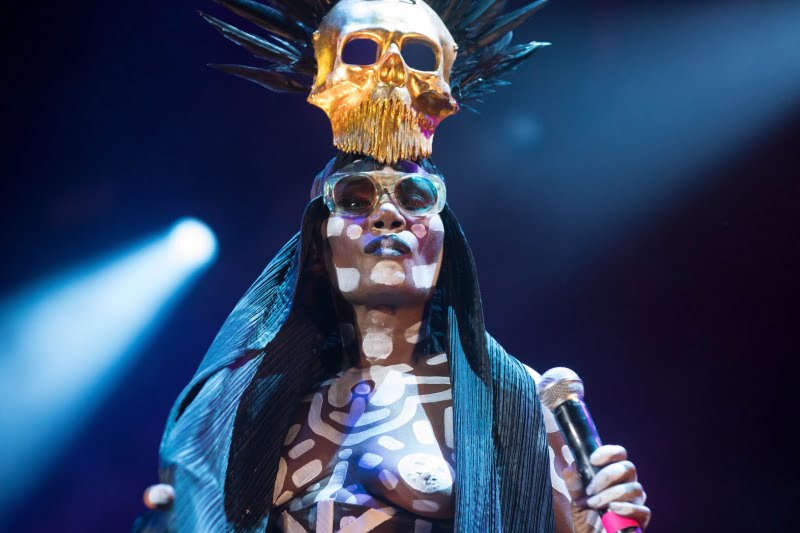 "There was also a robotic quality to my performance, a mix of the human, the android, and the humanoid… I am not decoration; I am pure signal. I transmit." – excerpt from "I Will Never Write My Memoirs," by Grace Jones, Simon & Schuster.
Androgynous cultural icon, fashionista, musician, and movie star Grace Jones is known for music hits like "My Jamaican Guy," and "Slave To The Rhythm," as well as her dramatic roles like the outrageous and untameable "Stranje" in Boomerang (1992); the formidable warrior "Zula" in Conan The Destroyer (1984); and superhuman assassin "May Day" in the 1985 James Bond film, A View To A Kill. Her presence feels post-human. One could say that she has decolonized herself of the rigid gender boundaries historically imposed on black Jamaican women.
In I Will Never Write My Memoirs, Jones writes about growing up in a very abusive fundamentalist Christian environment in Spanish Town, Jamaica. She went from literally being afraid of having her own thoughts, to become perhaps the most liberated woman on the planet, and perhaps the most potent archetype of The Minister's Daughter. Her music blended soul, reggae, and art rock in ways that had not been done before, and she continues to push creative and social boundaries, as chronicled in her newest documentary, "Grace Jones: Bloodlight And Bami."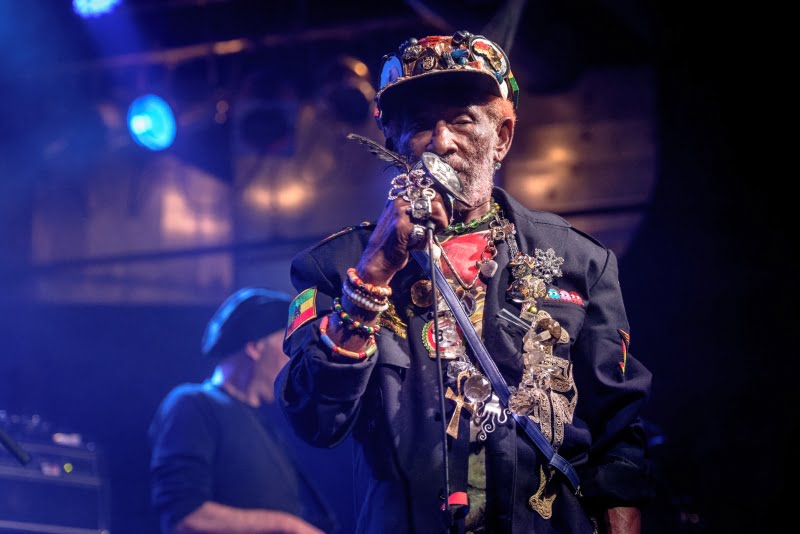 "I see the studio must be like a living thing, a life itself… I put my mind into the machine and the machine perform reality. Invisible thought waves—you put them into the machine by sending them through the controls and the knobs or you jack it into the jack panel. The jack panel is the brain itself, so you got to patch up the brain and make the brain a living man." — Lee "Scratch" Perry
Dub pioneer Lee "Scratch" Perry embodies the "Mad Scientist" archetype, engaging his mixing board like a living cyborg control panel for a sonic spaceship. He inspired other dub pioneers to follow suit in persona, giving rise to his peers, Scientist, and Mad Professor. Scratch's esoteric techniques and signature sound became sought after by the likes of Bob Marley and The Wailers, Junior Murvin, The Heptones, and more.
Some of Scratch's most loved work came from his infamous laboratory of ritual and music, the Black Ark Studio. The Black Ark also evoked the afrofuturist Garveyite imagery of a vehicle destined to other liberating realms. At the helm of the Black Ark, delays and reverb effects would transmit echoes from the past into the present like the voices of ancestral griots. The listener becomes transported into vast and buoyant alternate realities, left to float like pungent ganja smoke in zero gravity orbits. The Jamaican E.T. is still touring today, catch him if you can!
And there are many others reppin' Jamaican Afrofuturism. Limber up your Google finger, and strap in for the express shuttle through some more of the astro-yardie galaxy.
Visual Artists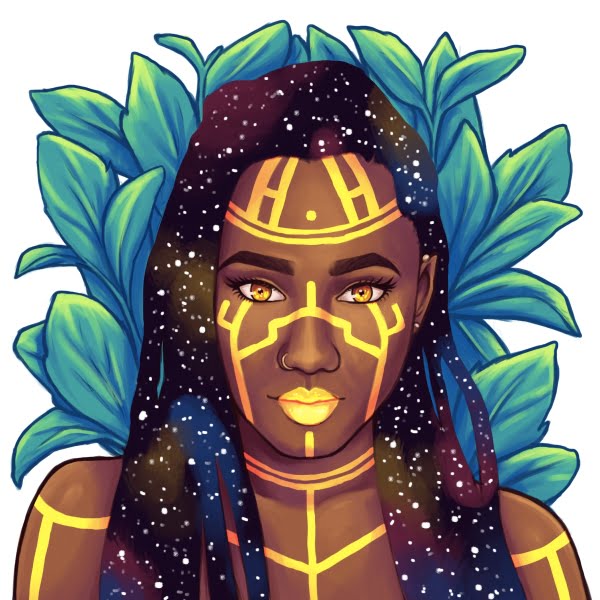 First stop, Kokab Zohoori-Dossa. In the truest sense, she makes fantastic portraits. She will even do commissioned portraits, transforming folks into creatures of myth and alternate dimensions. She says, "My influences come from the people—black people… if my art could be a portal to anywhere, I would say I would want it to be a portal to a place where everyone can be who they are, full of magic, innovation, and respect."
Oakland's Paul Lewin and Jamaica's Taj Francis are two other visual artists whose otherworldly visions are worth checking out.
Moving Visions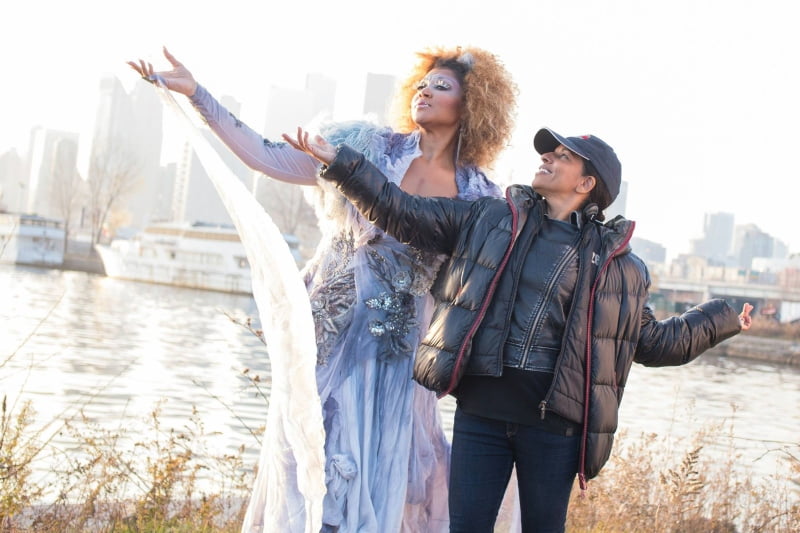 Brown Girl Begins by Caribbean-Canadian filmmaker Sharon Lewis is the 2018 film version of Jamaican-Canadian Sci-fi author Nalo Hopkinson's first novel, Brown Girl In The Ring. Both pieces are full of intrigue, Afro-Caribbean folklore, and magical realism. Check both out!
Madge Sinclair (April 28, 1940 – December 20, 1995). Long before Wakanda, there was Zamunda! A loved staple in '80s Black Cinema, "Coming To America" portrays the journey of Prince Akeem (Eddie Murphy) from the fictional African country Zamunda. Madge Sinclair played his Queen Mother. Sinclair also played Captain Silva La Forge in Star Trek: The Next Generation.
Yardie Algo-Riddims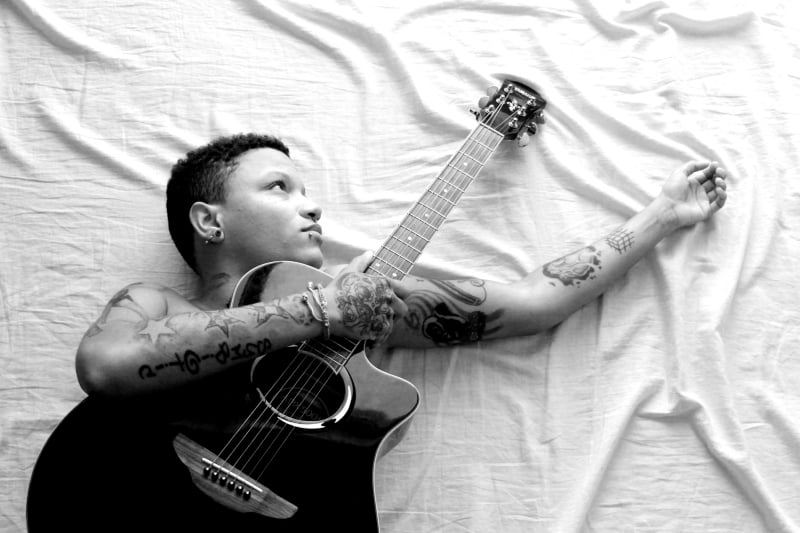 KAT C.H.R. (@kat_c.h.r) embodies so much that is Jamaican Afrofuturism. The tattooed singer gives a very punk presence while playing guitar. And their music runs the gamut from rock to soul, to reggae, and more. Kat continues to transcend gender, unapologetically going by the pronouns "they" and "them" while living in Jamaica (Respect!!). They go on to say: "If my art were to take me anywhere, I would want it to be to a dimension where all people are free to be who they are. Transport me to a world where the sound of everyone marching to the beat of their own drum drowns out all fears."
Transdub Massiv, whose 2005 debut album Negril To Kingston City, became a timeless future dub cult classic. The album features Meshell Ndegeocello on bass, Sizzla, Ce'cile, Tami Chynn, Jovi Rockwell, Rootz Underground, and more. Farenheit sings on "Moonrise Dub," as someone sending a love message while orbiting the earth from space. I mean, it doesn't get more afrofuturistic than that!
Enjoy the new sights, sounds, and visions! May they inspire liberating and creative futures for you too.