A stand-alone establishment on Biscayne Boulevard, just south of I-195, El Otro Tiesto cafe stands out with artistic flair—from its vibrant wall art-painted exterior to the colorful artwork inside—and its unique Dominican and Japanese fusion cuisine.
As I entered the bistro-style dining room, I was welcomed by the lively sounds of merengue music from the DJ. I also noticed that moments after the eatery opened for business, a large number of patrons quickly filed in—a good sign that the place is either well-loved or the food is insanely delicious, or both. It was time for me to find out!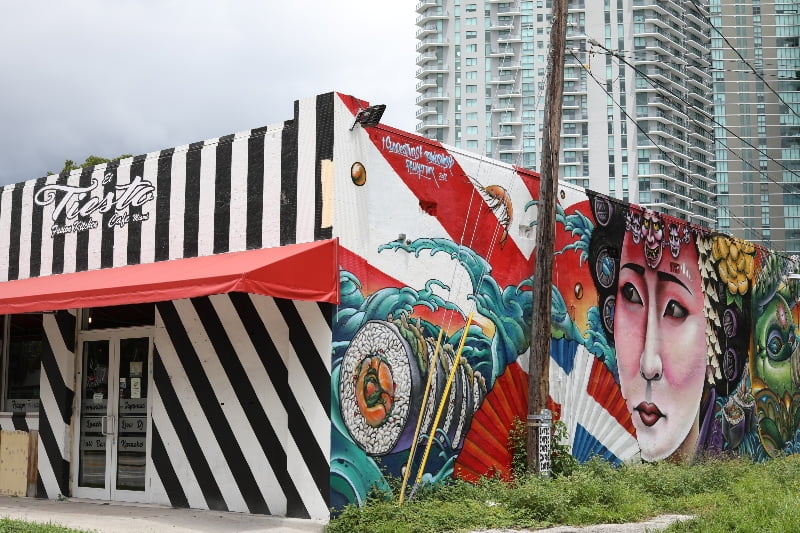 Dish By Dish at El Otro Tiesto Cafe
I asked my server Daniela to make recommendations for my meal, and she suggested that I start with 'Chulitos' and try the '3 Mosqueteros' as my main course. She also insisted that I must also try the 'Mar y Tierra Roll,' one of the dishes on their sushi menu. I obliged.
3 Mosqueteros or three musketeers is an interpretation of the traditional Dominican breakfast, 'Tres Golpes.' Tiesto serves it as a brunch item, which features two sunny-side up eggs atop a thick slice of salami, fried cheese, and a mountain of 'mangu'—a traditional Domincan side-dish of boiled, mashed plantains. A topping of sautéed, pickled red onions completes the dish. In addition to the excellent presentation, the combination of flavors and textures, though simple, was irresistible. I was tempted to completely consume this large meal, but had to leave room for the sushi.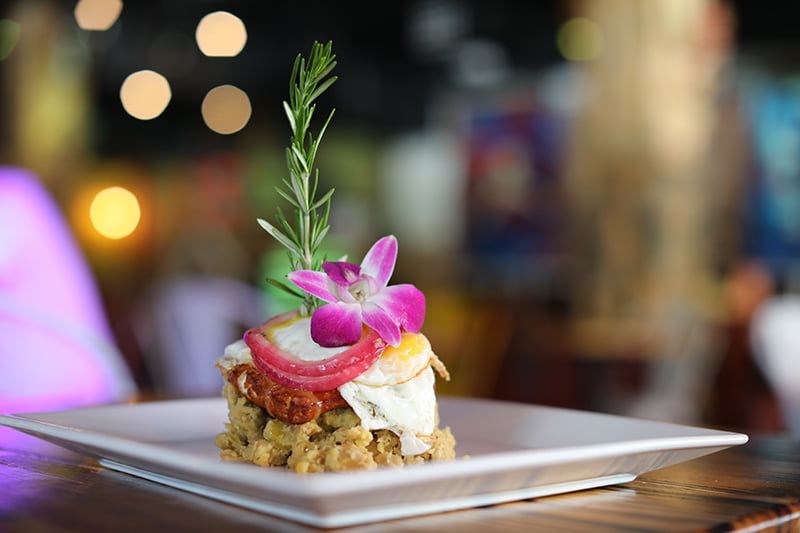 Tiesto's Mar y Tierra Roll feels like a visual masterpiece, rolled with ripe plantains on one side and the rice on the other. Then the dish finishes with saucy miniature cuts of steak. Their rolls with shrimp tempura are also a feast for the eyes and the melding of flavors—queso-frito, maduro, guacamole, steak and special sauce absolutely blew my mind.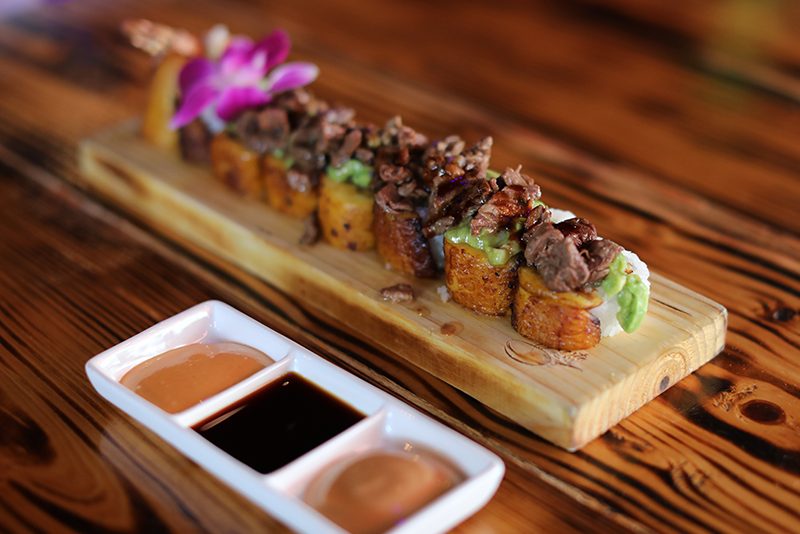 To complete the meal, I tried the rolls with each of the three accompanying sauces. While the spicy mayo and soy sauces did not disappoint, the Tiesto sauce was by far my favorite. These sushi-bites, dipped in their sauce, rank among the best I've ever tasted. There was no way I could leave without meeting the person responsible for such deliciousness, Chef Raphel Rosa.
Chef Raphel Rosa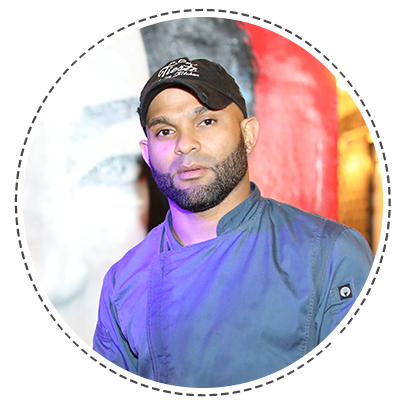 The food at El Otro Tiesto Cafe is worth traveling for, no matter where in South Florida you reside. And when you do visit Tiesto located at 3023 Biscayne Blvd, Miami, FL 33137, tell them Island Origins sent you!
More On Caribbean Restaurants: