If your style should announce to the world your personality, this charming couple Mark and Marie Cameron has a lot to say. Marie, a top executive at Carnival cruise lines, is a fierce and beautiful fashionista with the most humble spirit and a heart of gold. Husband Mark Cameron is an artist, chef, furniture maker, poet and political activist. As a fashion and interior designer, I know that with a little creativity it's possible to infuse more personality and design at home on a thrifty budget. I call it living like a "Thrifty Trillionaire."
So to celebrate this couple's diverse interests and eclectic charm, we reimagined their at-home vibe, transforming their stunning Tudor-inspired house to reflect their interests. I combined glam finishes and artsy accents to represent both their personalities. Plus, we gave them a fashionable makeover so they can chill at home in style. Use some of these tips to dial up your own level of fabulous.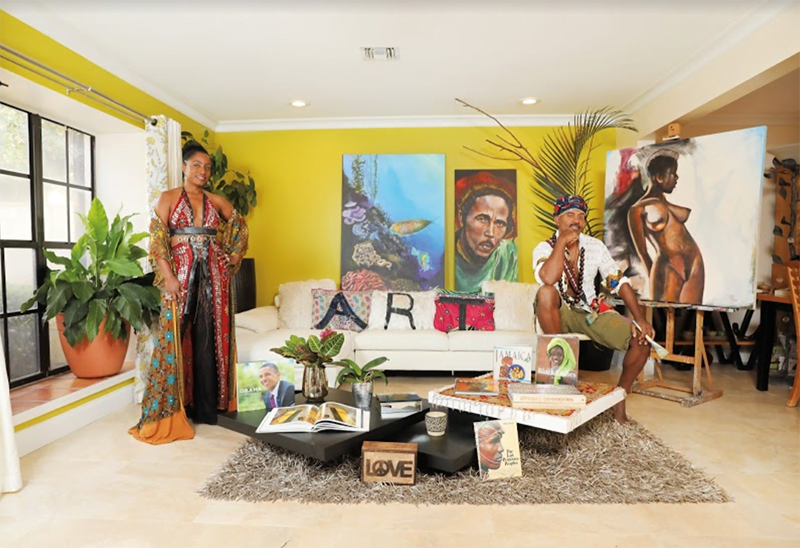 Table Style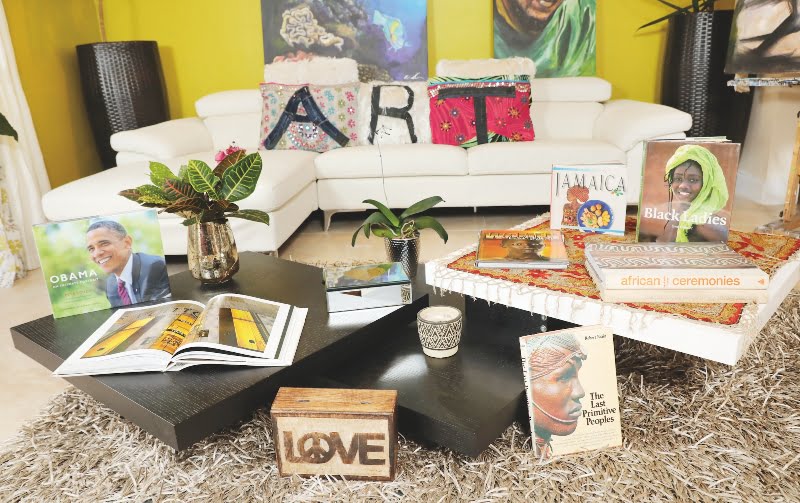 Add personality to your coffee table with a mix of styles and textures that reflect your personality. I added glitz with mixed-metal vases filled with leaves from the garden, a mirrored jewelry box and high-end books. We brought it more artsy flair with ethnic-themed coffee-table books, and thrift store pieces like the carved wood "LOVE" box.
Mobile Masterpieces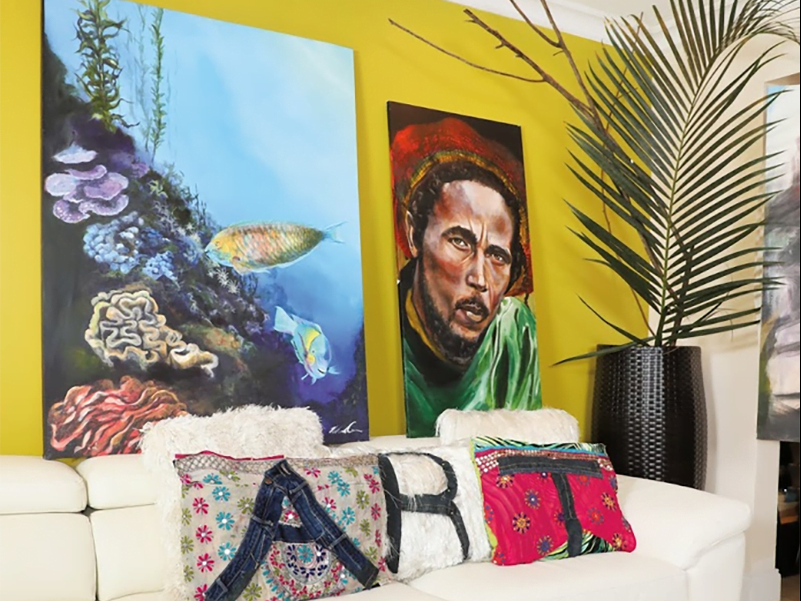 To create a dynamic look that the couple can change to suit what-ever foliage is in bloom, I mixed huge woven planters with large branches and leaves from their backyard garden. Mark's artwork is propped on the back of the sofa so he can change it as often as he paints a new masterpiece without drilling holes in the wall. The A.R.T. pillows, mixed in with some store-bought shag ones, are from my new home collection.
Fashion Forward
Mark embraces his artistic background with paint splattered cargo shorts and a Miguel Duvon crocheted shirt. We finished the look with Kente cloth accents, African wood beads and a handmade turban. Marie also embraces more bohemian flair with a hand-embellished silk halter maxi, paired with with black lace pants and coordinating silk duster.
More Design on a Budget: