The sun-kissed city of Hallandale Beach welcomes an extra dose of color and vibrancy in 2020 as they launch their new program, 12 Months of Art—a year-long celebration of all things creative. Locals and visitors alike can explore a bevy of events and showcases highlighting unique experiences, including fine cuisine, art, culture, and craftsmanship.
The program seeks to create a greater sense of place through art activation, explains Faith Phinn, the redevelopment and operations manager for Hallandale Beach. 
"I am personally excited about this initiative to rebrand our city, to help shape its identity and meet members of the community," says Phinn. "I believe this arts initiative will give the community and its residents a sense of pride and excitement."
Family-Friendly Art Events
Expect to see family-friendly arts events taking place at Hallandale Beach's public parks. "Vibrant Hydrants" is one project, engaging local artists and residents to collaboratively beautify fire hydrants throughout the city. The 12 Months of Art program also features large-scale mural projects, where local artists tranform wall spaces with culturally uplifting works, creating photo opportunities for selfies, social media postings and family albums.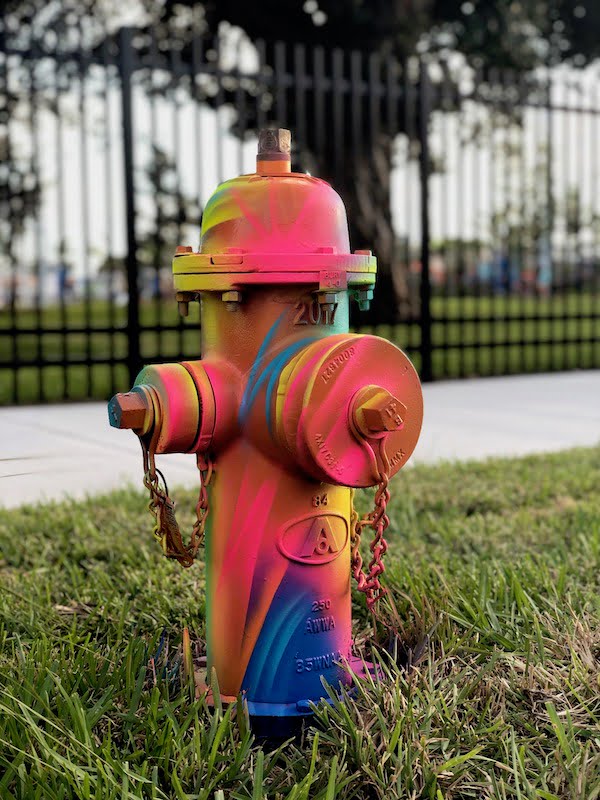 Among the mural artists is Denise Charles, aka "Blu Tattoo," who was born in Venezuela with Guyanese and Trinidadian roots. She grew up in New York City and is heavily influenced by hip-hop culture, Pan-Africanism and alchemy. 
"The mural will represent the richness and diversity of African culture," says Charles about her project in Foster Park. "The Maasai Tribe of East Africa—a people whose traditions and beliefs span centuries—represent the strength and adversity of our ancestors, strength that we can tap into now as a source of motivation and inspiration to be great."
The 12 Months of Art celebration was birthed by the Hallandale Beach Community Redevelopment Agency Executive Director and Assistant City Manager, Dr. Jeremy Earle, and is led in partnership by ArtServe and the Broward County Florida Cultural Division. As a true community affair, the initiative will be run with the support and participation of volunteers and local businesses.
The project marks just a small part of the city's recent blossoming. The transformation is spurred by a burgeoning creative community with upscale retail and dining opportunities, cultural growth and business expansion. This includes the upcoming revitalization of the Fashion Arts Design District (FADD), offering creative arts activities.