The 4th of July Independence Day celebrations are just around the corner, so you may be eying that grill with some delicious recipes in mind. So this year, why not add some island flavor to the summer barbecue? With this in mind, we've gathered some of our favorite Caribbean grilling recipes that will fit right in with any 4th of July celebrations.
Churrasco Grilled Beef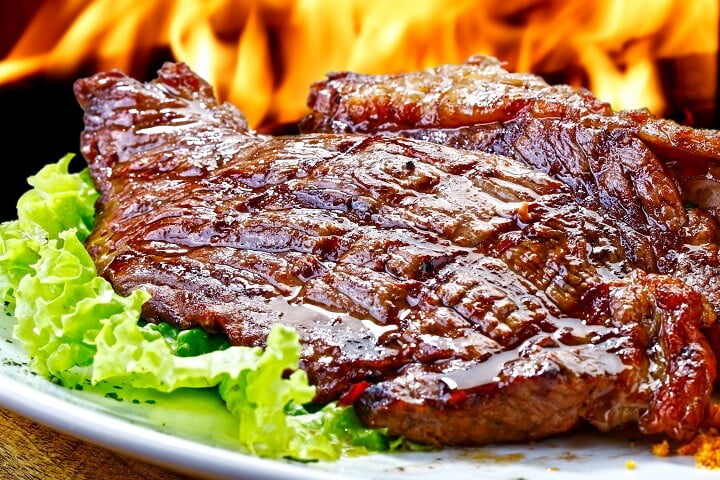 Churrasco (grilled) Beef is a tradition throughout the Latin countries. Whereas in the Spanish recipe, flank or skirt steak may be seasoned with only basic salt, pepper and onions, in the Latin-Caribbean islands you'll find the creole influence of spices like cumin, coriander and even sour orange.
INGREDIENTS
Serves 4
1 1/2lb trimmed flank steak
1 1/2 tsp kosher salt
1/2 tsp ground cumin
1/2 tsp ground coriander
1/4 tsp black pepper
1/2 cup of chimichurri sauce
INSTRUCTIONS
Pat steak dry.
Stir together 1 teaspoon salt, cumin, coriander, and pepper in a small bowl and rub mixture onto both sides of steak.
On a grill pan or in a broiler pan, grill / broil steak on high about 4 to 6 minutes per side for medium-rare.
Transfer to a cutting board and let stand 5 minutes.
Holding a knife at a 45-degree angle, thinly slice steak.
Serve with chimichurri sauce.
Adapted from caribbeantrading.com
Chef Irie's Caribbean Grilled Lamb Chops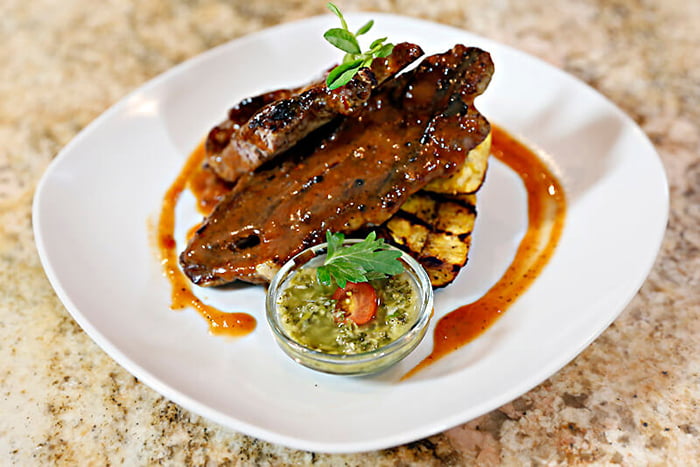 In Taste the Islands Season II, Episode 1, Chef Irie pairs delectable Grilled Lamb Chops with home made Guava Mint Sauce. Try the simple recipe below, but start the Guava Mint Sauce early so they finish at the same time.
INGREDIENTS
4-5 lamb chops

1 tsp kosher salt

1 tsp black pepper

2 tsp red pepper flakes

2 tsp coriander

2 tsp garlic powder

3 tbsp canola oil
INSTRUCTIONS
In a large bowl, season lamb chops with salt, pepper, red pepper flakes, garlic, coriander, and 2 tablespoons canola oil. Toss chops to evenly coat with seasoning and allow to marinate for 20 minutes to 1 hour.

Set grill to high heat and lightly oil. When grill is hot, place lamb chops on grill and allow to cook for 4 minutes.

After 4 minutes check for grill marks and flip chops. Grill lamb for an additional 3-4 minutes or to desired doneness. 3 minutes is medium-rare. 3 1/2 minutes is medium.

When lamb is done drizzle with Chef Irie's Guava Mint Sauce and serve hot!
Jamaican Jerk Grilled Shrimp Skewers
Jerk Shrimp is a quick and simple recipe to serve as an appetizer or finger food for a tailgate party or a family gathering. Try putting a few pieces of red and green peppers and tropical fruit such as pineapple or mango on your skewers to really balance the Jamaican Jerk Seasoning in the shrimp, and add a bit of reggae color. Reusable stainless steel skewers are always the best to use for grilling but if you plan to use wooden ones, be sure to soak them for at least 20 minutes before piercing your shrimp and fruit to avoid splintering
INGREDIENTS
1 pound (16 – 25) shrimp, peeled and deveined
1/4 cup jerk marinade
2 slices pineapple, cut into 1/2 inch pieces
1 green, 1 red bell pepper cut into 1/2 inch pieces
INSTRUCTIONS
Marinate the shrimp in the jerk marinade for at least 20 minutes and up to over night
Skewer the shrimp, peppers and pineapple alternating colors and pattern
Grill over medium-high heat until cooked, about 2-3 minutes per side.
NOTES
This recipe uses pre-made or store-bought jerk seasoning. Get it in the ethnic isle of your local supermarket or make it from scratch using one of our other jerk recipes.
If using wooden skewers, soak them in water for at least 20 minutes beforehand to avoid splintering.
Adapted from Closet Cooking
Piña Asada (Grilled Pineapple Slices)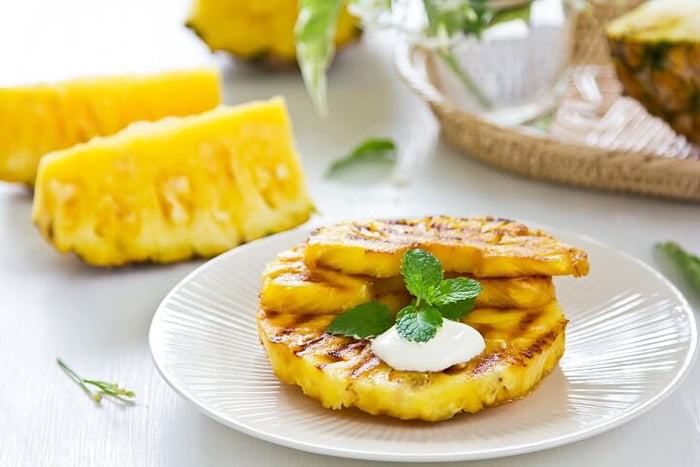 In this recipe for Piña Asada or Grilled Pineapple, pineapple slices are dipped in brown sugar and butter, and then grilled to sweet perfection. They're quick and easy to throw on the grill at your next BBQ. They taste great on their own, or you can try them on top of ice cream.
INGREDIENTS
1 ripe pineapple
1/2 cup brown sugar
1/4 cup water
3 tbsp melted butter
INSTRUCTIONS
Peel and core pineapple, then cut into 1/2 inch thick rings.
Mix brown sugar and water in small bowl, then mix in melted butter.
Dip each ring into the sugar mixture, or brush the sugar mixture onto the slices (make sure both sides are coated).
Grill slices for 2-5 minutes each side, until dark grill marks form.
Remove from the grill and serve.
NOTES
For richer flavor, substitute water with a dark Cuban rum and marinate slices for an hour before grilling.
Adapted from Taste of Cuba
More Caribbean Summer Recipes: