Come December, 'tis the season to be merry and bright with some festive holiday party makeup ideas. Celebrations galore, from office parties to family holiday gatherings offer the perfect excuse to add a little extra sparkle to your basic beauty routine. Seeking a little inspiration, we turned to our favorite Caribbean beauty gurus for their best holiday styles, and expert tips on how to recreate these looks at home. From berry lips to bold glitter, there's something for every makeup aficionado this season.
Evergreen Charm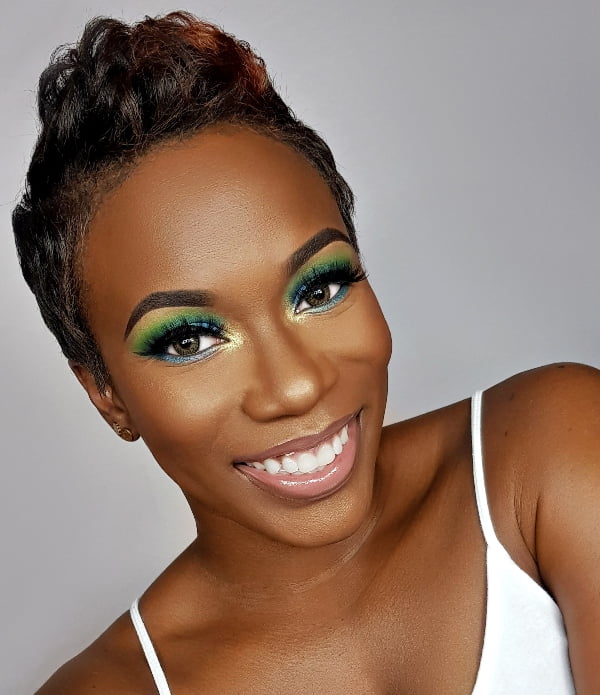 For 36-year-old Jamaican makeup artist Shari Bailey, nothing upgrades a holiday eye look better than some high-definition color. She delivers in this flirty mix of festive greens and blues, with a spot of gold. "This a pretty simple look to do," says Shari. "And you can give it that extra punch with a black base. This would be really fun for a staff Christmas party. Add a little glitter, and it would also be perfect for New Year's Eve."
To capture Shari's flirty eye, start off by applying P.Louise primer on the lid. Next, use the Juvia's Place Saharan black gel liner on the eye-lid. Then add lime green "Tutsi" eyeshadow from the Juvia's Place Tribe Palette along the eye crease. Using the same palette, use the deeper, evergreen "San" eyeshadow to blend along the eyelids. Then apply Hollywood Loose Eyeshadow Pigment from Peaches & Cream to the inner corners of the eyes. Top this off with lashes from Glamour by Me. To finish the look, Shari tops it off with a simple swipe of gloss to accentuate and hydrate the lips.
Glitter Galore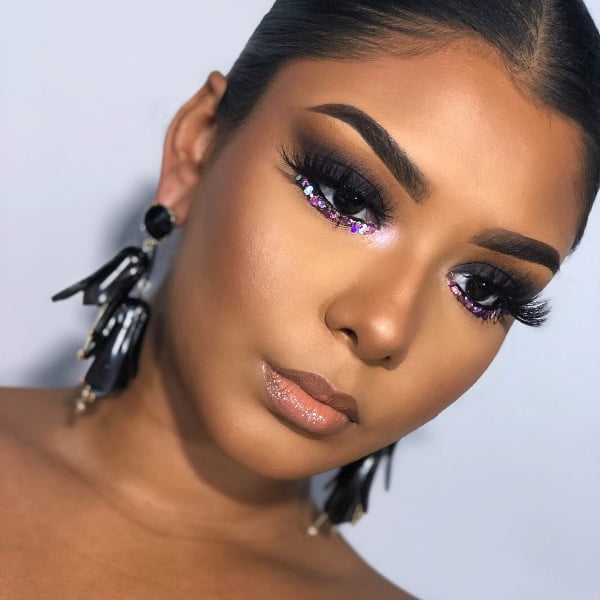 The classic smokey eye gets a holiday upgrade in this sparkling look by Trinidadian Instagram beauty influencer, Korena Rebecca. Born and raised in the Twin Republic, the self-taught tastemaker enjoys experimenting with glitter, sequins and feathery lashes to create editorial fantasy makeup.
For this look, she takes the flair down a notch by pairing a black eyeshadow with a multicolor glitter detail lining the under eye. "This fun and sultry look is perfect for that Christmas or New Year's Eve party," says Korena, who has been experimenting with makeup since age 14. To create a soft, smoky eye on her lids, Korena blended in matte black shades from the Morphe 35M Boss Mood Artistry Palette.
She then illuminated the corner of her eyes with a frosty shade from the Golden State of Mind Eyeshadow Palette from ColourPop. Under the eye, she applied chunky Pink Craze Cosmetics glitter with a flat concealer brush, using Ambrosia Cosmetics glitter adhesive. The trick, says Korena, "is to work in small portions at a time, because the glue is strong, but dries quickly." And for the lips, she suggests to keep it simple, like this nude "Over the Taupe" lipstick from Sacha Cosmetics, topped with L.A. Colors clear gloss for extra shine
Berry Subtle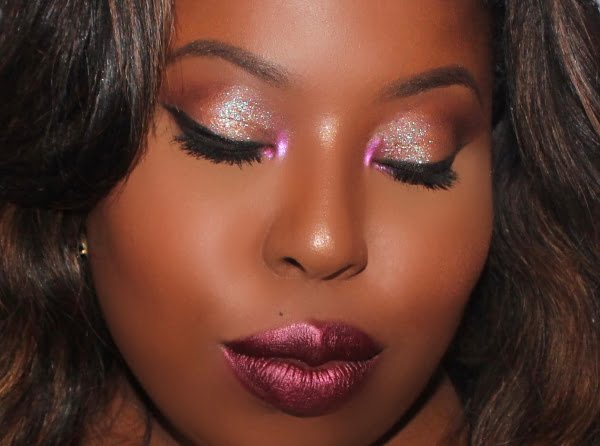 "What makes this look so fun is there's a mix of several textures," says professional Haitian-Canadian makeup artist Patricia Desamours about this shimmering look. "Most people think they can't mix glitter with metallic or matte eyeshadow. But with makeup, anything is possible." Hailing from Montreal, the 28-year-old makeup artist—who speaks fluent French, English, Kreyol, Spanish and Italian—brings high wattage looks to runways and music video shoots in Miami.
To create this look, Patricia recommends starting with eye primer. On the outer corners of the eye, blend the matte eyeshadow "Oh, That's Rich!" from the Too Faced Pretty Rich Diamond Light Eyeshadow Palette. From there, blend Too Faced's Crystal Whips Liquid Eyeshadow in "Club Kid" from the inner corner of the eye to the middle. Then add "New Money" from the Too Faced Chocolate Gold Eyeshadow Palette to the inner corners of the eye. To complete the effect, use Too Faced Better Than Sex Eyeliner and about three layers of Too Faced Damn Girl! Mascara. "And make sure to wait two minutes in between each layer to create a thicker lash look," notes Patrica. Finish the face with the berry luscious Too Faced Melted Matte-tallic Liquified Lipstick in "I Wanna Rock With You."
More Caribbean Makeup Ideas: