Nothing summons a sense of home quite like the scent of something familiar and delicious cooking on the stove. For those seeking some respite for both body and soul, we're gathering our favorite Caribbean comfort food recipes. This week, we head to Jamaica for some traditional spicy stews and soups.
Jerk Chicken and Plantain Kebabs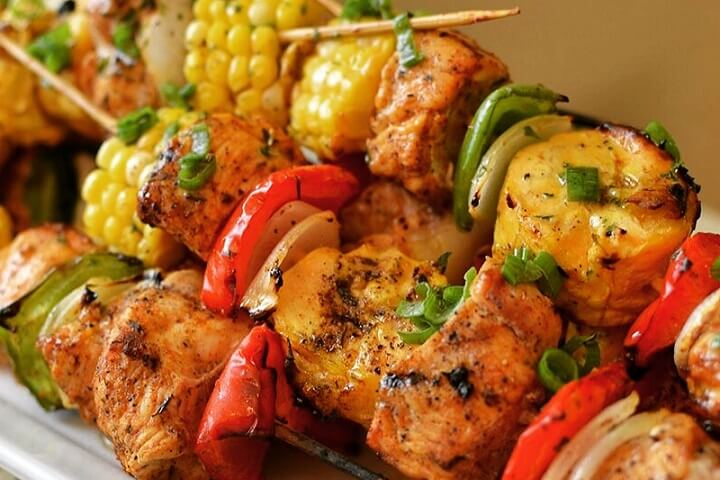 This delectable recipe for jerk chicken and plantain kebabs comes from Guest Chef Mesha Welsh, who was a culinary student at the time of its concoction. We shared the recipe image on social media and it quickly went viral. Now you too can try it at home and tell us what you think. With chicken made with jerk seasoning, ripe plantains, roasted corn, peppers, onions and spices, we think it'll be a sensory overload!
---
INGREDIENTS
4 boneless chicken breasts
1 ripe plantain cut into 1″ slices (replace with a sweet potato if preferred)
1 ear of corn cut into 1″ slices and halved
1 red bell pepper cut into 1″ slices
1 green bell pepper cut into 1″ slices
1 white onion cut into 1″ slices
Juice of 1 lemon
2 tbs olive oil
1 tsp salt
2 tbs powdered jerk seasoning
1 tsp smoked paprika
2 tbs garlic powder
INSTRUCTIONS
Soak bamboo skewers for 30 minutes to an hour to avoid splintering
Cut chicken into 2″ chunks and rinse with vinegar and lemon juice
Add olive oil, powdered jerk seasoning, paprika, garlic powder, and lime juice. Mix together and place in a container or plastic bag then place in the fridge to marinate for about an hour. Add salt after removing from the fridge and combine it.
In an alternating pattern, onto the skewer slide red pepper, chicken, onion, green pepper, chicken, plantain (on the long side), onion, red pepper, chicken, corn (work gently through the soft spot between kernels and cob). Leave about 2 inches at the top and bottom of the skewer.
Repeat for additional skewers.
Squeeze additional lemon juice over the entire kebab to add flavor to corn, plantains, and peppers. Sprinkle black pepper and additional jerk seasoning if desired.
Grill for 5 to 7 minutes on each side or until plantains is cooked through.
To serve, garnish with bits of chopped parsley and scallions. Enjoy!
Adapted from Mesha's Corner (By Mesha Welsh)
Jamaican Pepper Pot Soup
Jamaican Pepper Pot soup is a blend of callaloo (similar to spinach), with okra, ground provisions and optionally, meat stewed in. In this particular recipe, coconut milk is incorporated, which gives the soup a creamier texture. You can choose to make it without coconut milk as well.
---
INGREDIENTS
1lb salted beef
1lb pigs tail
12 cups of water
1lb callaloo or spinach
12 okra pods, chopped
1 scotch bonnet pepper, chopped (remove the seeds)
1 clove of garlic, chopped
1 onion, chopped
1/2 lb yellow yam, cubed (store in water or squeeze lime over it to keep from turning brown)
1/2 lb malanga or coco, cubed (store in water or squeeze lime over it to keep from turning brown)
3 stalks of scallion
3 sprigs of thyme
1 can of coconut milk
Salt to taste
Flour, salt, and water for spinners
INSTRUCTIONS
Chop the pig's tail and salt beef into bite-sized cubes. Place the meat in a large bowl of water and allow it to soak in the fridge overnight. Drain the water from the meat.
Boil 12 cups of water in a large pot then add the meat. Reduce heat and simmer for two hours.
Boil water in a separate pot, add thoroughly washed callaloo, and simmer for 15 minutes.
Strain callaloo and blend into a puree. Set aside.
After 2 hours, add the okra, scotch bonnet pepper, garlic, onion, yellow yam, and coco to the boiling meat.
Mix flour and a pinch of salt with water until it has the consistency of dough. Pinch off a small amount of the dough, about the size of half a ping pong ball, and roll it in your hands until tapered to make a "spinner". Repeat until you run out of dough and add spinners to the pot. Continue to simmer for 45 more minutes.
Cut and crush the scallions and add to the pot along with thyme, coconut milk, and callaloo puree. Continue to simmer for 15 more minutes, or longer if the soup needs to thicken.
Add salt and black pepper to taste and serve.
NOTES
Do not touch your eyes or mouth after handling scotch bonnet. Rinse your hands thoroughly.
Adapted from Jamaica Travel and Culture
Jamaican Oxtail Stew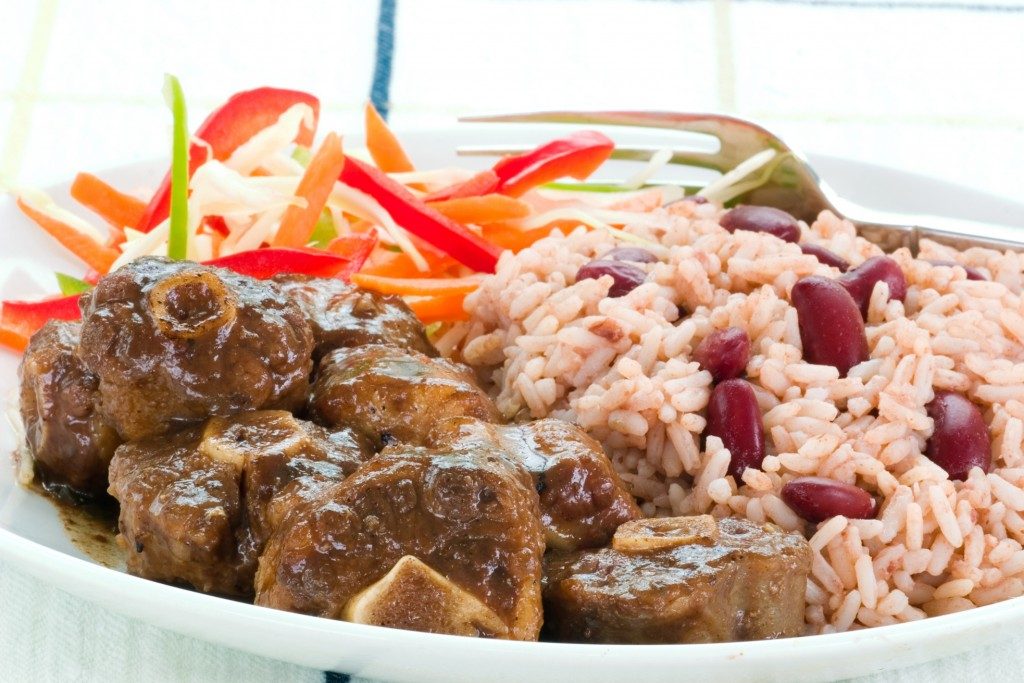 Oxtail is one of Jamaica's most revered soul food dishes. This Jamaican oxtail recipe is well seasoned and cooked for multiple hours until the tender meat falls off the bone.
---
INGREDIENTS
2lbs of oxtail
1 tin of broad beans
5 cups of water
1 onion
2 tomatoes
2 scallion
1/2 a scotch bonnet pepper
1/2 lb of carrots
2 cloves of garlic
4 sprigs of fresh thyme
1/2 tsp of allspice
1/2 tsp of salt
1/2 tsp of pepper
INSTRUCTIONS
Chop the scallion, scotch bonnet pepper, garlic, onion, tomato, carrot, and thyme
Season the oxtail with scallion, scotch bonnet pepper, garlic, thyme, allspice, salt, and pepper and let marinate for at least 2 hours
Fry the oxtail and seasoning in a tablespoon of oil for about 10 minutes.
Stir in the water, onion, tomato, and carrot, turn down the heat and simmer the pot until the oxtail has softened (about three hours), stirring occasionally.
Add the beans and simmer for a further 30 minutes
By Traditional
Jamaican Fried Dumplings
Jamaican Fried Dumplings are a popular bread-style side. They are fit to accompany any meal throughout the day, but they're usually enjoyed with breakfast. The dough is made with flour, baking powder, and butter, and it's easy to prep and fry up. There are other versions of these called "Bakes" found elsewhere in the Caribbean, but for Jamaicans, it's all about the fried dumplings.
---
INGREDIENTS
2 cups all-purpose flour
1/2 to 1 tsp salt (if using salted butter or margarine use 1/2 tsp salt)
3 tsp baking powder
3 tbsp unsalted butter or margarine (cold)
3/4 cup cold water
1/2 cup cooking oil
INSTRUCTIONS
Combine flour, salt, and baking powder in a bowl
Blend butter into dry ingredients with hands or mixer until crumbly
Add water, a little at a time, to dry ingredients until dough holds together (you may not need all the water). Sprinkle with more flour if the dough is too wet.
Knead dough until smooth; do not over knead. Wrap in plastic wrap and place in the fridge for 15 minutes
Shape dough into 8 small balls (enough to fit in palm)
Pour cooking oil into the frying pan until it is high enough to cover your rolled dumplings to half their height.
Set stove to medium heat. Once the oil is hot, place dumplings carefully into the pan
As each side browns continually turn dumplings until all sides are brown and dumplings are light and fluffy. When fully cooked they will be light brown and crispy outside and sound hollow when tapped.
Place on the paper towel to drain any excess oil and serve hot.
NOTE
Adapted from cooklikeajamaican.com
Jamaican Rice and Peas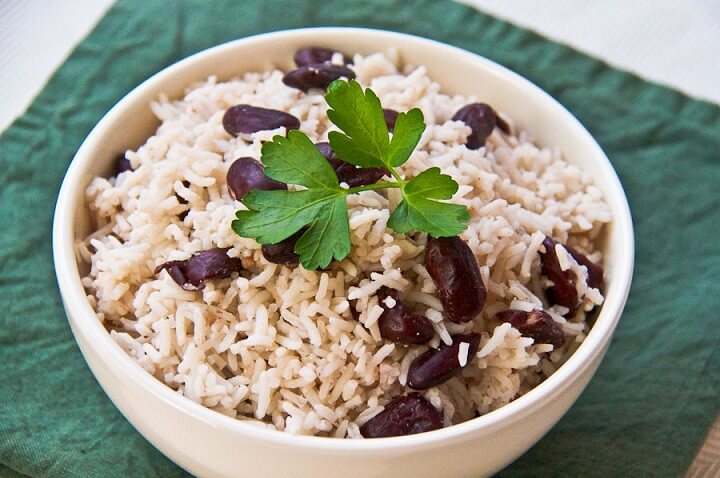 Traditional Jamaican Rice and Peas is a side dish made with white rice, kidney beans, coconut milk, herbs, and spices. It complements every flavorful protein from oxtail to brown stewed chicken.
Serves 4
Cook Time 30 mins
INGREDIENTS
1 medium-sized can red kidney beans
1 can coconut milk
2 cups of rice
1 small onion, chopped
1 clove garlic, chopped
1/4 tsp dried thyme
1 tbsp oil
1 scotch bonnet pepper (whole, do not chop up)
Water
INSTRUCTIONS
Drain the liquid from the can of beans into a measuring cup
Add the can of coconut milk and enough water to make four cups of liquid.
Place liquids in a pot with beans, onions, garlic, thyme, and oil, bring to a boil.
Add rice and stir for a minute.
Reduce heat to Medium-Low.
Place scotch bonnet pepper on top of the liquid and cover tightly for 30 minutes or until rice is cooked.
Remove scotch bonnet pepper before serving.
NOTES
This recipe can also be made using other peas.
More Caribbean Comfort Foods: