Fort Lauderdale, FL (July 10, 2018) – "Island Origins Magazine", South Florida's Caribbean-American lifestyle quarterly, published by Island Syndicate, has been nominated for three category excellence awards by the Florida Magazine Association. The annually appointed honors, known as the Charlie Awards, recognize achievements by Florida magazines, crowning selected industry players best among their peers.
Honorees are chosen by a group of leading writers, editors, designers, and educators outside the state of Florida. "Island Origins" has received nods in the categories of Best Writing: Editorial / Commentary / Opinion for an inspirational story of breast cancer survival by Carla Hill titled 'Embracing Breastless Beauty'; Best Writing: Feature for a poignantly written short history of Caribbean music by Bekim Betoni titled "Hidden Sounds of the Caribbean"; and Best New Magazine, acknowledging the work of publisher Calibe Thompson and the team at Island Syndicate.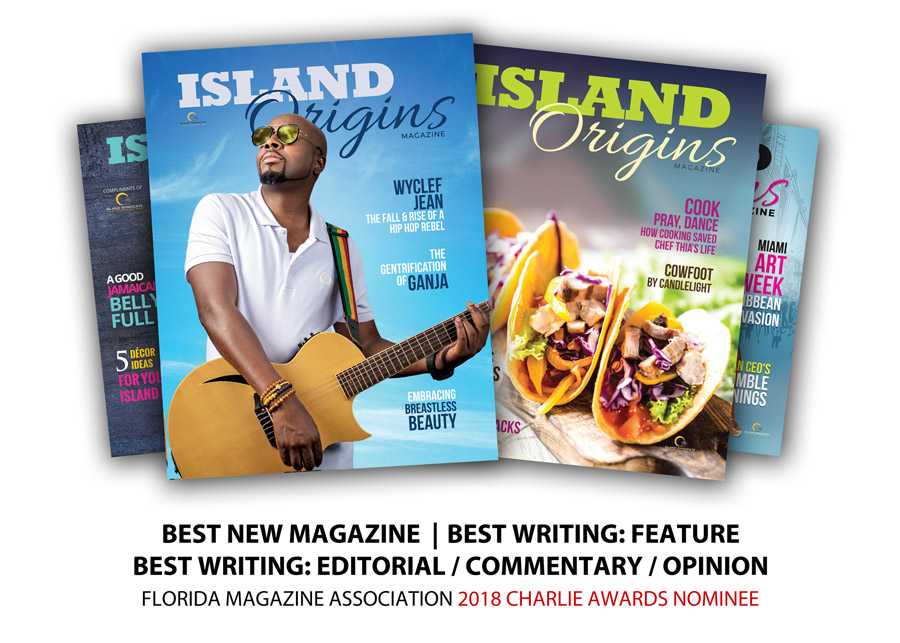 "We're a young magazine but we're leaving an undeniable impression," Thompson shared. "Based on data that confirms approximately one out of four South Florida residents was born in the Caribbean region, and assuming that the rest probably want to visit the islands as often as they can, we know we're in the right place! Our audience regularly comments on how much they appreciate the vibrancy of our publication, and the rich, engaging content we offer. These nominations have reaffirmed to us that we're on the right track."
Winners of the Charlie Awards will be announced at a ceremony held August 9th during the Florida Media Conference in Orlando.
"Island Origins Magazine" is a Caribbean American lifestyle print publication primarily distributed in South Florida. ​It is produced quarterly by Island Syndicate​, and appeals to a diverse, sophisticated mainstream audience​.
Island Syndicate is a creative agency that produces exceptional content and unforgettable experiences. The team offers excellence in publishing, photography, graphic design, videography, event production, and other branding and marketing services to discerning clients. Its proprietary flagship offerings include Caribbean American lifestyle magazine "Island Origins", nationally syndicated culinary and travel series "Taste the Islands", and annual culinary event "The Taste the Islands Experience".