Words and Photos by Jesse Serwer
St. Eustatius, commonly called Statia, is a small island with a big history, and a wide-open future.
LargeUp recently spent a week in this windswept, eight-square-mile Dutch protectorate between St. Maarten, Saba and St. Kitts. We hiked to the top of the Quill, the 2,000-foot dormant volcano at the island's center; walked through the sea-battered ruins of what was once the Caribbean's most prosperous port; and watched the sun set from the fort that, in 1776, fired the first salute in recognition of the newly-formed United States.
At Statia's annual sustainable tourism conference, we learned how the island, one of the Caribbean's lesser-traveled locales, is working to tap into its natural resources and rich history to establish itself as a wellness destination. Mostly, though, we savored the serenity afforded by this sparsely populated but scenery-rich island, met people from all over the world who've landed here, and limed with the generational Statians who remain the backbone of "The Golden Rock."
With more historical monuments per square mile than any other Caribbean island, visiting Statia is a bit like stepping into an open-air museum. Consider this photo series a guided tour.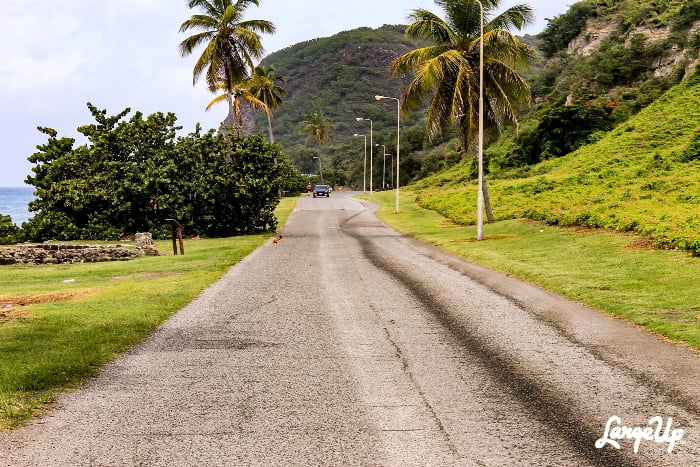 More than one car at a time is a traffic jam on the main road in Oranjestad's Lower Town. (Oranjestad, Statia's capital and only town, consists of two areas, Lower Town and Upper Town, separated by a steep hill). It's hard to believe that the scene of such solitude was once the busiest port in the Caribbean, although the brick ruins of an 18th century Dutch warehouse, seen to the left of the road here, offer a faded glimpse of Statia's halcyon days.